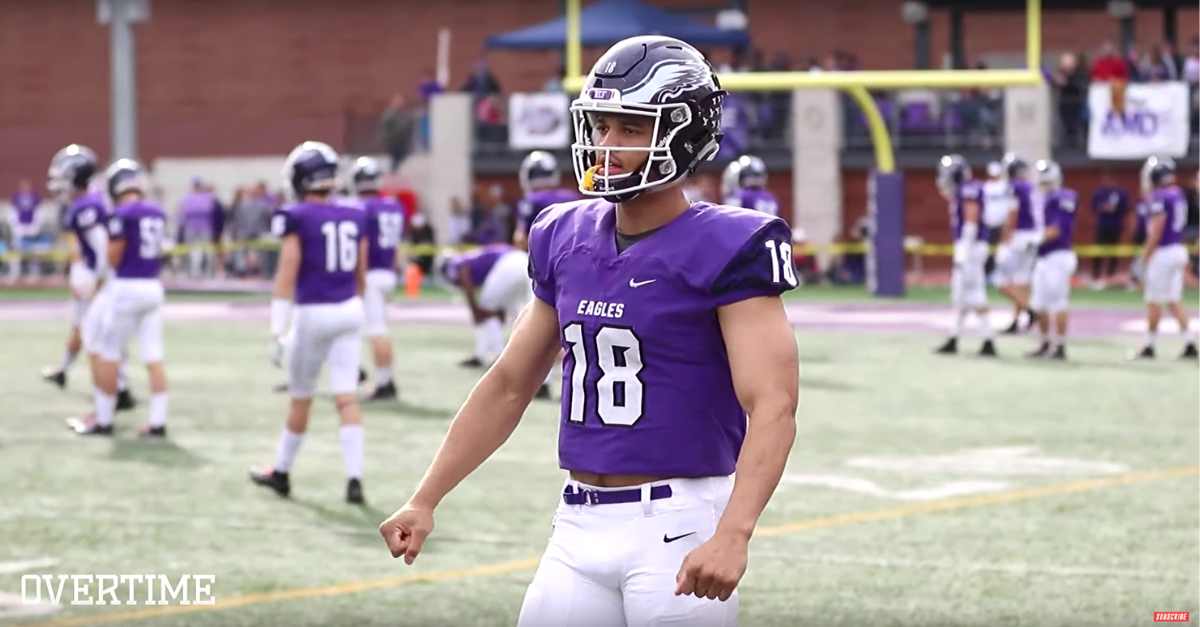 Screenshot from YouTube: Overtime SZN
The more points a college football offense scores, the more attention it receives. It certainly helps if the team is really good, too, but every high school signal caller's dream is scoring touchdowns on the big stage at the next level. Gonzaga's Caleb Williams is no different.
Rated as a five-star recruit and the No. 1 signal caller by both 247Sports and Rivals, the dual-threat quarterback from Washington D.C. is electric every time he steps on the football field. It's no secret why some of the top programs are after the 2021 superstar on the football recruiting trail.
It's only heating up, too.
QB Caleb Williams Recruiting
With more than 20 big-time offers to his name and counting, Williams is being pursued by some of the top teams in NCAA college football. Programs such as Georgia, LSU, Clemson, Oklahoma, Penn State, Alabama, Florida, Florida State, Michigan, Ohio State, Oregon, Stanford, Texas A&M, South Carolina and USC have all offered him.
Williams, a 6-foot-1, 200-pound quarterback, has taken unofficial visits, too.
So far, he's visited Clemson, Georgia, and Penn State twice. Last year, the two visits he's taken were to Clemson and to Lincoln Riley's Oklahoma Sooners. The five-star athlete took a trip to Baton Rouge, Louisiana, last November and was on-hand for the Tigers' win over Texas A&M.
"They checked every box," Carl Williams, Caleb's dad, told 247Sports. "Coach O and his staff are fabulous. We like them a lot."
Passing game coordinator Joe Brady's departure didn't help, but as long as LSU remains in the College Football Playoff hunt each year, Ed Orgeron and his coaching staff are going to continue to get more and more attention. The way the Tigers' offense performed during the 2019 season definitely makes LSU a more attractive destination, too.
---
UPDATE (May 4, 2020): Williams took to Twitter to announce the final three schools he'll focus his recruiting on. In an essay Williams wrote himself for SI All-American, Williams revealed his top choices heading into his senior season and why they earned his attention.
"But I feel like these are the best ones for me," he wrote. "It's Maryland, Oklahoma and LSU."
Caleb Williams' Final 3 Schools
"I really feel like those schools are the best schools for me overall, not just for football. I really feel like those schools can provide me the best opportunity academically and with my football career with the connections I've built with the coaches, the fans and the connection my parents and everybody has built with the coaches. The feel with all of those places, it just feels right."
---
Caleb Williams Highlights
Although he's more of a dual-threat QB than a pro-style quarterback, Williams certainly has the arm strength to make big-time throws under pressure for the Eagles. He continues to do that in the DMV and watching his highlight types should make fans excited to see him for the 2021 college football season.
Williams actually started out as a linebacker and running back when he was younger, but his transition to quarterback was seamless. After totaling nearly 2,000 all-purpose yards his sophomore season, Williams put up 2,600 total yards and 37 touchdown in his junior season for Gonzaga, according to NBC Sports Washington. His ridiculous season earned him a bid to the 2021 All-American Bowl.
Williams has all the makings of a future first-round NFL draft pick and will make for the perfect prize to any coach's recruiting class.
It's going to be a little while until we know where Caleb Williams will play, but just understand he will have his choice of pretty much any top school in the country. He's that good.
This post was originally published on November 19, 2019. It was updated following Williams' announcement of his final three schools in recruiting.