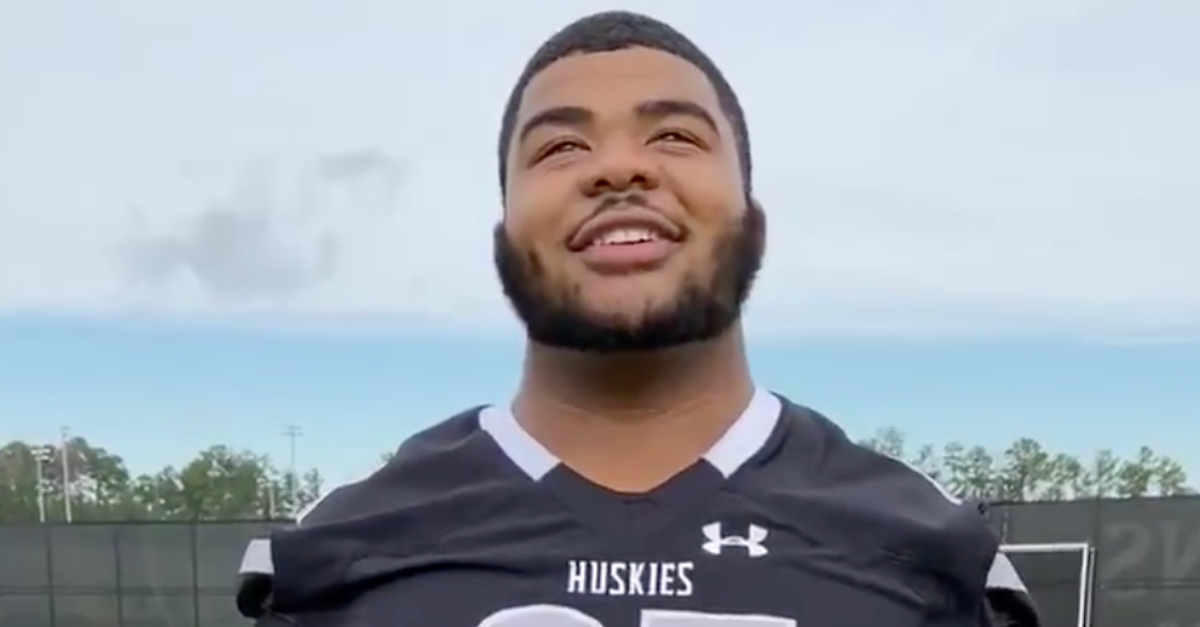 Screenshot from Twitter
When it comes to playing football, William Amos Hough High School defensive tackle Curtis Neal is as dominant as it gets for his age. He's pretty electric off the field with a great personality, too. His latest recruiting news proves both to be very, very true.
An elite national prospect from Cornelius, North Carolina, the Class of 2022 recruit has fielded well over 20 offers from major NCAA college football programs before the end of his sophomore year. Neal is understandably wanted by the best-of-the-best and the battle will continue for the next couple of years.
When it comes to fast food, his favorite choices are definitely All-American status as well.
Curtis Neal's Top 5 Fast Food Restaurants
At 6-foot-2 and over 300 pounds, it's probably safe to say Curtis Neal loves food. It's also safe to say he can put it down with the best of them. So while many recruits his age tease where they will play at the collegiate level in the future, Neal put his own spin on it with a new list.
Popeyes. Chick-fil-A. Cook Out. Zaxby's. Bojangles.
That's it. That's the list. It features absolutely no schools or even a hint where he might want to play in a couple of years. Instead, he wanted to tell the world where he loves to eat, and it got so much attention on social media.
This list is as serious as his scholarship offers, though.
Curtis Neal Recruiting
National recruiting services haven't yet rated Curtis Neal, but it's only a matter of time. However, it doesn't matter if he's a zero-star, two-star, three-star, four-star, or five-star recruit, the fact of the matter is the star defensive tackle can play at a high level.
Need proof? According to Rivals and 247Sports, Neal already boasts 21 offers from Alabama, Arkansas, Auburn, Georgia, Kentucky, LSU, Louisville, Miami (FL), Ole Miss, Mississippi State, Missouri, North Carolina, NC State, Oregon, Penn State, Rutgers, Tennessee, Texas A&M, USC, Virginia, and Wisconsin.
He's likely one of the best prospects in his class and staff members from across the country will be watching his every move.
Curtis Neal Highlights
Curtis Neal already has the physical skills to be considered a quality prospect. He's big, strong, and simply makes a major impact in the trenches.
Only time will tell how much of a beast he will become during his high school days and over the course of his college career, but he's well on his way to stardom.
His confidence meter on fast food is already there, though.