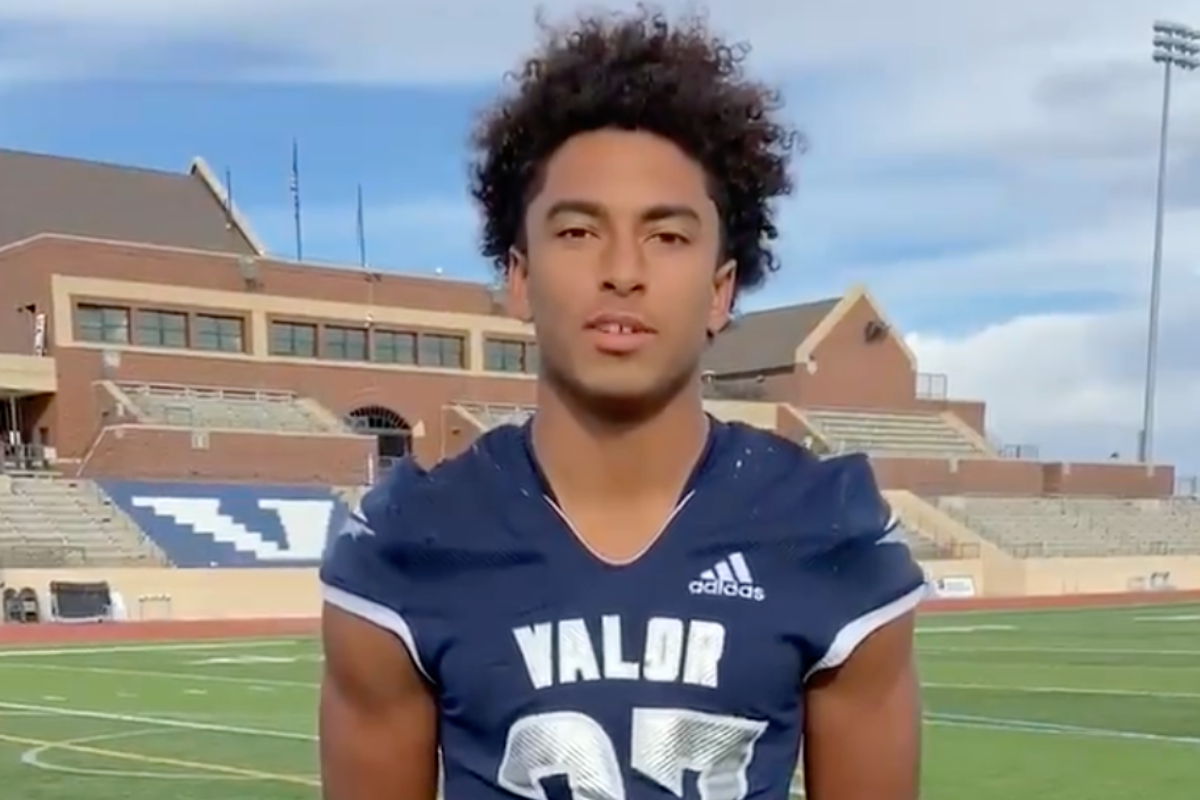 Screenshot from Twitter
Gavin Sawchuk is one of the best running backs in the 2022 recruiting class. At 5-foot-11 and 175 pounds, the star athlete is a force in the backfield and will make any college football program have a better offense.
Sawchuk plays on the football team for Valor Christian High School in Littleton, Colorado. The coaching staff has used his talents to quite literally run the offense through him.
[fb_page_likelink="https://www.facebook.com/TheFanBuzz.CollegeFootball/"%5D
During his junior year in 2020, he rushed for 1,239 yards and scored 17 touchdowns. He was a great pass-catcher when called upon as well. The COVID-19 pandemic delayed high school sports in the state, but thankfully Sawchuk was able to get some meaningful reps this year.
RB Gavin Sawchuk Recruiting
RELATED: 5-Star DB Has Over 35 Offers (And Counting)
Five-star running back Gavin Sawchuk has had many schools reach out to him, but Michigan, Oklahoma, and Stanford stand out as the top three suitors.
Alabama, Arizona State, Colorado, Colorado State, Florida State, Iowa, Michigan State, Nebraska, Northwestern, Notre Dame, Ohio State, Oregon, Penn State, USC, and Utah are some of the other interested college programs.
RB Gavin Sawchuk Highlights
Sawchuk is simply the most gifted athlete on his team. He gets by defenders with ease and is too fast to tackle. Scouts have made a comparison to the NFL's Christian McCaffrey, especially if Sawchuk commits to Stanford.
That is a lot of pressure for a high school kid to shoulder, but it is clear he has the talent to succeed at a higher level of football. He is going to have to catch more passes to "live up" to that CMC assessment, though.
Gavin Sawchuk has taken Colorado by storm. He is the state's best player and is receiving national attention for his sensational runs.
His name is certainly one to look out for in a couple of years. Saturdays are going to be quite fun when he makes his way to the college field.
For now, all we can do is follow his recruitment process.