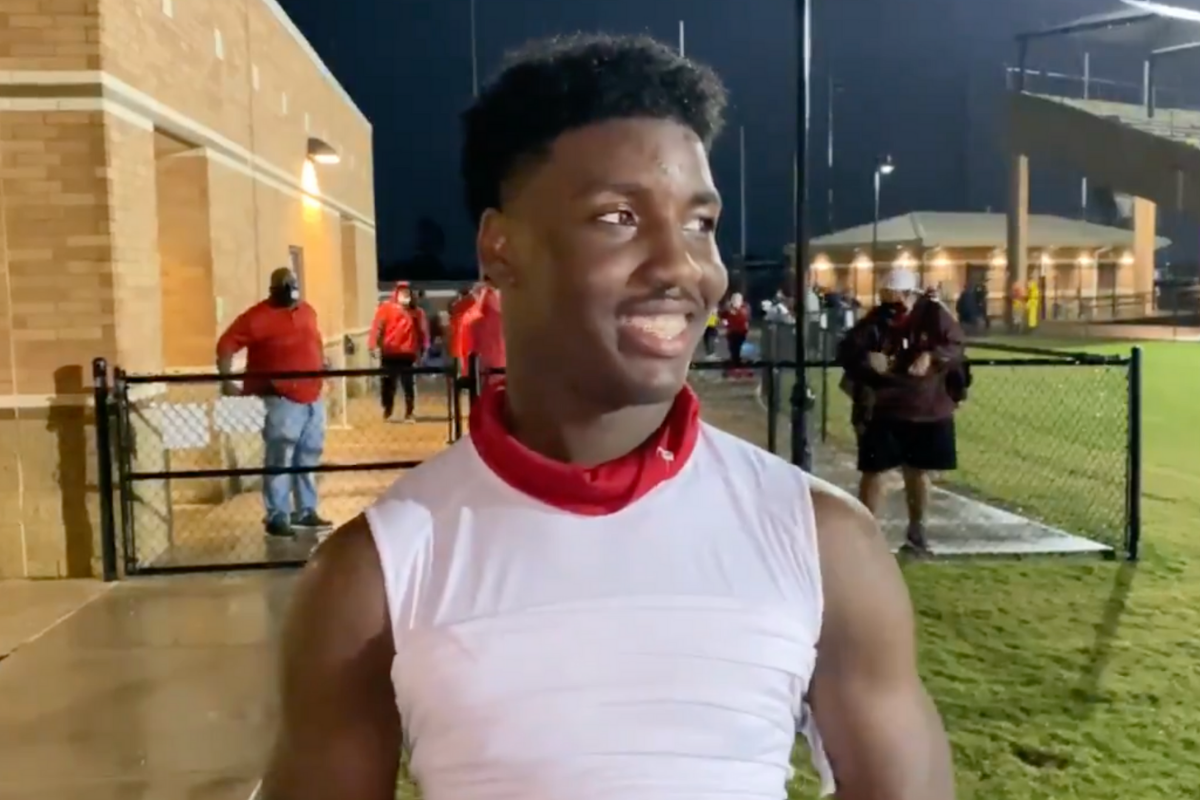 Screenshot from Twitter
Denver Harris is a popular member of the 2022 recruiting class. The defensive back has already received over 35 college offers.
Currently, Harris plays for North Shore High School in Houston, Texas. The team is one of the best in the entire state of Texas, and following a 15-1 regular season, the Mustangs won the state championship for the second-straight season in 2019.
[fb_page_likelink="https://www.facebook.com/TheFanBuzz.CollegeFootball/"%5D
This team is absolutely stacked as Harris shares the same field as wide receiver Shadrach Banks and four-star quarterback Dematrius Davis Jr.
Denver Harris Recruiting
RELATED: 2022's No. 1 Cornerback Trims List to 6 Schools
Alabama, Auburn, Baylor, Clemson, Georgia, Georgia Tech, Houston, Florida, Florida State, Kansas State, LSU, Memphis, Miami, Michigan State, Notre Dame, Ohio State, Oklahoma, Oklahoma State, Texas, Texas A&M, Texas Tech, and USC, are just some of the schools that have reached out to five-star cornerback Denver Harris.
Some recruiting analysts at 247Sports believe he will remain in-state, so the Aggies and Longhorns may be considered the favorites at this point. Even with those rumors, any of these programs are still in the race.
The Buckeyes are great at developing defensive backs. Would Harris go there? What about the uber-successful Tigers in Baton Rouge? Harris controls his destiny and will make one special group of fans very happy when he commits.
Denver Harris Highlights
Denver Harris is everywhere on the field. He can generate an interception just as easily as he could excel on kickoff returns.
He has a legitimate chance of starring at whichever program he ends up attending, and the NFL Draft should be on the horizon as well.
The talent is abundant in Texas; Quinn Ewers and Caleb Burton are just some of the studs in 2022's pool. Harris shouldn't be forgotten about, either.
Football recruiting may be an imperfect science, but being ranked the second-best player in the Lone Star State means that few believe Harris will be a bust.
Harris' has an active Twitter account (@denvobandz) that showcases all he has done in his high school career. Pretty soon, he is going to have collegiate accolades to post about as well.