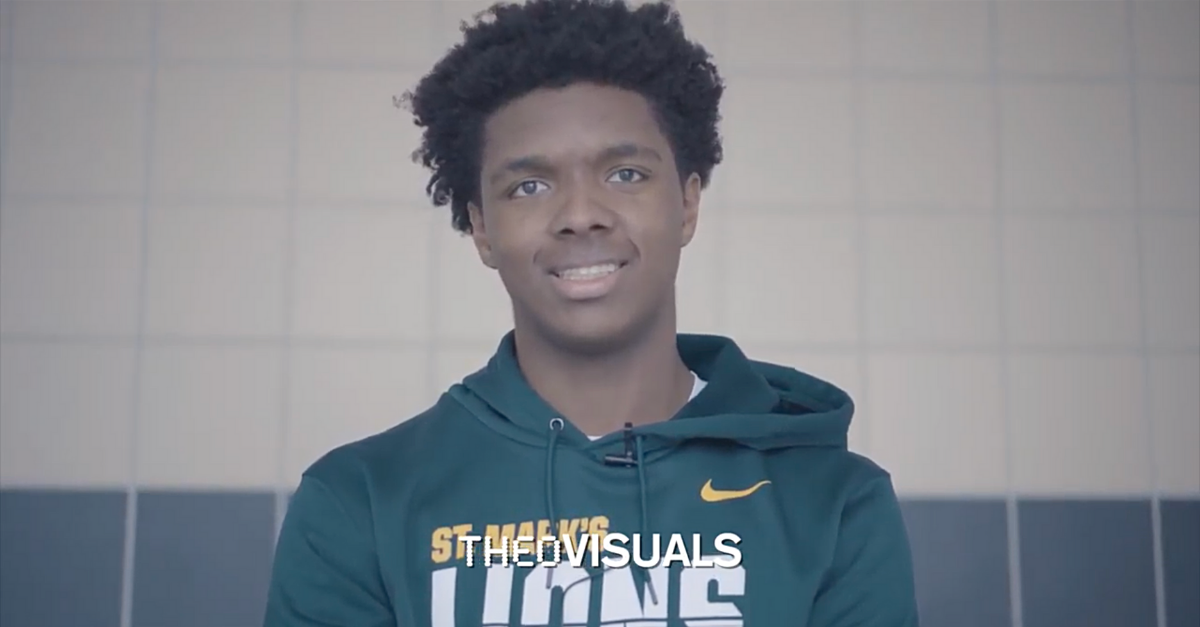 YouTube: Theo Visuals
Small forward Harrison Ingram has an old man's game. These days, that means he's not an athletic specimen who can throw down dunks as well as he can shoot threes.
The 6-foot-6, 215-pound five-star recruit is calculated. The key to his game is between his ears.
Harrison Ingram Highlights
Hailing from St. Mark's High School in Dallas, Texas, Ingram models his game after another Lone Star State player: Luka Doncic. They don't try to exceed their limitations. Instead, they read the game and attack.
Ingram is capable of making plays with the ball in his hands. He hunts defensive weaknesses and dishes to the open man or creates his own look. In the lane, the five-star throws defenders off balance with spin moves and pump fakes. His patience doesn't permit forced shots.
Ingram's jumper is smooth. He's capable of hitting from mid-range and beyond the arc. On the glass, he's great at pinpointing rebounds, especially on the offensive end. He corrals misses and puts back easy buckets with strength.
Harrison Ingram Basketball Recruiting
The North Texas native is the 13th ranked player in the 2021 recruiting class according to the 247Sports Composite Rankings. The senior named his top-ten schools on May 11, 2020. He's considering Baylor, Louisville, Michigan, Tennessee, Arkansas, Memphis, Purdue, Stanford, North Carolina, and Texas A&M. He officially visited Texas Tech in March 2020 but axed the Red Raiders ? along with Florida State, Georgetown, and UCLA ? from his list.
Ingram has several connections to the Arkansas Razorbacks. He took an unofficial visit to Little Rock in August 2019 and frequently communicates with head coach Eric Musselman, who's sister's children attend St. Mark's. Ingram and his father are also close with assistant hog coach Corey Williams, and there are family ties to former player Mason Jones.
Recruiting analyst Brian Snow of 247Sports predicts the point forward will play college basketball at Stanford. He's a 4.0 student and visited Palo Alto in September 2019. The Michigan Wolverines continue to pursue. Don't be surprised if Duke swoops in with a late offer, either.
On Instagram Live with ESPN National Director of Recruiting Paul Biancardi, Ingram announced the final six schools he'll focus his recruitment on.
Those teams are North Carolina, Stanford, Purdue, Harvard, Michigan and Howard.
Ingram draws comparisons to NBA player Kyle Anderson of the Memphis Grizzlies. Both are methodical players who navigate with high basketball IQ.
The 2021 basketball player won't electrify highlight reels very often. His impact will show up most in the win column. He led St. Mark's to the 2020 Southwestern Preparatory Conference state championship in February. It was the school's first title since 2007.
Wherever he chooses to play NCAA hoops will get a leader; and above all else, a winner.