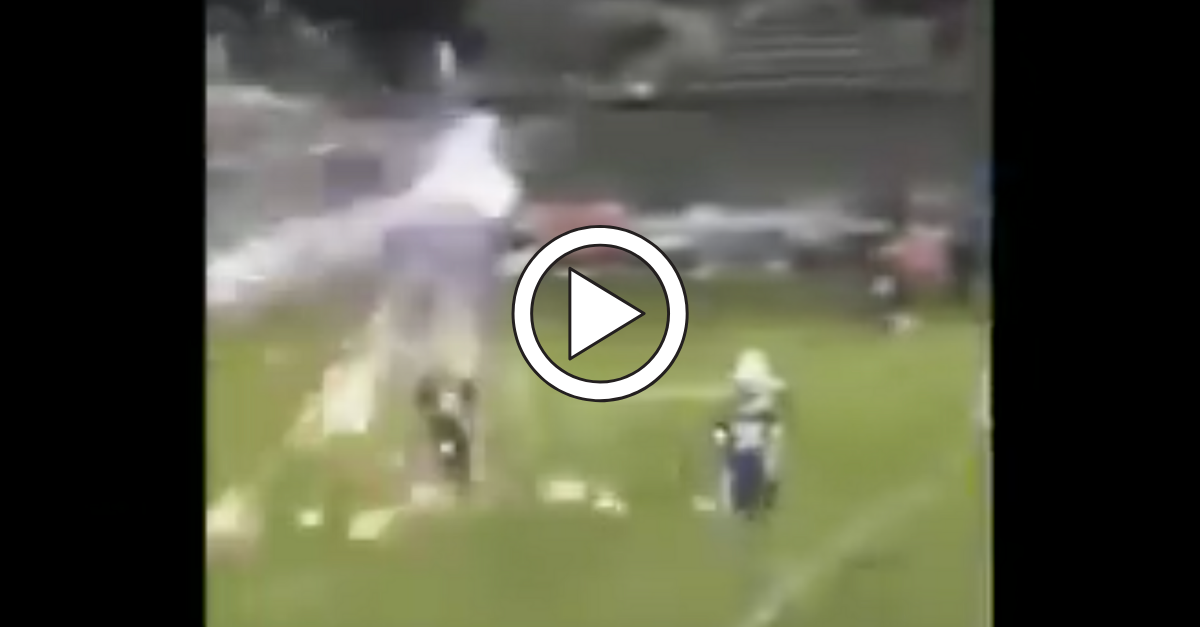 Screenshot from Twitter
When someone tells you anything is possible at a high school football game, you should probably believe it. Whether it?s an amazing performance, a controversial call, or even a coach acting like a fool, there truly is no limit to what might happen. This next story, however, is downright stupid and frightening.
Everything seemed normal in Crescent City, California last Friday night when Del Norte High School was taking on Eureka. Then, in a split second, everything changed.
In the middle of a play, with players crossing the middle of the field, a firework suddenly exploded directly above their heads.
The incident was caught on film and shared on social media, including the aftermath in a brief Snapchat video.
RELATED: Bills Fan Celebrates Win By Blowing Up Firework In His Face
After the firework sailed from east of the field and exploded, adults in the stands took charge. According to the Crescent City Police Department, via the Lost Coast Outpost, the suspect who launched the firework was ?quickly apprehended by several parents and attendees of the football game.?
It was confirmed that CCPD arrested 26-year-old Levi Jessi Cochran and charged him on suspicion of possession of explosive illegally, possession of an explosive device in a public place, willful cruelty to child: possible injury/death, possessions of firework without permit, and willfully disturbing a school zone.
"Crescent City Police Department Officer Yeng Lo was attending the football game as part of his School Resource Officer duties and was immediately able to request a response from other units in the area. The CCPD then worked along with Deputies from the Del Norte County Sheriff?s Office to arrest the subject.

?The suspect was then booked into custody at the Del Norte County Jail and is still in custody as of 11-2-2019. The investigation is still open and ongoing and the CCPD is working with the Del Norte County District Attorney?s Office on this matter.?
There wasn?t a fireworks display planned. It definitely wasn?t the Fourth of July. This simply appeared to be a dude trying disrupt two football teams in the middle of a game.
"The suspect's behavior is unacceptable and does not represent this community or the sportsmanship of any fans in attendance, and it will not be tolerated," the CCPD said, via KRCR 7.
This is very scary and could have been a whole lot worse.