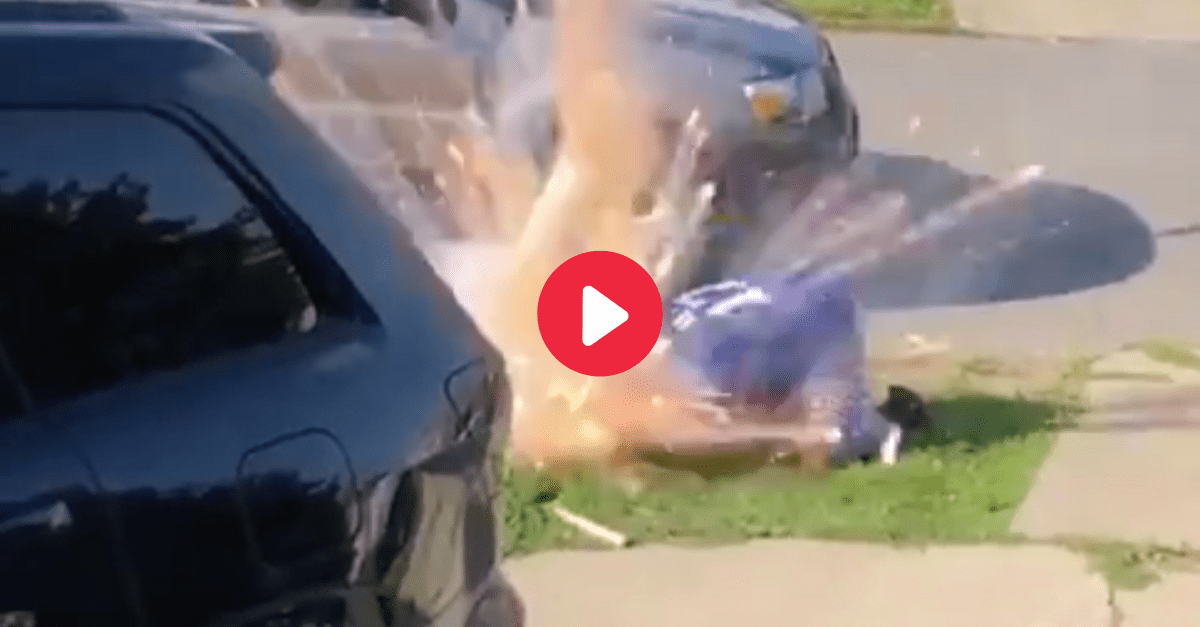 Screenshot from Twitter: Barstool Sports
By now, it's no secret. Buffalo Bills fans are flat-out crazy. They are the group who gives standing ovations to opposing quarterbacks and even forced its own home stadium to make new tailgating rules so they don't destroy more tables in the parking lot. In case you needed another example, here might be the craziest one yet.
The Bills are 3-0 to start the NFL season with wins over the New York Jets, New York Giants, and Cincinnati Bengals. There's definitely a reason to celebrate right now, but one fan took it way too far with his partying following the 21-17 win at New Era Field.
There are legendary Bills fans for the right reasons, like the late Pancho Billa. Then there are ones like this guy, who decided to be next to a lit firework celebrating the home opener victory.
Ladies and gentleman, Bills Mafia is alive and well.
RELATED: Buffalo Bills Offer "Halftime Wedding Experience of a Lifetime"
Celebrating a win is acceptable. So is doing so with beer and fireworks, even though it's a little weird that it was a win against the lowly Bengals and not in the playoffs. This is just way, way, way too extreme.
Granted, the man was holding the firework so it wouldn't tip over, but why not find an even surface first before lighting the firework? Nevertheless, this guy thought he was doing the neighborhood a favor and paid a pretty painful price.
The firework blows up in his face and the video stops. Nobody really knows the extent of the injury, but Barstool Sports reached out to see if the man was alright.
Then, in classic Bills Mafia fashion, the guy replied, "We're 3-0. He'll be fine."
It doesn't get much crazier than this. A guy thought a late comeback by quarterback Josh Allen and company was a good enough reason to kneel next to a huge lit firework. It's like Buffalo won the Super Bowl or something.
And if you think it's wild now, just wait and see what happens when the Bills host their AFC East rivals — Tom Brady and the New England Patriots — next week.
Tailgates for Bills games are always insane, but apparently the postgame party is where it's at. Let's just hope everyone gets some safer fireworks for next time.