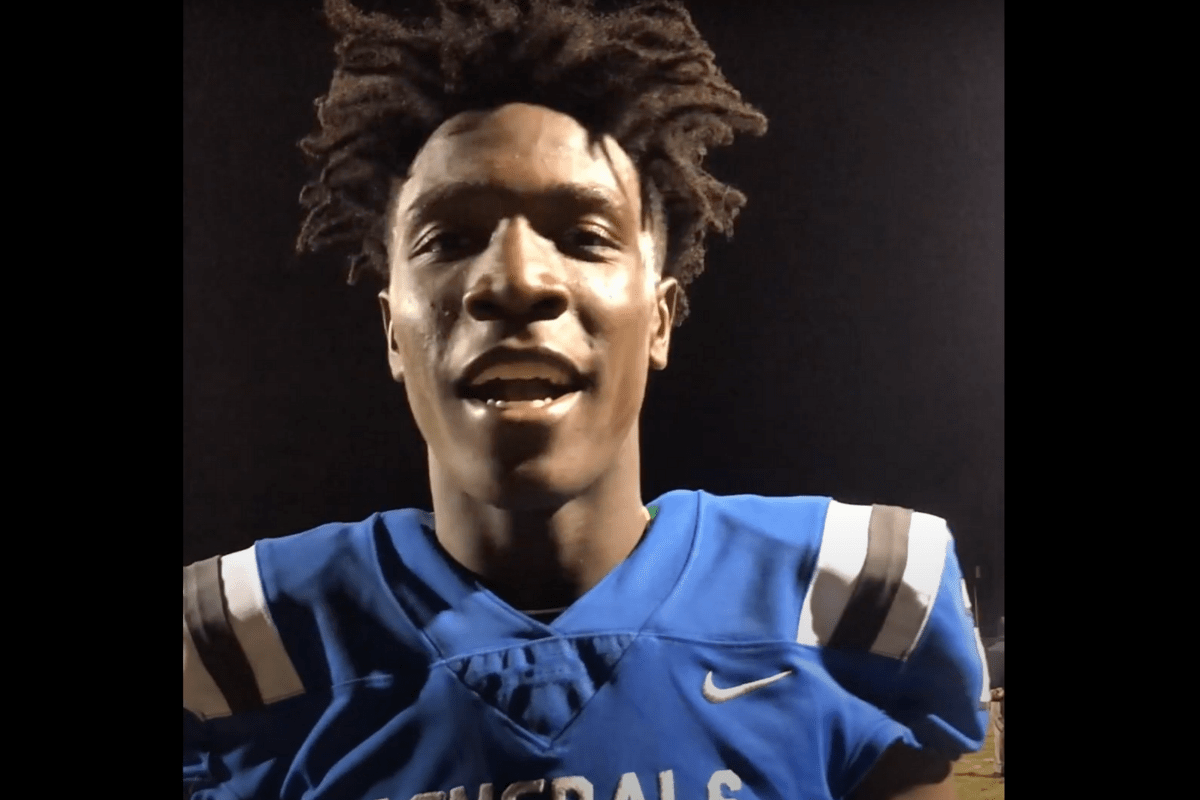 Screenshot from YouTube
Cornerback Jaheim Singletary has been a monster on defense for years and is one of the crown jewels of college football's 2022 recruiting class. He is a five-star talent, has a 74-inch wingspan and should be a force at the next level.
Singletary plays for Robert E. Lee High School in Jacksonville, Florida, and has been a ball magnet. So far in his career, he has 10 interceptions and has even scored three touchdowns as a wide receiver. It's no surprise every major NCAA program is after the 6-foot-1 player's services.
Jaheim Singletary Recruiting
RELATED: Could Nation's No. 4 Running Back Leave Texas for College?
The offers have piled in.
Singletary will have to choose between Arizona State, Auburn, Clemson, Florida, Florida State, Georgia, Georgia Tech, LSU, Maryland, Miami, Michigan, Nebraska, Ohio State, Oklahoma, Ole Miss, Oregon, Penn State, South Carolina, Tennessee, Texas A&M, UCF, USC, and Virginia Tech.
The Ohio State Buckeyes, who recently offered him, and the Florida Gators, are thought to be in the lead for his services.
He plans to make his commitment on January 1, 2021.
CB Jaheim Singletary Highlights 
Throwing into Singletary's coverage is a bad idea more often than not. He is 6-foot-1 and 170 pounds — a great height and weight for a defensive back — and he relies on his athleticism to stick with the wide receivers he is shadowing. There's a reason he was named an All-American, and his play speaks for itself.
The 247Sports Composite has Singletary as a five-star recruit and pegs him as the fifth-best defensive back in the country.
Scouts have raved about his potential, and it would not be crazy to hear his name called in the NFL Draft one day. In fact, 247Sports compares him most to NFL star cornerback Jalen Ramsey. Not too shabby.
Singletary has teased his announcement on his social media pages in the past, so while his commitment may not be that soon, it will be interesting to follow once he does choose a school.
With the potential for big things in his future, he will make one elite program's fans quite happy.
Jaheim Singletary Commits to Ohio State
UPDATE (January 20, 2021): The No. 10 prospect in the 2022 class is officially an Ohio State commit. Singletary announced the news at the start of the new year more than a week before the Buckeyes played the Alabama Crimson Tide in the College Football Playoff National Championship Game.
Singletary chose Ohio State over Clemson, Florida and Georgia. He talked about why he chose OSU in a video posted to the Under Armour All-America Game's twitter account.
Per 247Sports, Singletary was recruited hard to Columbus by running backs coach Tony Alford as well as defensive coordinator Kerry Coombs and head coach Ryan Day.
"Coach Alford that's my main guy," Singletary told 247Sports. "He's so human and he just keeps it real. He's the guy that's going to stay on top of you and mold you to be a great young man. Coach Coombs he's fun, that's my guy. He's fired up. He has that energy. Coach Coombs is the energy guy. Coach Day that's the top guy. I love Coach Day. Me and Coach Day talk every day through text and he's calling to make sure I'm ok and everything else is going good."
Singletary is a massive get in Ohio State's 2022 class that already includes No. 1 overall prospect Quinn Ewers and No. 1 wide receiver Caleb Burton. When it's all said and done, this class could be legendary.
This post was originally published on November 16, 2020 but has been updated to track Singletary's commitment.