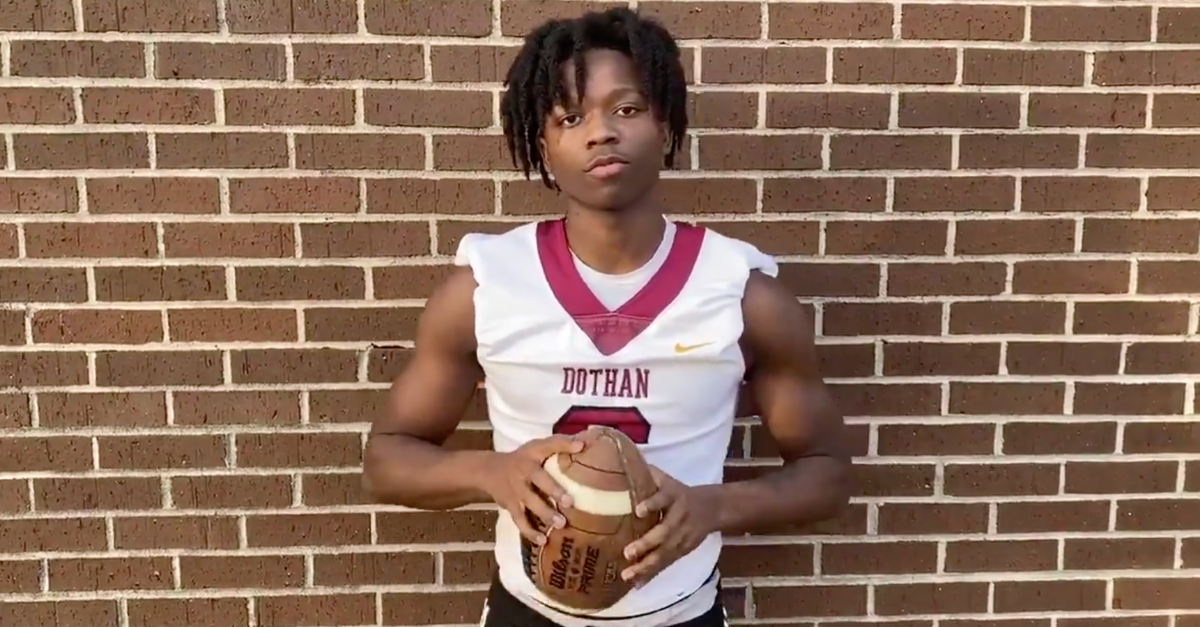 Screenshot from Twitter
Jayin White has some serious talent. The Dothan High School star running back is going to make a college football coach very happy over the next few years. Where that will be, however, is the big mystery.
White, a four-star running back from Alabama, raked in scholarships offers from all over before announcing his top-10 list on social media. It features several big-time programs, including in the SEC, but surprising none from his home state.
Despite not getting an offer from the Alabama Crimson Tide or the Auburn Tigers, White is moving forward with his recruitment.
RB Jaylin White Recruiting
RELATED: Nation?s No. 1 Cornerback Announces Unexpected Commitment
Ranked as the No. 10 running back nationally and No. 7 recruit in Alabama, according to the 247Sports Composite, running back Jaylin White has garnered a lot of attention over the years. He received offers from the likes of Arkansas, Arkansas State, Louisiana, Tennessee, Toledo, UAB, and UCF. They didn?t make the cut, though.
As of July 1, 2020, White is considering Florida, Florida State, South Carolina, Louisville, Texas A&M, Memphis, Ole Miss, Nebraska, Mississippi State, and Penn State.
He attended a Junior Day or took an unofficial visit to Tennessee, South Carolina, Alabama, Auburn and FSU before the coronavirus pandemic and COVID-19 outbreak, but only the Seminoles and Gamecocks made his final list.
RB Jaylin White Highlights
At 5-foot-10 and 185 pounds, Jaylin White showed some great things to come as a junior last football season. He rushed for 900 yards and scored 16 touchdowns.
There?s no doubt White will make an impact at the NCAA level and can work his way to becoming an NFL Draft pick down the road. He has that kind of talent, and it will be fun to see where he ends up to start the 2021 season.