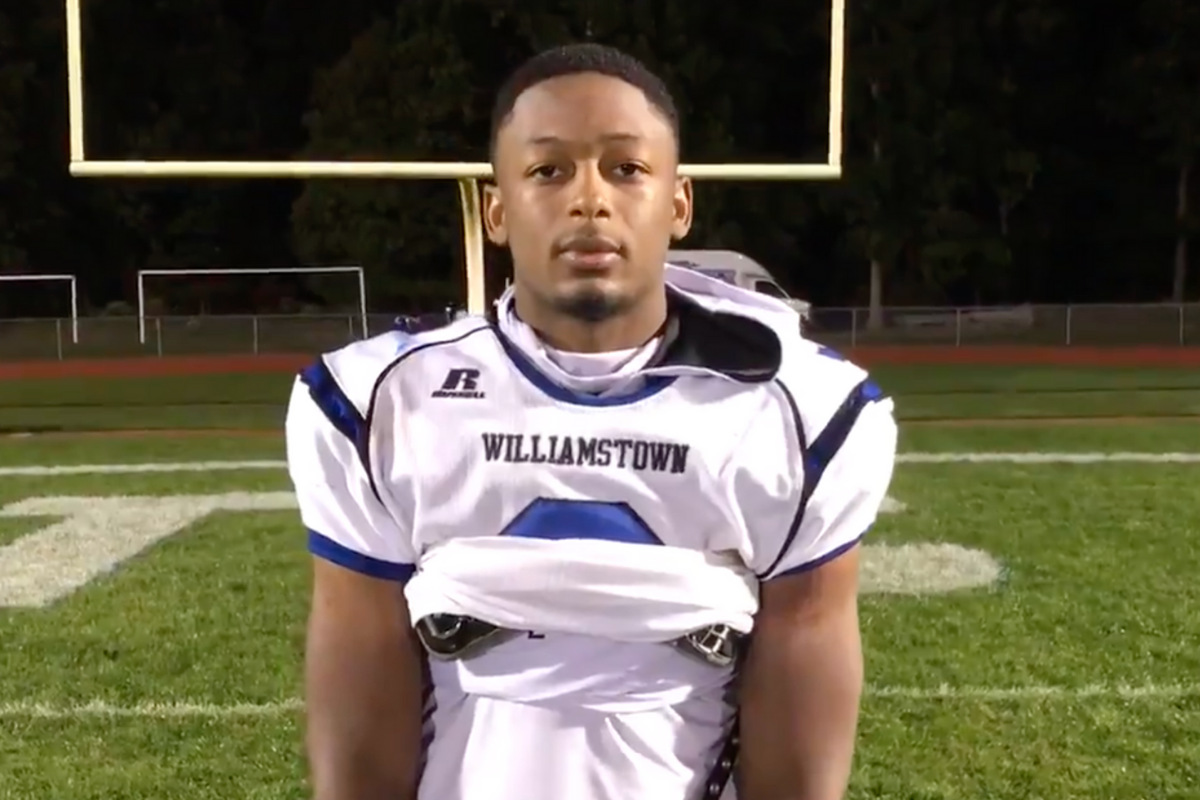 Screenshot from Twitter
New Jersey is not exactly known for its world-famous athletes, but there are certainly some exceptions. Williamstown's Keon Sabb is one of them and the defensive back is the best safety in the entire 2022 football recruiting class.
Sabb attends and plays for Williamstown High School. He originally attended school in Glassboro but moved in the middle of his sophomore year.
The COVID-19 pandemic delayed Sabb's debut, but he plays as a wide receiver and free safety, and has some of the nation's top college football programs after him.
Keon Sabb Recruiting
RELATED: 5-Star QB Has a Rocket Right Arm & Big-Time College Offers
To date, schools like Baylor, Central Michigan, Clemson, Florida, Florida State, Georgia, Maryland, Michigan, Mississippi State, Ohio State, Oregon, Penn State, Rutgers, and Texas A&M have reached out to athlete Keon Sabb.
He released his "Final 15" list on social media a few weeks ago. His commitment isn't set in stone, but the programs on his latest list definitely have a leg up.
The coronavirus limited his experiences with campus visits this summer, so perhaps a return to normalcy will give him more chances to research schools with first-hand impressions.
The Scarlet Knights are the punchline of many college football jokes, but Sabb is seriously in play. He has a good relationship with head coach Greg Schiano, who returned to the sidelines this fall. The Wolverines, seemingly in response to Ohio State's feverish 2022 pursuits, have been attempting to lure Sabb to Ann Arbor recently, too.
If it is a national championship he is looking for, he may have to search outside of his native state.
Keon Sabb Highlights
Five-star free safety Keon Sabb is an incredible athlete who plays basketball and runs track for Williamstown as well. 247Sports.com and ESPN think of him as an excellent prospect who could be taken in the first round of the NFL Draft when the time comes.
Sabb is one of the best recruits New Jersey has seen in a very long time.
Last year, he caught six touchdowns on offense and forced five interceptions on defense.
Northeastern schools don't always have the best football programs, but he stands out as a player who will make an impact on defense for years.