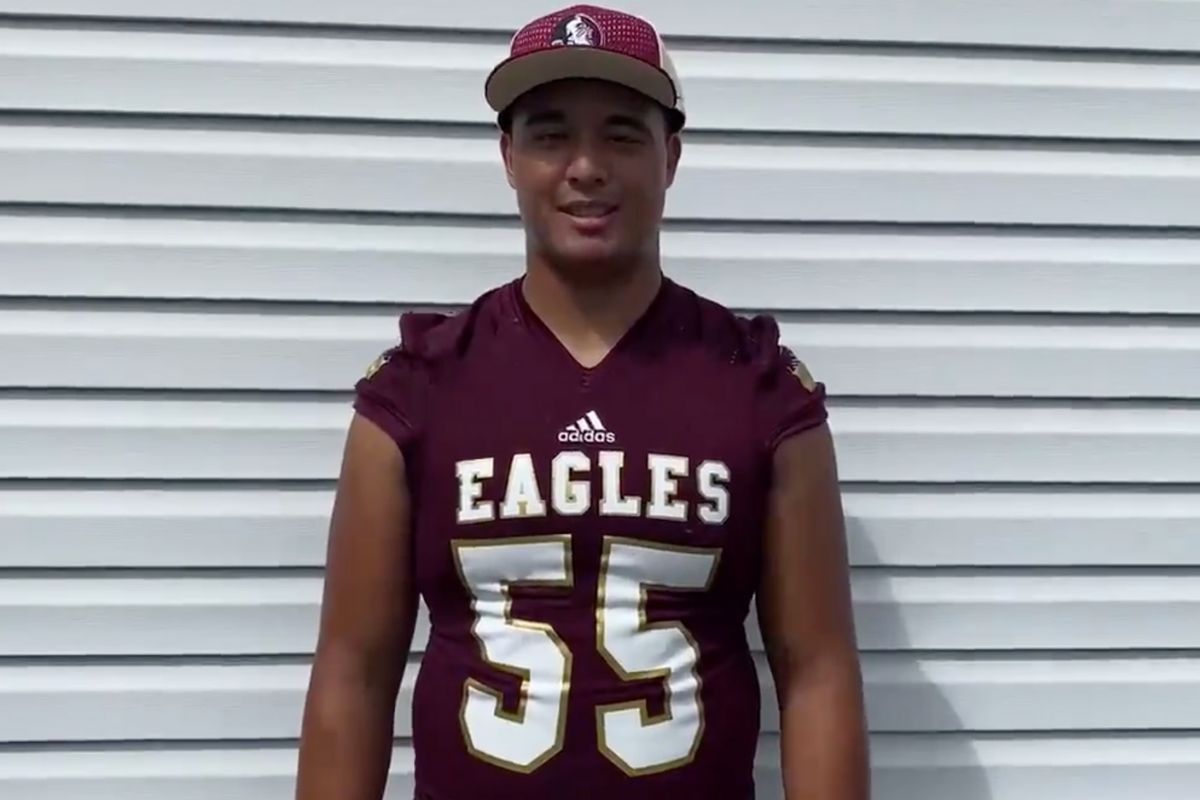 Screenshot from Twitter
The Florida State Seminoles have struggled to reclaim their dominance in college football over the last few years. They are hoping that a new offensive lineman will be able to help with the turnaround time.
Kimo Makaneole has committed to the Seminoles and will be joining head coach Mike Norvell's team next fall.
Makaneole, a three-star offensive guard, currently plays for Niceville High School in Florida and has been dominant in the trenches for the Eagles. Makaneole won't have to travel far from home to attend school; Tallahassee is just a two-hour drive from his hometown.
Kimo Makaneole Commits to Florida State 
RELATED: America's No. 3 Athlete Switches Commitment to Rival School
In addition to FSU, he also received offers from Arizona State, Boston College, Colorado, Duke, East Carolina, Kansas, Louisiana, Louisville, LSU, Mississippi State, Missouri, NC State, Pittsburgh, South Alabama, Southern Miss, Texas A&M, Tulane, and Virginia Tech. He is expected to play guard at the college level, but he does have experience as an offensive tackle as well.
One reason that FSU fans were excited at their chances is that Makaneole had spoken to offensive line coach Alex Atkins on multiple occasions and their relationship going into the recruiting process was healthy. Atkins was not able to secure fellow offensive lineman Jake Slaughter after he decommitted to join the Florida Gators, so Makaneole's signing will give Florida State some depth in the position group.
OL Kimo Makaneole Highlights
Makaneole is 6-foot-4 and 285 pounds, so Coach Atkins is going to have to help him gain some "good" weight while not taking away from his impressive athleticism.The speed he possesses is rare for an offensive lineman, and his chances of making the NFL would increase if he kept that attribute through college.
Makaneole can challenge opposing defensive ends and tackles, and his duties at guard will see him matches up against linebackers as well. Though he is a three-star prospect, linemen may take a few years to get acclimated with the talent level, so the hope is that he can improve and be an NFL Draft prospect one day.
Florida State is trying to rebuild their program quickly, and bolstering the recruiting class is one way for results to show. The team has not been atop the ACC for years, but with Norvell at the helm, perhaps they can make inroads and challenge rivals like Clemson and Miami for superiority.