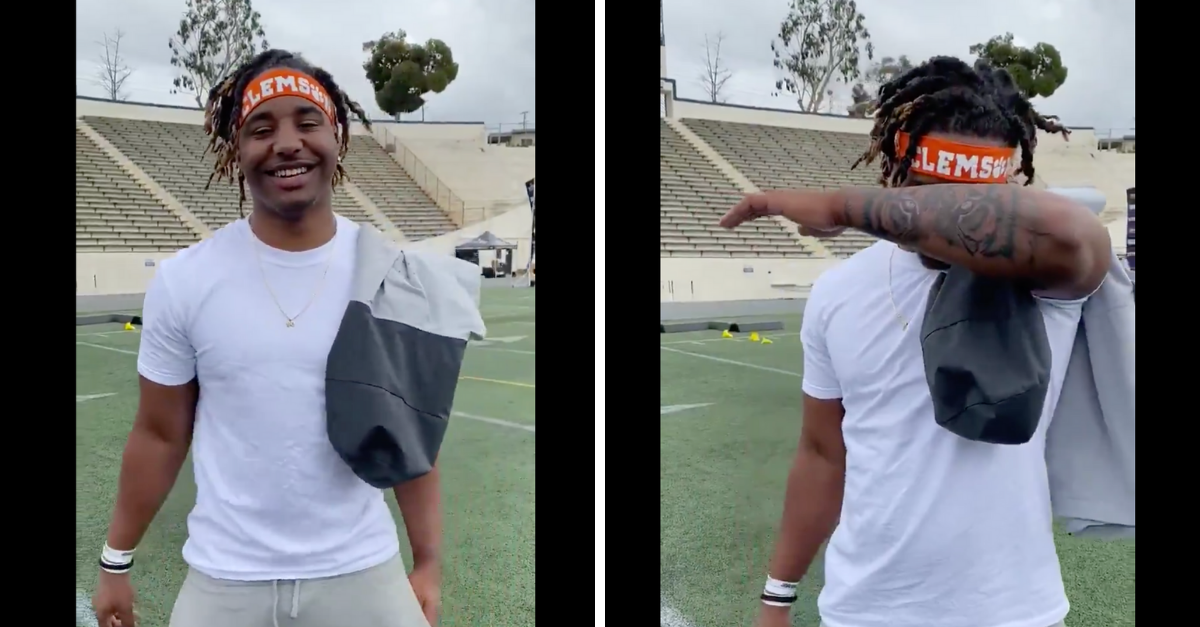 Twitter: Rivals
Defensive end Korey Foreman could play anywhere. There isn't a single college football program in the country that wouldn't welcome the Centennial five-star recruit with open arms. He's that good, and he already knows where he will play at the next level.
Although just a junior — the nation's No. 1 prospect for 2021, according to Rivals and the 247Sports Composite — the 6-foot-4 strongside defensive end from Corona, California made up his mind. On January 26, Foreman announced he would be taking his talents to play for head coach Dabo Swinney and the Clemson Tigers when his high school career is over.
DE Korey Foreman Commits to Clemson
RELATED: Trevor Lawrence Takes No Prisoners on the Basketball Court
Foreman's offer list was as long as it is impressive. It featured college football powers such as Alabama, Auburn, Georgia, LSU, Miami, Nebraska, Notre Dame, Ohio State, Oklahoma, Penn State, Tennessee, Texas, and Texas A&M, and Pac-12 schools Arizona, Arizona State, Colorado, Oregon, Oregon State, UCLA, USC, Utah, Washington, and Washington State.
At the end of the day, however, it was Clemson who won the recruiting battle all the way in South Carolina after his Junior Day visit.
"God's purpose is to make something great out of you! It is up to you whether you will fall in line with His leadership or resist it… I am 110% COMMITTED to Clemson University. #ALLIN"

— Korey Foreman, via Instagram
Considering Clemson signed St. John Bosco quarterback DJ Uiagalelei — the No. 1 overall prospect for 2020 — this was another massive win. Say what you want about the Tigers' cupcake schedule, but they get it done on the field to make the College Football Playoff and on the recruiting trail.
The Tigers have nine commitments for 2021, including wide receiver Beaux Collins, defensive end Cade Denhoff, offensive tackle Marcus Tate, linebacker Jeremiah Trotter Jr., tight end Jake Briningstool, center Ryan Linthicum, wide receiver Decari Collins, and running back Phil Mafah.
It's safe to say Clemson isn't done with landing top prospects, either.
Korey Foreman's Tattoo
If anyone needed clarification for how serious Foreman's commitment was, he even got a tiger tattoo on his left forearm to prove it.
Just a few weeks later, though, Foreman decided his Tiger tattoo wasn't solely meant for Clemson after all.
Korey Foreman Decommits from Clemson
UPDATE (April 21, 2020):  Multiple reports came out that Foreman was decommitting from Clemson, which is rare for Dabo Swinney's program. He could still end up a Tiger, but the West Coast product appeared interested in playing closer to home and is using the next few months to weigh his options.
Korey Foreman Highlights
At 6-foot-4 and 265 pounds, all you need is a couple of plays to realize Foreman is the real deal, and why many say he has NFL-level talent. He's incredibly explosive off the line with the size and athleticism to make it a nightmare for opposing quarterbacks.
Foreman deserves to be the top player in the class. Whether he ultimately ends up at Clemson or not, expect the defensive star to make an immediate impact.
This post was originally published on January 27, 2020. It's been updated several times tracking Foreman's recruiting.