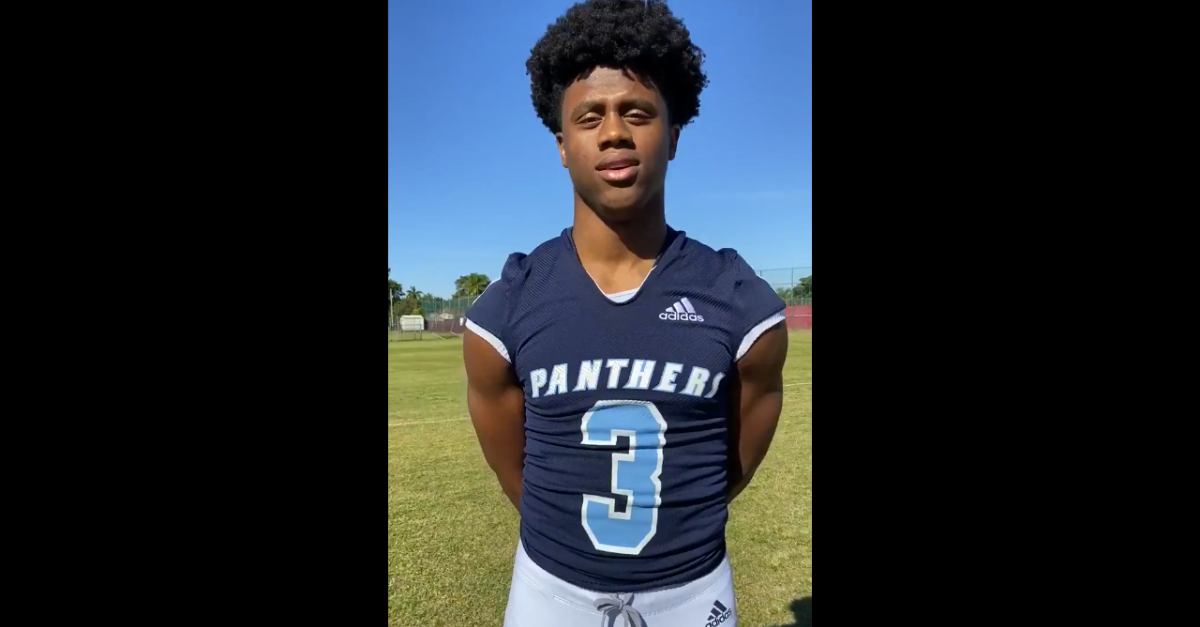 Screenshot from Twitter: Tom Lemming
Jason Marshall Jr. is everything a college football coach dreams of in a cornerback. He can run like the wind. Despite still being in high school, the 6-foot-2, 180-pounder already possesses the size and strength to muscle up with the top receivers in the NCAA.
Those reasons are part of why Marshall is ranked the No. 2 cornerback and the No. 29 overall prospect in the class of 2021, according to 247Sports. In an era when teams across the United States are looking to get bigger and faster, coaches are flocking to Miami Palmetto High School (Miami, Fla.) to try to nab the five-star defensive back.
Like Korey Foreman, Caleb Williams, Tony Grimes and the rest of the 2021 class, Marshall has the potential to be a future top NFL Draft pick. But first, the junior has one more high school season before playing college ball at one of the top programs in nation.
CB Jason Marshall Recruiting
RELATED: Nation's No. 1 Cornerback Reveals His Top 8 Schools
Unsurprisingly, Marshall has more than 25 offers from Power 5 programs across the country. Florida State, Georgia, LSU, Miami, Michigan, Ohio State, Oklahoma, Oregon, Penn State, Pittsburgh and Tennessee have all offered him.
Marshall, however, in April made it clear he'd be attending one of three schools: Alabama, Florida or Clemson. In July, he broadened the finalist list back to five schools, booting Clemson and throwing LSU, Miami and Oregon into the mix.
Alabama and LSU are no stranger to securing five-star athletes, but Florida could be the appealing in-state place for the Miami native. Considering former UF cornerback C.J. Henderson just got drafted in the first-round (marking the sixth first-round defensive back Florida's produced in the last 15 years), Marshall could be leaning toward the Florida Gators.
"The coverage they run," Marshall told 247Sports of what he likes about Florida. "Man, man press, and other stuff. I pride myself on my tackling, and that is something they do very well here."
Marshall attended UF's Junior Day on March 7 and took an unofficial visit to Gainesville in June 2019. He also attended the Miami Hurricanes' Junior Day.
UF head coach Dan Mullen and his coaching staff have been criticized for their lack of recruiting five-star players since taking over the program. Marshall would mark a five-star defensive player in back-to-back recruiting classes following defensive lineman Gervon Dexter in 2020.
Jason Marshall Highlights
Marshall's length, leaping ability and quickness all stand out when you watch his tape. The two-way (varsity basketball) athlete's athleticism practically jumps out of the video.
In his junior season at Miami Palmetto, he racked up 15 pass break-ups, five interceptions and 44 tackles and helped lead his team into the playoffs. Following another year of weight-training and developing, he's poised for an even monstrous senior season. MaxPreps already named him to its 2020 Preseason High School All-American Football Team.
Opposing wide receivers: watch out.
According to 247Sports composite evaluation, Marshall has the body of a "new-age corner" and projects as a second-round draft pick:
"Some muscle has already developed in the upper body, but no where near close to being maxed out. A natural athlete with a bounce to his step which likely stems from his basketball background. Tracks the ball extremely well and doesn't seem to have a problem flipping his hips while running in coverage. Excels on defense, but also makes an impact on offense and can score via the return game."
Whether he ends up in Tuscaloosa, Gainesville, Baton Rouge or somewhere else, Marshall is a sure bet to be an impact starter the day he suits up.
---
UPDATE (August 10, 2020): Despite the coronavirus pandemic holding the 2020 football season hostage, Marshall felt prepared to make his verbal commitment ahead of his senior year.
Via Twitter, Marshall announced his commitment to the University of Florida Gators football team. Marshall became the highest-rated recruit in Dan Mullen's 2021 recruiting class.
Jason Marshall Jr. Commits to Florida
This article was originally published April 28, 2020. It's been updated to track Jason Marshall Jr.'s recruitment.