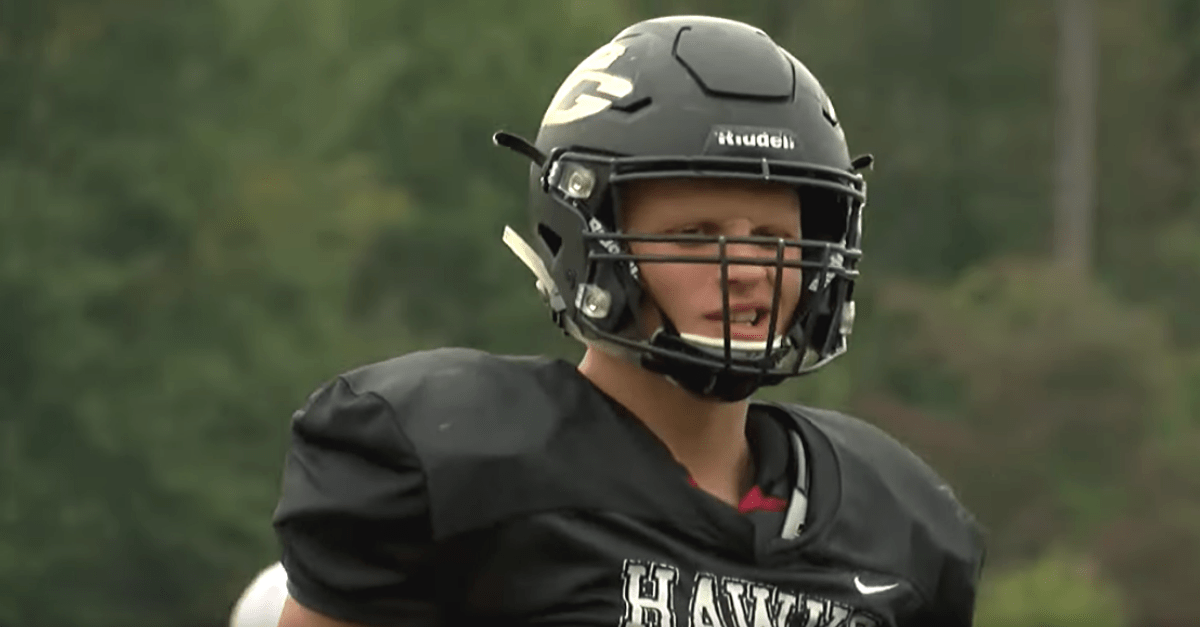 Screenshot from YouTube: ArkLaTex Homepage
The best college football programs are able to recruit five-star athletes. No one knows this better than Nick Saban and the Alabama Crimson Tide, who consistently reel in the top recruits every year. LSU, too, has welcomed top-flight high school recruits in recent years under head coach Ed Orgeron.
One premium position every SEC team vies for each recruiting class is defensive end. Without a pass-rushers like former Texas A&M Aggie Myles Garrett, who was an absolute freak in high school, defenses struggle to disrupt quarterbacks in a league that's grooming great ones like Tua Tagovailoa and Joe Burrow.
For the class of 2021, every school has the same defensive end on its board: Landon Jackson. A four-star defensive end out of Pleasant Grove High School (Texarkana, Texas), Jackson is ranked the No. 3 weak-side defensive end and 19th overall prospect in Texas, according to the 247Sports Composite.
Landon Jackson Recruiting
He's a 6-foot-6 beast who weighs in at 240 pounds, and he uses every ounce of his body coming off the edge. Recruiting website 247Sports notes in its evaluation that Jackson has an elite frame as a "natural pass-rusher who flashes impressive quickness off the line."
Unsurprisingly, every NCAA coach in America is hot on Jackson's trail. He holds offers from Alabama, LSU, Ohio State, Texas, Texas A&M, Arkansas, Baylor, Texas Tech, Texas State, Tulsa, Florida State, Notre Dame and Oklahoma among others, though 247Sports lists those first five as the schools he's most interested in.
In July 2019, Jackson announced his top-10 schools on Twitter.
Landon Jackson's Top 10
Alabama Crimson Tide
Arkansas Razorbacks
LSU Tigers
Miami Hurricanes
Nebraska Cornhuskers
Notre Dame Fighting Irish
Oklahoma Sooners
Texas A&M Aggies
Texas Longhorns
Washington Huskies
College Station holds a special destination for Jackson given that Jackson's father, Larry, played basketball for the Texas A&M Aggies.
A first-team selection in his Class 4A, Jackson helped lead the Pleasant Grove Hawks to a 15-1 record and state championship this past season. The MaxPreps Junior All-American racked up over 100 tackles and 16 sacks in 2019.
Basically, this kid covers opposing quarterbacks better than heated blankets on a winter day.
Jackson profiles as a future NFL defensive lineman and will provide instant pressure along an SEC team's defensive line. He's unofficially visited a few programs like the Texas A&M Aggies, Texas Longhorns and LSU Tigers, and all signs point to Jackson wreaking havoc in the Lone Star State.
This article was originally published January 10, 2020.
---
UPDATE (April 28, 2020): Jackson announced his college decision in late April amidst the coronavirus pandemic, which paused offseason recruiting trips for prospects.
On Twitter, Jackson announced his commitment to Ed Orgeron's team and the defending CFP National Champion LSU Tigers heading into the summer.
Landon Jackson Commits to LSU