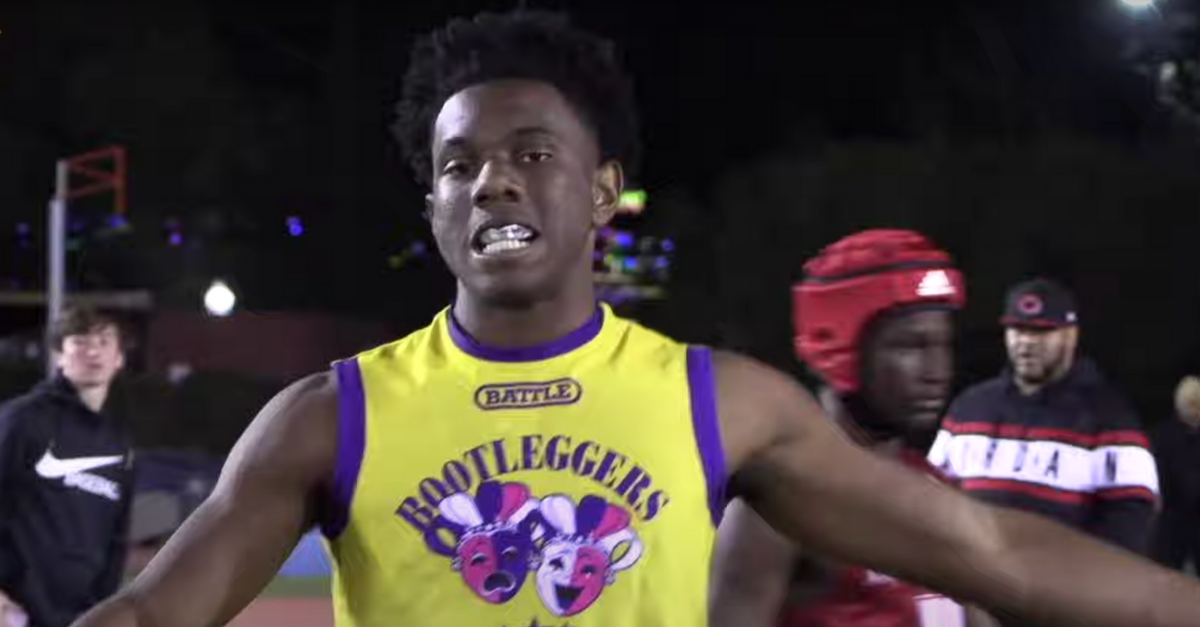 Screenshot from YouTube
Comeaux High School wide receiver Malik Nabers is looking to play his college football in the SEC. He knows he wants to play for the Bulldogs, too. Now the only thing left is for him to decide which one.
Nabers, a four-star recruit from Lafayette, Louisiana, is set to choose between the Georgia Bulldogs and the Mississippi State Bulldogs. He?s fielded scholarship offers from big-time programs all across the country, but playing for either UGA head coach Kirby Smart or MSU head coach Mike Leach looks to be the move.
Georgia is his ?dream school? and Mississippi State offered him at both wide receiver and defensive back, according to 247Sports. Needless to say, the battle for his talent is heating up.
WR Malik Nabers Recruiting
RELATED: America?s No. 1 Safety Deciding Between 2 Schools
Ranked as the No. 45 wide receiver nationally and No. 8 recruit in Louisiana, according to the 247Sports Composite, Malik Nabers certainly had his choice of major programs. He received offers from Arizona, Arizona State, Arkansas, Auburn, Kansas, Kentucky, Louisville, Memphis, Miami, Michigan, Notre Dame, Oklahoma, Ole Miss, Oregon, Penn State, Syracuse, Tennessee, Texas, Utah, Virginia, and Washington State, among others.
Despite being one of the best football players in the state, the LSU Tigers have not offered.
Whether it?s at Georgia or Mississippi State, Nabers is on track to have a strong college career.
WR Malik Nabers Highlights
If a quarterback puts the ball close to his hands, Malik Nabers is going to make a play. As a junior last season, he caught 58 passes for 1,223 yards with 21 touchdowns. There?s no doubt he can do that at the next level and work his way to becoming an NFL Draft pick, too.
At 6-foot and 190 pounds, Nabers has the talent, speed, and skill to make an impact.