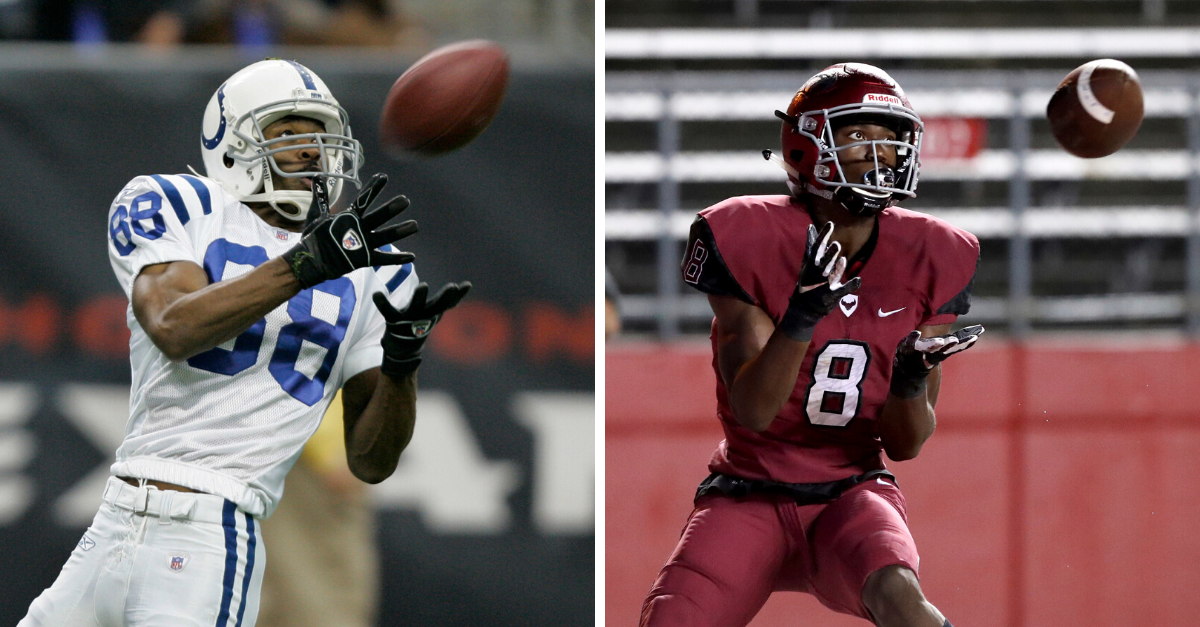 AP Photos/David J. Phillip (left), Gregory Payan (right)
One of the top wide receivers in the college football class of 2021 and the son of a hall of fame receiver is planning to attend Ohio State University, adding another top pass catcher over the past two seasons.
With top quarterback and receiver prospects in the current class, and the class for next year, the Buckeyes have a future passing attack that will include wide receiver Marvin Harrison Jr. along with many other great recruits.
From Philadelphia, Pennsylvania's St. Joseph's Prep School, Harrison is not just one of the top current high school receivers, but also one of the best players in the 2021 recruiting class.
A Pro Football Hall of Fame receiver and one of the best in NFL history, former Indianapolis Colts wide receiver Marvin Harrison has a name many in the sport will immediately recognize. The younger Harrison committed to the Ohio State Buckeyes on Halloween day in 2019, choosing a school with tons of young talent over his father's alma mater and many other top schools.
Marvin Harrison Jr. Recruiting
RELATED: Nation's No. 1 All-Purpose RB Weighing Big-Time College Offers
As a four-star recruit, Harrison has his choice of schools across the country. If he decides to open his recruitment back up at some point between now and the early signing period, there will be dozens of programs that would welcome him with open arms.
Harrison is ranked as the No. 14 receiver in the 2021 recruiting class and 89th overall player, according to the 247Sports Composite. He was the second receiver to commit to the Buckeyes as part of this class, joining Jayden Ballard as the four-star receivers in the class.
Harrison is a two-time MaxPreps All-American through his sophomore and junior years. In 2019, Harrison helped St. Joseph's to a second-straight state championship with 47 catches for 1,033 yards and 15 touchdowns.
Ohio State signed four receivers in the 2020 recruiting cycle, two four-stars and two five-stars. Julian Fleming, the top receiver in the class and third overall player, was joined by Jaxon Smith-Njigba, Mookie Cooper, and Gee Scott. They also have top quarterbacks as a part of each group with the second-ranked pro-style quarterback CJ Stroud in 2020, and the third-ranked pro-style quarterback Kyle McCord in 2021, who is Harrison's high school teammate.
So far, Harrison has at least 19 scholarship offers, including Ohio State's. Other schools who offered him include Florida, LSU, Michigan, Michigan State, Notre Dame, Penn State, Syracuse and Texas A&M.
Marvin Harrison Jr. Highlights
Listed at 6-foot-4 and 184 pounds, Harrison is much bigger than a lot of the defensive players he is going up against on the outside in his highlights, but he is also visibly faster as well.
He already has the height of a top target, but will definitely need to put on some muscle to play against physical corners in college and, eventually, if he enters the NFL Draft. With his height, he will be able to walk onto any college campus and be a target for catching touchdowns in the red-zone.
In his film, Harrison does show an ability to not only go up and get the ball, but also make plays once he has it in his hands on shorter routes. He should be able to become a really good all-around wideout at the collegiate level.
This article was originally published March 5, 2020.