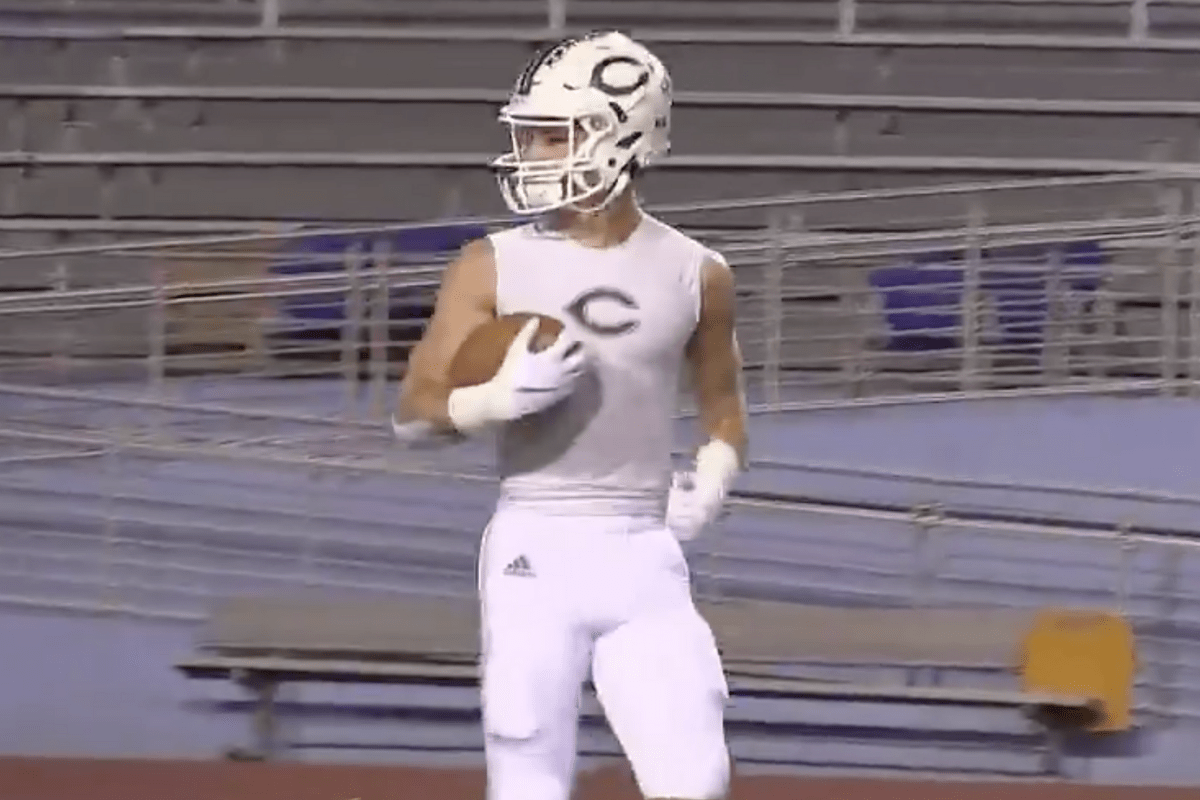 Screenshot from Twitter
The LSU Tigers have been riding a wave of positive momentum since their College Football Playoff win against Clemson last January, and renewed interest in the program has allowed them to bolster their recruiting class. They even attracted a player who was committed to playing elsewhere.
Safety Matthew Langlois will head to Baton Rouge and play for coach Ed Orgeron after he initially agreed to play for Kansas State.
Langlois will now be able to play for his dream school in his home state. The Louisiana native attends Catholic of Pointe Coupee in New Roads and has been a Tigers fan his whole life, modeling his game after Tyrann Mathieu.
Matthew Langlois Commits to LSU
RELATED: Nation's No. 1 Safety, Kevin Faulk's Cousin, Commits to LSU
In addition to KSU and LSU, Langlois received offers from Arizona, Arkansas State, Boston College, Colorado, Houston, Louisiana, Louisiana Tech, Mississippi State, Northwestern, Notre Dame, South Alabama, Vanderbilt, Wake Forest, and West Virginia.
Langlois, a three-star defensive back,, posted on social media about his love for LSU football, and while it may sting for Kansas State fans, the offer was too much for the safety to pass up.
The offers continued to roll in during the COVID-19 pandemic. Several of them, including the one made by the Tigers, came after an impressive performance by Langlois in a showcase in New Orleans.
Last season, Langlois had 68 tackles and four sacks on the season. Despite his defensive prowess, he does not play on that side of the ball exclusively; he also plays running back and tallied 1,343 rushing yards and 27 touchdowns in 2019. His heroics led the CPC Hornets to a state title appearance.
Matthew Langlois Highlights
Langlois stands at 6-foot-1 and weighs 180 pounds. His speed helped him play on both sides of the ball and will help him get acclimated to the college level quickly, but his ability as a tackler can't be ignored. He hits just as hard as a linebacker and plays a very physical game.
While the expectation is it may take some time to get acclimated to the defensive back position in college, LSU believes that Langlois is up to the task and could be a starter for their next championship-winning roster filled with NFL-level talent.