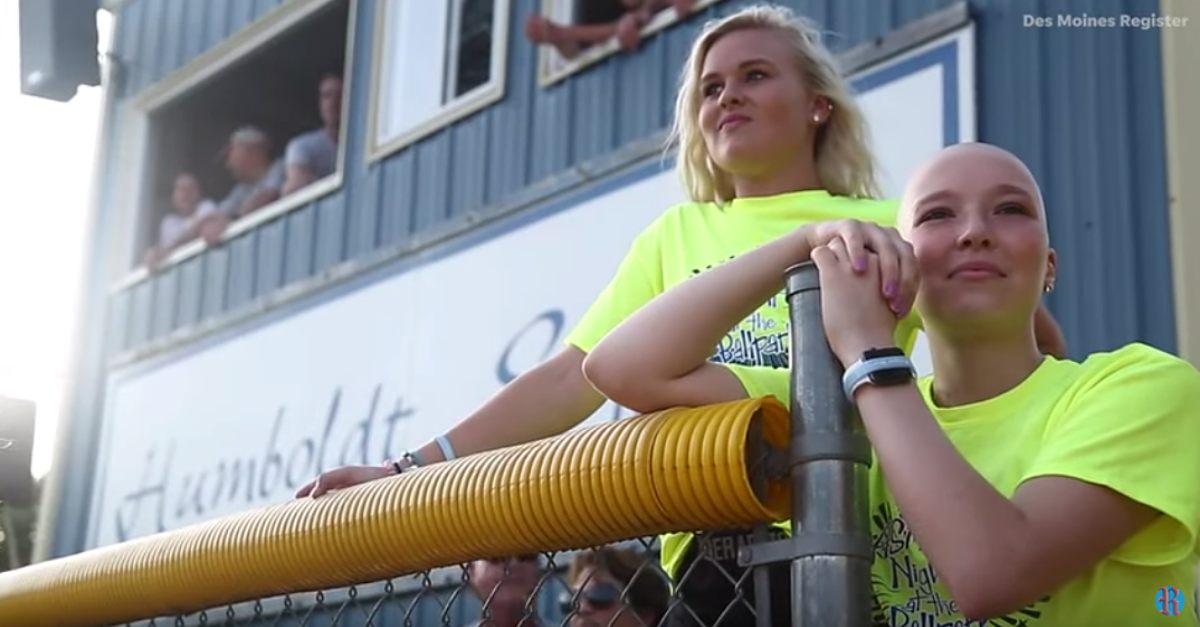 Screenshot from YouTube: DMRegister
To put it mildly, the Humboldt High School Wildcats softball team is dominant. In 2017, head coach Doug VanPelt's squad finished 30-5 and took fifth in the Class 3A Iowa state playoffs. The next year, the girls went 31-4-1 and won the third place game at the state championships. In 2019, not much has changed on the field, but everything changed off of it.
Humboldt softball player Ashlyn Clark entered the season as one of her team's leaders and starting right fielder. Already signed to play college volleyball at Iowa Central, the senior figured to be a centerpiece as Humboldt chased a state title. All was going well, until Ashlyn began "feeling pretty crappy" in the fall. It took until May 8, 2019 for the diagnosis; she had Stage 4 Hodgkin's Lymphoma.
Chemotherapy treatments began immediately at the Mayo Clinic in Minnesota. Five rounds of 21-day treatments were recommended to fight the disease.
While many people struggle with simple daily tasks during chemo treatments, Clark only had one goal. She was going to play softball her senior season.
"Every game, when they announce her name, I tear up," Kristi Clark, Ashlyn's mother, told the Des Moines Register. "When she's in the hospital, she's like, 'Mom, I want to get back to my happy place. I need to get back.'"
Clark was born to be an athlete. Her father, Derrik, played football for Iowa State, and her uncle is Dallas Clark, who caught 53 touchdowns in 11 NFL seasons playing for the Indianapolis Colts, Baltimore Ravens and Tampa Bay Buccaneers.
Not even cancer was going to stop the four-sport high school athlete from competing.
Through her first 15 games of the season, Clark hit .368 with a double and 4 RBIs while starting in right field, and on July 9, she made the most of Senior Night with a performance that clinched Humboldt's fourth-straight North Central Conference championship.
Clark belted her first career home run over the right field wall as part of a 3-for-3 night when she drove in four RBIs. Humboldt defeated Clear Lake, 10-0, pushing their record to 28-2 on the season, according to MaxPreps. The Wildcats are ranked as the No. 3 team in Iowa's Class 3A.
RELATED: HS Softball Pitcher Throws 'Perfect' Perfect Game With 21 Strikeouts
Earlier this season, Humboldt held "Ashlyn's Night at the Ballpark" when a celebrity softball game between former Iowa Hawkeyes and Iowa State Cyclones athletes took place, and a fundraiser auction helped raise money for her cause. Two-time NFL Pro Bowler Chad Greenway (Iowa) and 2017 First-Team All-American linebacker Joel Lanning (Iowa State) were among the athletes involved.
"I am beyond grateful to put a jersey on and step foot in this dugout, or any other dugout," Ashlyn said. "I?m a very competitive person, but a bad at-bat, in the broad aspect of life, really doesn't matter.
"You'll think about it for a couple of hours, but I?m just so beyond grateful to even be out here."
If she feels well enough, Ashlyn expects to play in the state playoffs as Humboldt chases the school's first-ever state championship.