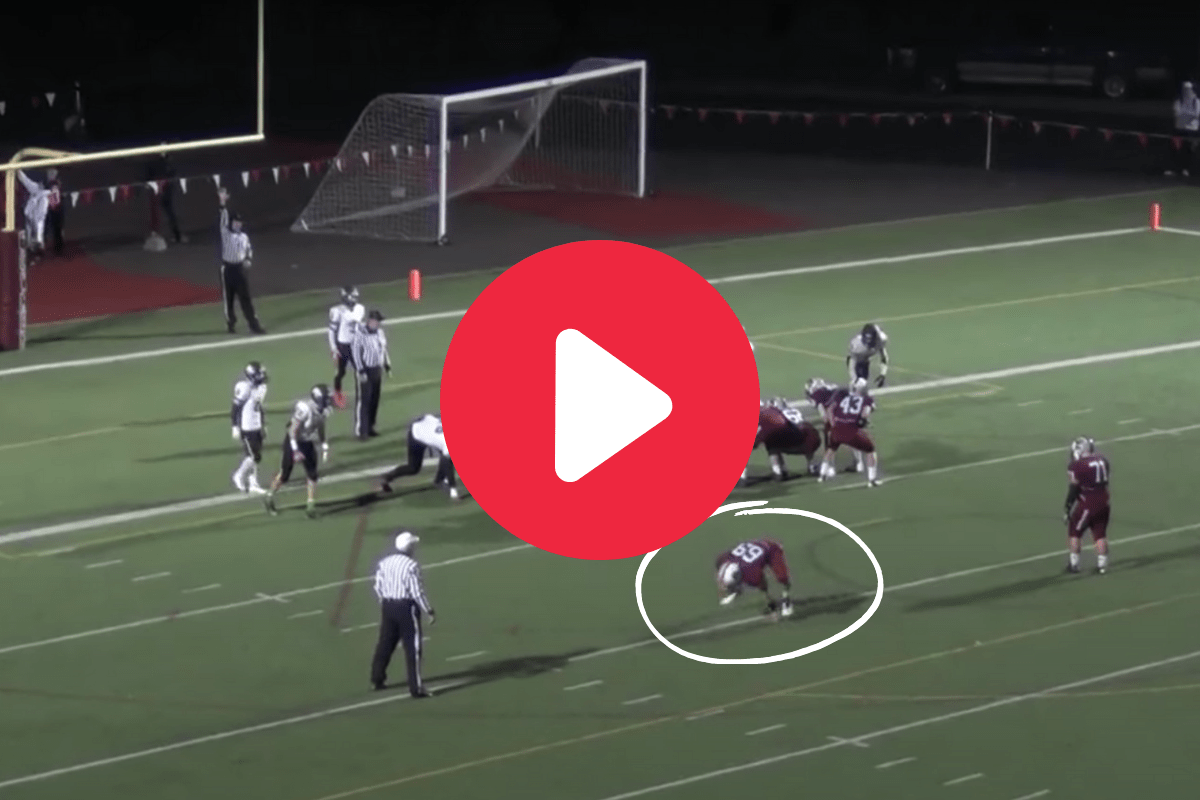 Screenshot from YouTube: MaxPreps
Faking out defenses is a key part of football. The entire point of a successful offense is to confuse cornerbacks, safeties and linebackers to get your own guy wide open somewhere on the field.
At the high school level, sometimes a coach has to devise new and unique ways to do just that. Telling a 300-pound lineman to execute a cartwheel is one of them. So is doing a row of backflips at the line of scrimmage. Don't even get me started on the classic "fainting" trick play that will leave you in stitches.
In Sherwood, Oregon, a football team used a "frogger" trick play to perfection.
"Wrecking Ball" Trick Play
RELATED: HS Player Does Backflips in Motion, Gets Ejected Immediately
Sherwood High School lined up for a simple PAT against Putnam High School. Just before the ball is snapped, the holder turns around, places the tee on his forehead and jumps toward the sideline like a frog. The referee stands before him in complete disbelief.
As you can see, the move definitely distracted defenders. The kicker fakes like he's going to run up the middle before throwing a jump-pass to a player in the end zone. What's funny is that he had a player wide open (I mean absolutely wide open) in the end zone to his right for the two-point conversion.
The play, dubbed the "wrecking ball fake PAT" by MaxPreps, became a social media hit in 2013. Why the wrecking ball, you ask? Because the player who threw the pass stood 5-foot-5, 240 pounds and looked like a wrecking ball.
According to Yahoo! Sports, the holder (remember Mr. Frogger?) was actually acting like a monkey. He even screeched and howled.
Sherwood coach Greg Lawrence told MaxPreps that the play was meant to get some of his senior players some action.
"We have 32 seniors," Lawrence told MaxPreps, per Yahoo! "We're trying to get one of them in on special teams. We've been winning most games. We've been crushing everyone, so we've been trying to find things to make it fun for the kids.

"One of our other senior linemen asked if he could come off like a monkey, pick the tee up, and hop off the field like a monkey. Our special teams coach said 'Sure, why not? Let's do it.'"
Imagine being so good that you can just say "sure" to a trick play like this. Sherwood ended up winning the game, 62-7, to no one's surprise.