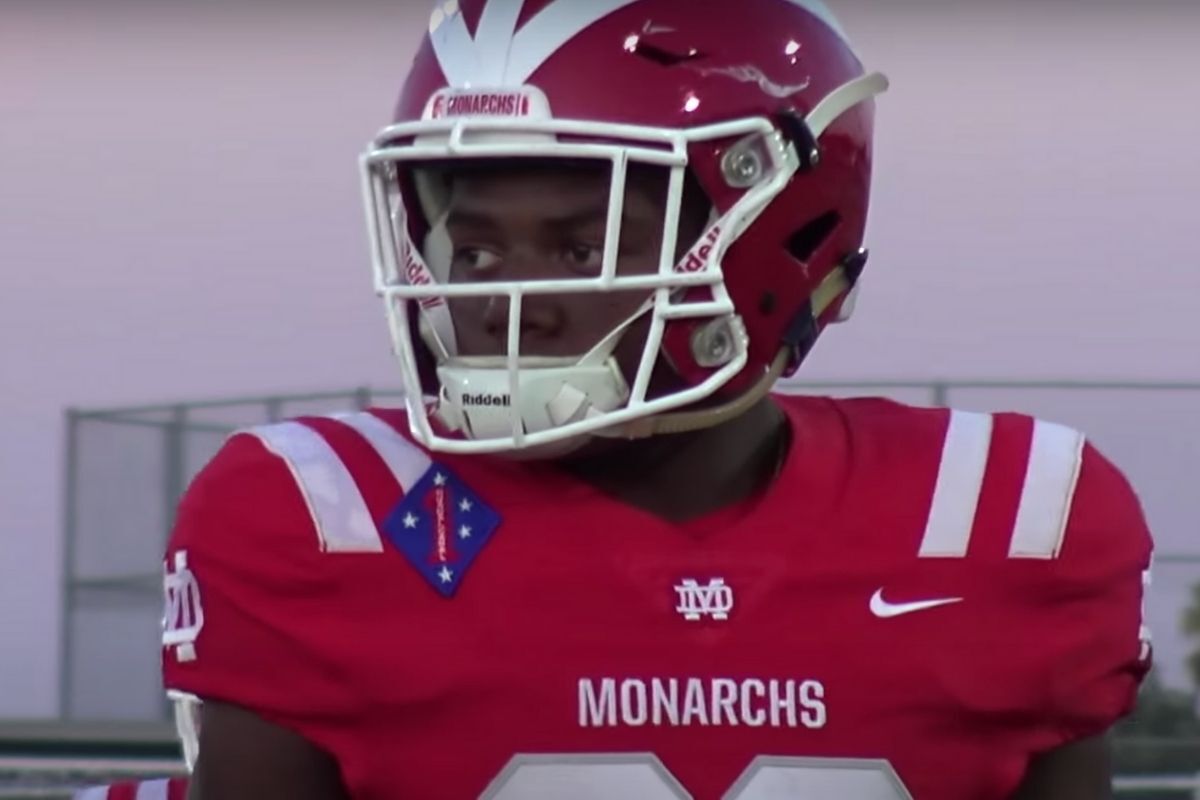 Screenshot from YouTube
The LSU Tigers are the reigning College Football Playoff champions, and with that prestige comes an implicit recruiting advantage. Players are going to flock to a team led by head coach Ed Orgeron because of the opportunities to compete for more championships and build up a resume for the NFL Draft.
To date, LSU has lost out on a few five-star players in the recruiting class to rivals like Alabama and Georgia, but they have been among the best schools at recruiting four-star talent.
Linebacker Raesjon Davis is just one of those four-star players making the trip to Baton Rouge for the next few seasons.
Davis plays for Mater Dei High School in Santa Ana, California. He has been unstoppable on the field, with a combined 73 tackles and 15 sacks over his three-season career. His sophomore culminated in a state championship for the Monarchs. Before the pandemic-related postponement of California high school football, he was named a preseason All-American.
Though he is known for his work on the defensive side of the ball, he does have one career snap at running back. LSU football is getting a stud.
Linebacker Raesjon Davis Commits to LSU
RELATED: Kevin Coleman Has 5-Star Talent, And His Offer List Proves It
Before committing to the Tigers, he was being looked at by many other teams. Arizona, Arizona State, Baylor, Colorado, Florida State, Kansas, Maryland, Miami, Michigan, Nebraska, Ohio State, Oklahoma, Oklahoma State, Oregon, Oregon State, Texas, Texas A&M, UCLA, USC, and Utah are just some of the schools that made offers to Davis.
LB Raesjon Davis Highlights 
As you can see, Davis is a great tackler. He has the versatility to play safety and shadow wide receivers, but he is most comfortable as an outside linebacker, even if he is a bit undersized for the time being.
His aggressiveness will do wonders against other SEC programs. 247Sports is quite bullish on his success in college, and that hype is warranted. The recruiting process was much different this year, but Davis has been in touch with LSU coaches every step of the way.
Louisiana has become a go-to destination for high school talent. If the Tigers can land defensive lineman Korey Foreman as well, this football recruiting class will get even more praise. For now, the team must be happy with Raesjon Davis, who will shore up their linebacking corps for the next few seasons.