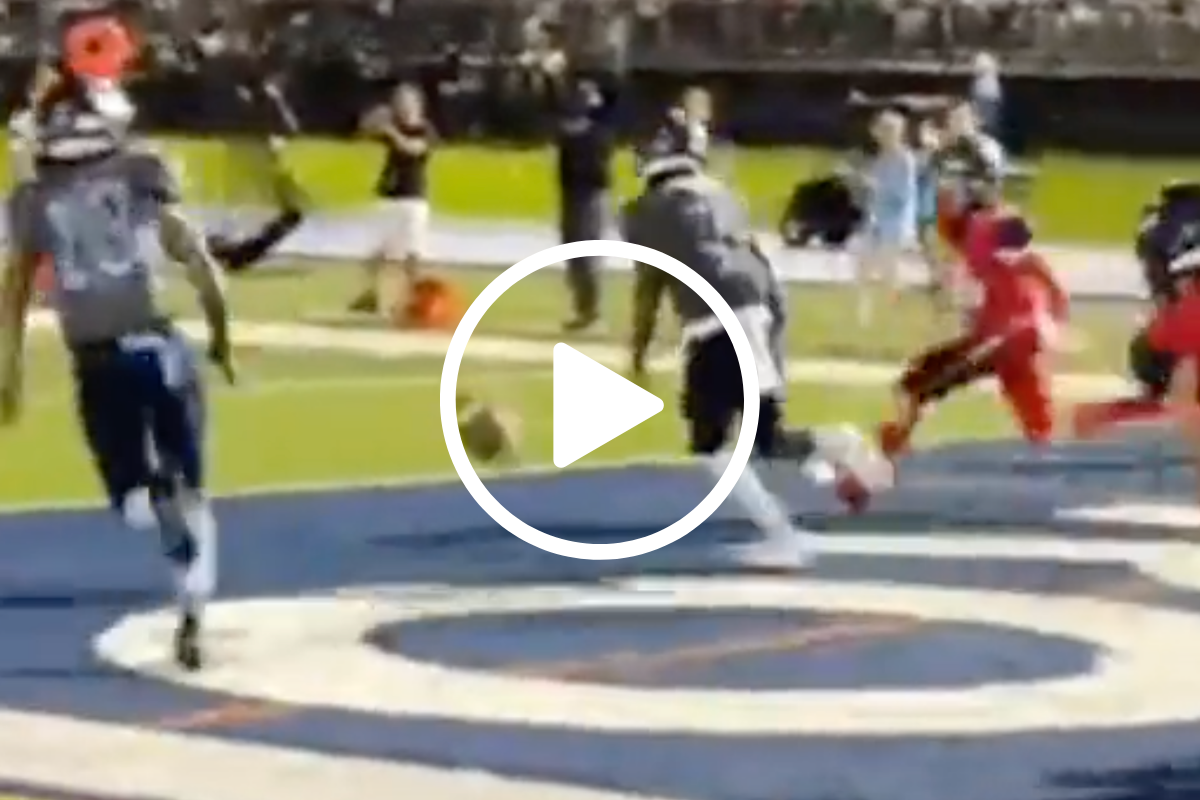 Screenshot from Twitter
It's becoming a trend in football to make the conservative play in favor of a win. We saw former Los Angeles Rams running back Todd Gurley stop short of a touchdown to secure the win over the Green Bay Packers in 2018. Gurley was applauded for his smarts and team-minded attitude. (He tried the same thing with the Atlanta Falcons in 2020 and had a different result.)
In South Florida, Miami Palmetto defensive back Mike Jackson had the opportunity to ice the game after making the interception of his life. What followed was perhaps the biggest slip up of his young football career and a controversial call that determined the game's outcome.
Miami Palmetto's Controversial Interception

RELATED: Trent Dilfer Blows Up on HS Player, Internet Decides If Coach Went Too Far
The Miami Palmetto Panthers held a 7-3 lead against the Columbus Explorers in a Class 8A matchup. Columbus had one last shot at the end zone in the final seconds of the game.
Columbus quarterback Fernando Mendoza rolls to his left and heaves a pass for all the marbles. He overthrows his receiver, and Jackson makes an easy interception.
Ball game, right?
All Jackson had to do was channel his inner Todd Gurley to secure the win. Instead, he channeled his inner Desean Jackson by assuming the game was over and dropping the ball in celebration. A Columbus player jumps on the loose ball in the end zone. Touchdown Explorers! They did the impossible.
Hold the phone.
According to Football Hotbed, a South Florida high school football website, officials confirmed the play was dead as soon as Jackson made the interception. Panthers win.
"The ball is dead, it's in the end zone," the head referee said immediately after making the ruling. "The ball game's over."
Jackson owned up to his mistake after the game, too.
"I looked at the clock and saw zeros, so I just threw the ball down," Jackson said. "I made a mistake."
How is this possible? The ball stayed in the end zone and was recovered by the offense. Every fiber in my being tells me that's a touchdown. For some reason, the officials determined the play was dead once the pass was intercepted. They just let the entire sequence play out and didn't blow their whistle. Classic mistake.
Apparently it's a common rule in high school football for interceptions to be ruled dead in the end zone. Apparently it's not in some places. A majority of fans on the Internet felt the play should've been a touchdown for Columbus. Few supported the official decision.
The call was the literal difference between a win and a loss. What do you think?
Related Videos