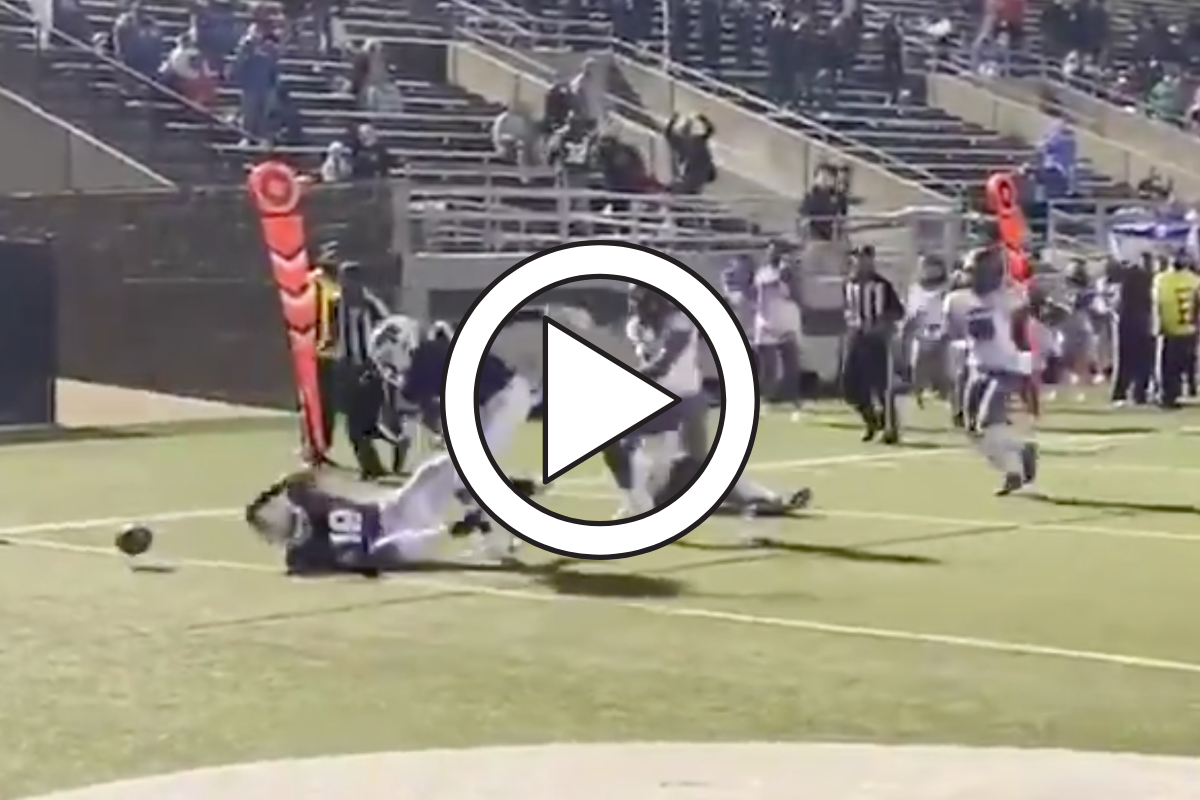 Screenshot from Twitter
Watching an unthinkable play work is pretty much normal in high school football. They happen all of the time. Yet, for some reason, it's always amazing to see and this next one belongs in a league of its own.
In early November 2020, Mansfield Summit topped Richland in a Texas District 4-5A Division I matchup. The 49-23 final score is almost irrelevant, however. What this playoff game will be remembered for is a crazy play you honestly just have to see to believe.
A pass to the end zone turned into a tipped-ball interception off a defender's helmet. It then resulted in two more fumbles before the initial target on the play laid on top of the ball for the unlikely touchdown.
Ladies and gentleman, it doesn't get much wilder than this.
Richland's Interception/Fumble Touchdown
RELATED: High School's "No-Look Backwards Pass" Trick Play Somehow Works
The Richland Royals football team was driving and looking for a touchdown that Friday night at the Birdville Fine Arts/Athletics Complex. Quarterback Cole Benson was looking for wide receiver Jay Rhinehart to make it happen. Then, all hell broke loose at the high school football game.
Benson's pass bounced off the helmet of Mansfield Summit's Ahmaad Moses and picked off by Sean Smith, who immediately tried to run it back the other way for the Jaguars.
Smith was then stripped by Mark Zamora. He raced back toward his end zone, but then he lost the ball. Rhinehart was right there to recover it for a Richland touchdown.
This play sums up the coronavirus pandemic and COVID-19 outbreak pretty perfectly.
If this has never happened before, there's a first time for everything. You better believe fans from Dallas to Arlington to Fort Worth are talking about this play, and some will remember it forever.
Those involved in the game, from the players to the head coach, can tell you all about every touchdown and field goal, or exactly what happened in the second quarter, but this wild and wacky play late in the game is beyond captivating.
Although Richland lost, that touchdown will go down as one of the craziest ever.