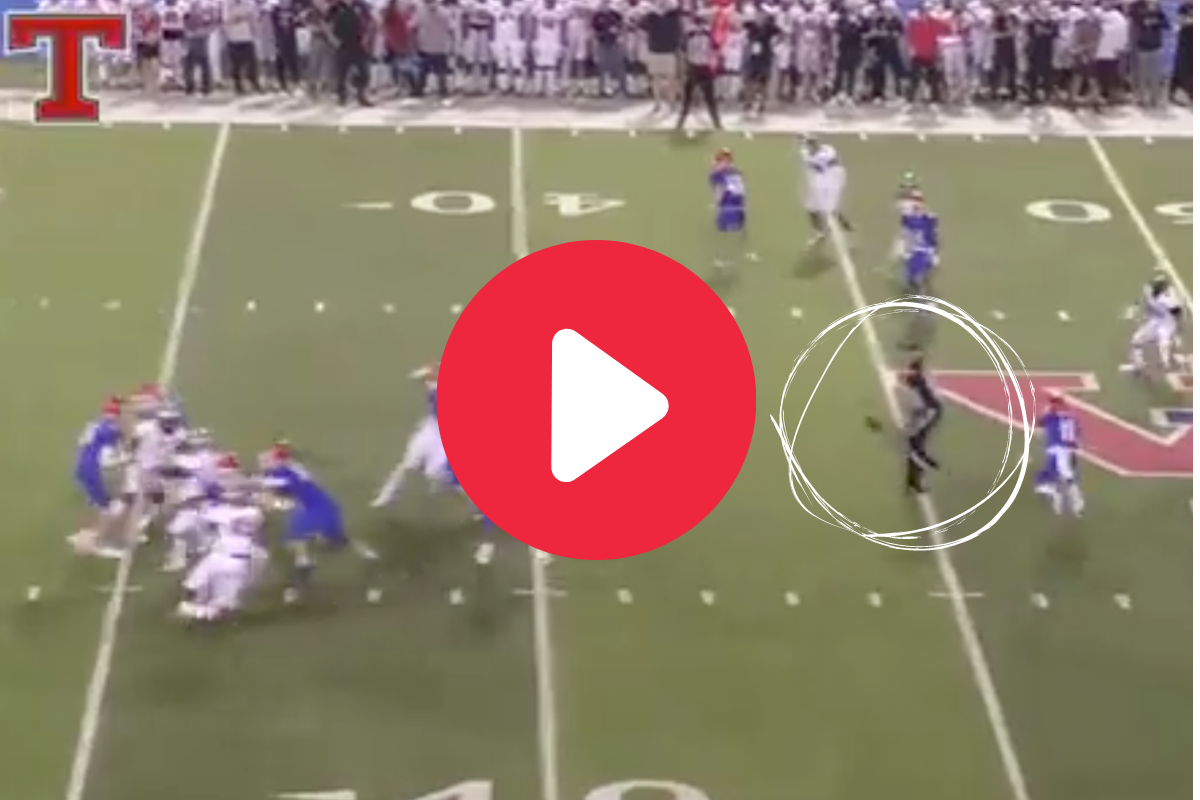 Screenshot from Twitter
Turnovers are a quarterback's worst nightmare. There's a reason why they're commonly referred to as momentum killers. The flow of the game can change on a dime with one big play.
Fumbles are one thing. Interceptions are another. Our stats and info department confirms it: interceptions are the quarterback's fault most of the time. However, there are cases where that's not true. Wide receivers can misjudge throws, tipping them into the air and giving defenders golden opportunities for a takeaway. It's not uncommon.
The ref tipping the ball into the air and giving the defense a golden opportunity? That's rarer. Don't tell Vestavia Hills High School, though.
High School Ref Assists Pick-Six
RELATED: Controversial Interception Call Robs High School, Sparks Internet Debate
We're live from a high school football Friday night in Birmingham, Alabama! Thompson, the number one ranked Class 7A team in the state, is on the road against Vestavia Hills High School.
The Thompson Warriors hold a commanding 21-7 in the second quarter. Vestavia Hills quarterback Mitchell Towns was looking to put points on the board. He dropped back to pass in his own territory. He fired to a receiver crossing over the middle. There's just one problem: the umpire is in the way. Towns' pass bounces off the zebra. It floats in the air and lands directly into the hands of Thompson defensive lineman Peter Woods. Woods catches it and bolts towards the end zone with only a few men to beat. He houses it to extend the lead to 28-7.
The sequence was perfectly legal. It's easy to forget the officials are part of the field of play. Some people might say Thompson ran the ref through DB drills this week to read the quarterback's eyes. If only the two-time defending state champs needed the extra help in the 49-7 win.
I'm a big believer in making your own luck. Good teams get all the breaks because they're well-coached and disciplined. Bad teams seem to always have the chips stacked against them. Woods' pick-six wasn't only luck. It was fate.
Related Videos