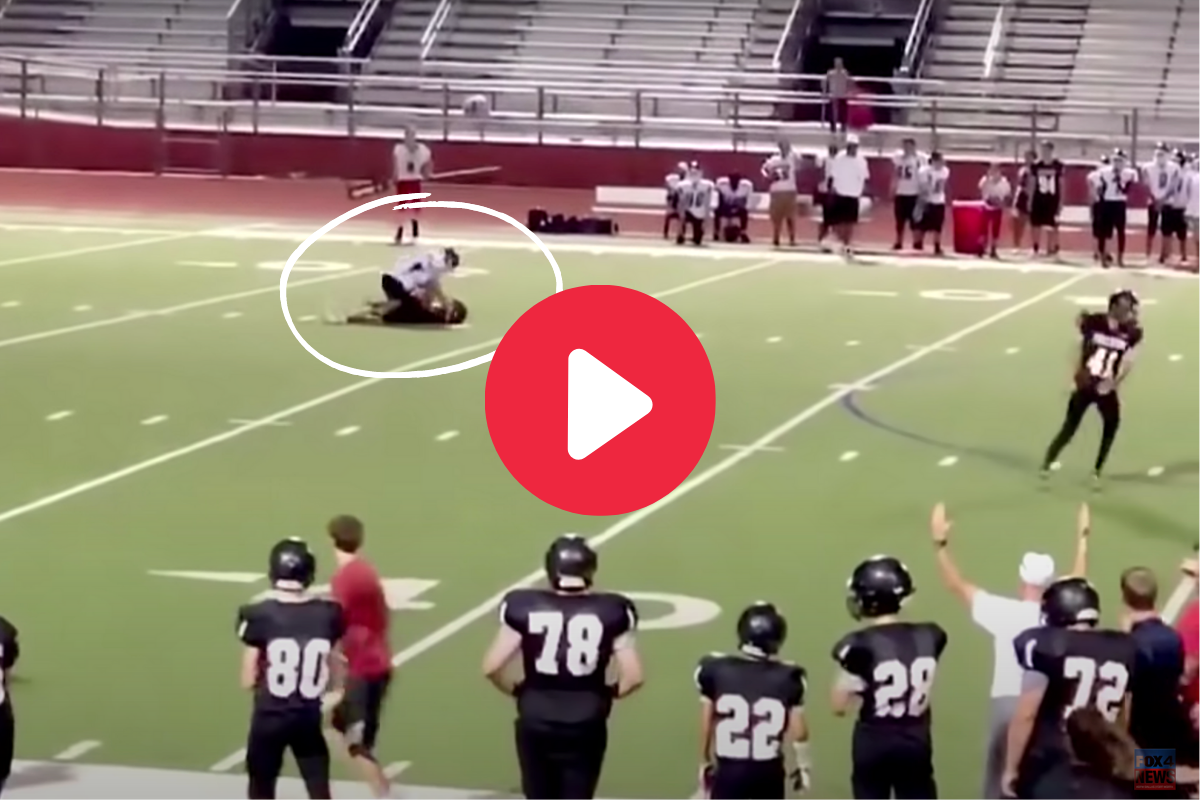 Screenshot from YouTube
There's no place for violence in high school football. It's a sport that should be known for glorious trick plays like the hidden ball variety Denton Ryan High pulled off and singing teenagers who blow everyone away with renditions of the national anthem. Seriously, Jackson Dean can hit some notes.
Unfortunately, this isn't always the case. Players have targeted and attacked referees. They've gone low at opponents' knee for dirty hits. We've even seen coaches attack their own personnel on the sidelines.
Choking, punching and slamming a player does not belong on a football field. This Texas high school football player who did just that should have never been allowed on the gridiron again.
HS Player Chokes, Punches Opponent
RELATED: HS Referee Lays Monster Hit on Player, Forces Fumble
That's a Waco University player who targeted, choked, punched and slammed Burleson High School player Jagger Gower in the middle of the field in 2018. He doesn't even try to hide what he's doing to the poor freshman, and one has to wonder: did someone tell him to go after Gower?
According to FOX 4 Dallas-Fort Worth, Gower was attacked throughout the game. After the choking incident, which Gower's mother said gave him a concussion, coaches immediately run to break up what is clearly an unfair fight.
The Waco player's punishment for such disgusting acts? He sat out the rest of the game and the first half of the team's following game. Big whoop. How do we know he won't do this again?
"My biggest thing is I don't want this to happen to any other kid," the kid's mother, Jennifer Gower told FOX 4.
Sports Illustrated reported that Gower still wasn't cleared to play weeks later because of the concussion. According to Waco Independent School District superintendent Marcus Nelson, the Waco University High School player was further punished than the initial suspension.
"Between those games, there were additional consequences that were also imposed by our coaches," Nelson said, via Sports Illustrated. "It involved physical punishments, extra running and several other activities that I?m hesitant to document more clearly because I believe our student at least has some right to a confidentially. As soon as I became aware of the incident I suspended the student-athlete from all extra-curricular activities until all further notice."
Sorry, but running a few more sprints after practice doesn't do it for me. This kid didn't slip up in one single heated moment. He intentionally attacked another player repeatedly and gave him a concussion.
If I were the head coach, he'd never step foot on the field again.