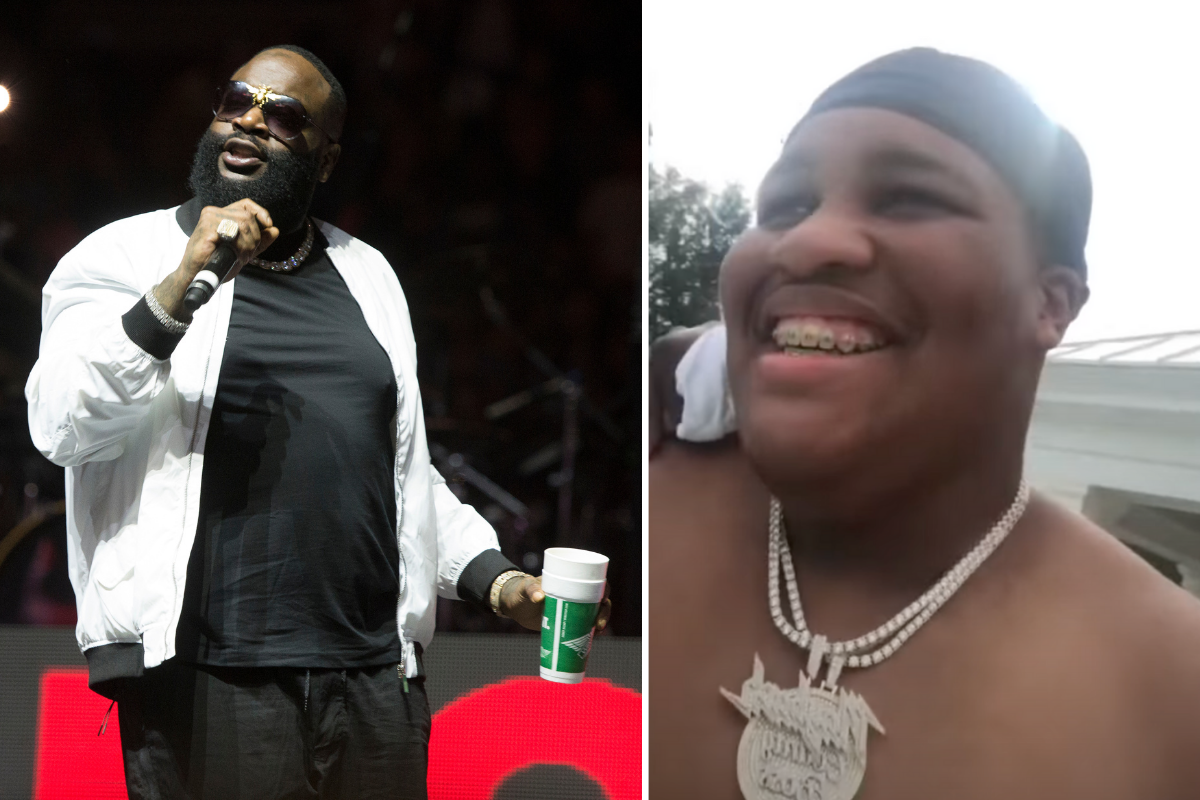 Photo by Owen Sweeney/Invision/AP (left), Screenshot from YouTube
The 2024 recruiting class still has a long way to go before most of its members land college football scholarships. That hasn't stopped some players from receiving NCAA offers, however, and William Roberts is chief among them.
Roberts is an offensive tackle for St. Thomas Aquinas High School in Fort Lauderdale, Florida. He may be a solid prospect, but his father is the most famous member of the family.
Roberts' dad is none other than Rick Ross, the mega-famous rapper/songwriter.
Ross himself played college football and seeing his son land these offers must be a great source of pride.
OT William Roberts Recruiting
RELATED: 5-Star Receiver Has Monster Offers, But He?s in No Rush to Commit
The star offensive lineman has already received offers from FIU, Syracuse, and Texas A&M, but the Miami Hurricanes are the most intriguing name here so far.
It's still incredibly early to speculate where Roberts may end up, but keep an eye out for these schools. If Roberts continues to impress, perhaps top-flight programs like Alabama, LSU, and Ohio State will make offers as well.
St. Thomas Aquinas has built an incredible team that makes the Florida state playoffs frequently.
Some famous alumni are defensive ends Joey and Nick Bosa (on the Los Angeles Chargers and San Francisco 49ers, respectively), cornerback Damon Arnette of the Las Vegas Raiders, running back James White of the New England Patriots, and Cincinnati Bengals linebacker Geno Atkins.
The fact that Roberts got meaningful snaps as a freshman here should tell you how talented he is at his age.
At 6-foot-2 and already 270 pounds, Roberts plays on the varsity team, and his head coach, Roger Harriott, has praised the lineman's athleticism, especially for someone of his size. He is a respectful student-athlete who has made the best of his time at the school.
If the NFL is something William Roberts is thinking about, he has the potential to succeed if he keeps honing his craft.
If all else fails, he has a future career in the music industry if he ever wants one.