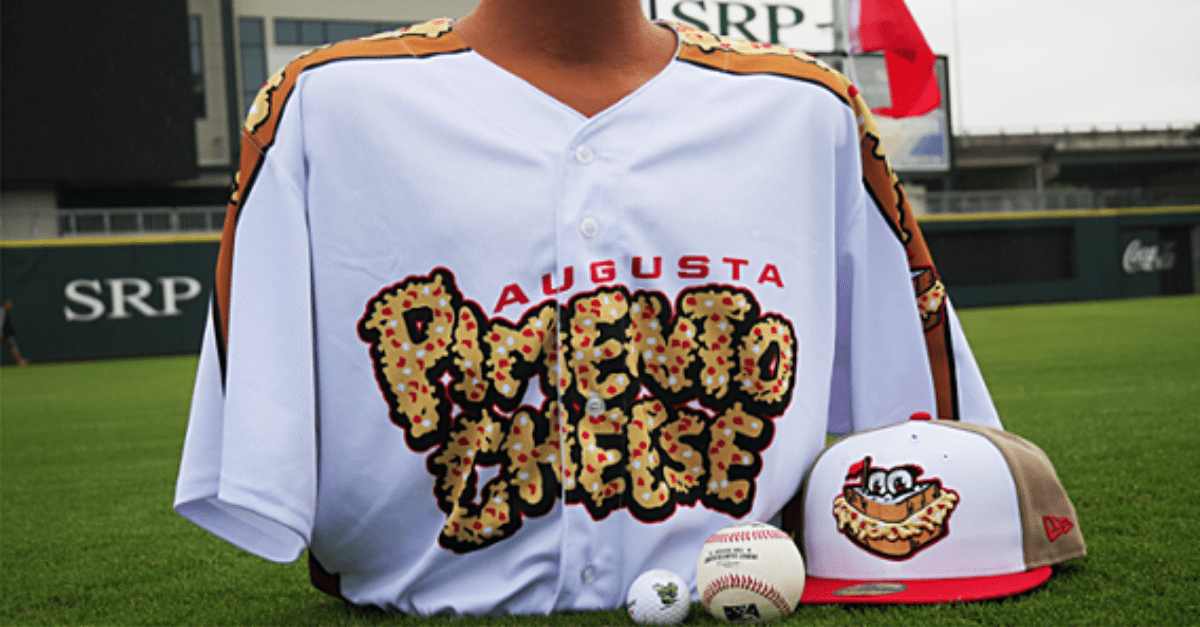 GreenJacketsBaseball.com
Golf's premier major championship every year is The Masters Tournament held at Augusta National Golf Club. You might remember Tiger Woods capturing his fifth green jacket there last April, picking up his first major victory in over a decade and 15th overall for his illustrious career. What you might not know is that for only $1.50 a pop, golf fans were eating pimento cheese sandwiches the entire weekend and have been for nearly 45 years.
Originally created by South Carolina caterer Nick Rangos, and now by Wife Saver, the savory goodness is one of Masters Week's most delicious traditions. It's so popular in Augusta, Georgia that a local Minor League Baseball team is honoring it with a, well, let's just say a pretty "cheesy" promotion.
Normally, they're the Augusta GreenJackets (another obvious connection), a Class-A affiliate of the San Francisco Giants. Playing in the South Atlantic League's Southern Division, recent history hasn't been kind to Augusta, a ball club that hasn't won a South Atlantic Championship since 2008.
They're hoping that two nights — August 2nd and 3rd — will change their luck.
The team located in the Central Savannah River Area (CSRA) is bringing the regions culture onto the field and re-branding to become the Augusta Pimento Cheese.
RELATED: You Wouldn't Last 30 Seconds At This Stadium-Wide Food Fight
The Southern American delicacy — basically consisting of sharp cheddar cheese, mayonnaise/cream cheese and pimentos — can be spread on crackers, smashed between two pieces of white bread, slathered on a hot dog, or just eaten with a spoon because no one should be able to tell you what to do.
Need yourself one of these Pimento Cheese logos? The new merchandise, including New Era baseball caps and t-shirts, will be available for purchase online at the Hive Pro Shop. In addition to the re-brand during Friday's game against the Lakewood BlueClaws (Philadelphia Phillies affiliate) and Saturday's tilt with the Hickory Crawdads (Texas Rangers affiliate), the Pimento Cheese uniforms worn by the players will be auctioned off after the game with proceeds benefitting Walton Options for Independent Living.
And of course, there will be various pimento cheese snacks available and pimento cheese-related promotions taking place during the games at SRP Park.
"The Caviar of the South" might not be for everyone, but for those living in the CSRA, you better believe they'll be out in force cheering the Pimento Cheese on to victory come August.