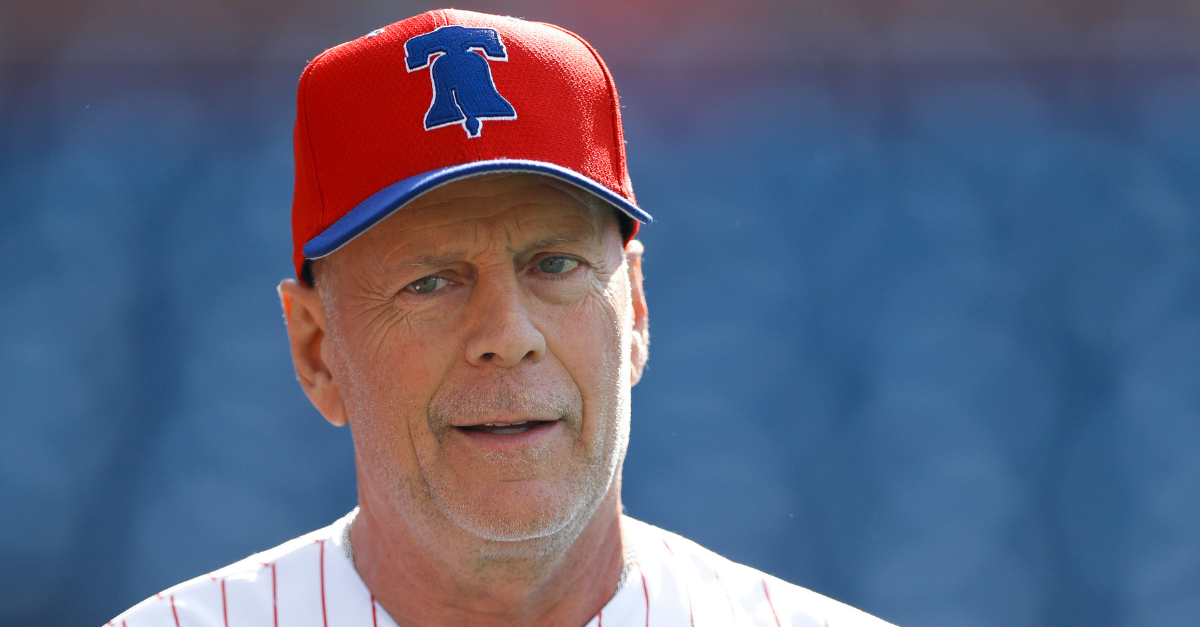 AP Photo/Matt Slocum
Growing up in Carneys Point Township, New Jersey, actor Bruce Willis should know all about Philadelphia and the type of fans the city has. Yes, it might be the City of Brotherly Love, where greatness is praised to the extreme, but it?s also the place where you will get destroyed if you do anything that doesn?t live up to their standards.
If he wasn?t aware (he was), well, the 64-year-old sure got the Philly treatment before the Philadelphia Phillies game against the Milwaukee Brewers on Wednesday night at Citizens Bank Park.
After spending a day at the ballpark, even taking in some batting practice, Willis went to the mound (kind of) to throw out the ceremonial first pitch. The result ended in a chorus of boos from the sparse crowd on hand.
?RELATED: Nobody Threw Ceremonial First Pitch Strikes Quite Like President George H.W. Bush
The ceremonial first pitch bounced. It was a decent throw, but it bounced. Perhaps they were yelling ?Bruuuuuuuuce? but any sports fans know that Philly fans will boo at literally anything and everything, even if he had a Phillies jersey on.
But should Bruce Willis be held to a different standard here? After all, this is the same guy who stars in the Christmas movie classic Die Hard and The Sixth Sense, saved the planet in Armageddon, was considered Unbreakable and starred in Glass, which was released earlier this year.
Bruce Willis wasn?t even on the MLB mound. He threw it in front of the dirt, and he still bounced it. The pitch was definitely not ?Yippee ki-yay? worthy. No wonder Phillies fans let him have it.
It was still a pretty solid day for the southern New Jersey native, nevertheless. He got to take batting practice against third base coach Dusty Nathan and borrowed a bat from Phillies outfielder Nick Williams, per the Associated Press.
Yet, it?s the first pitch everyone is talking about and how the crowd reacted to the one-hopper to pitcher Aaron Nola at the plate.