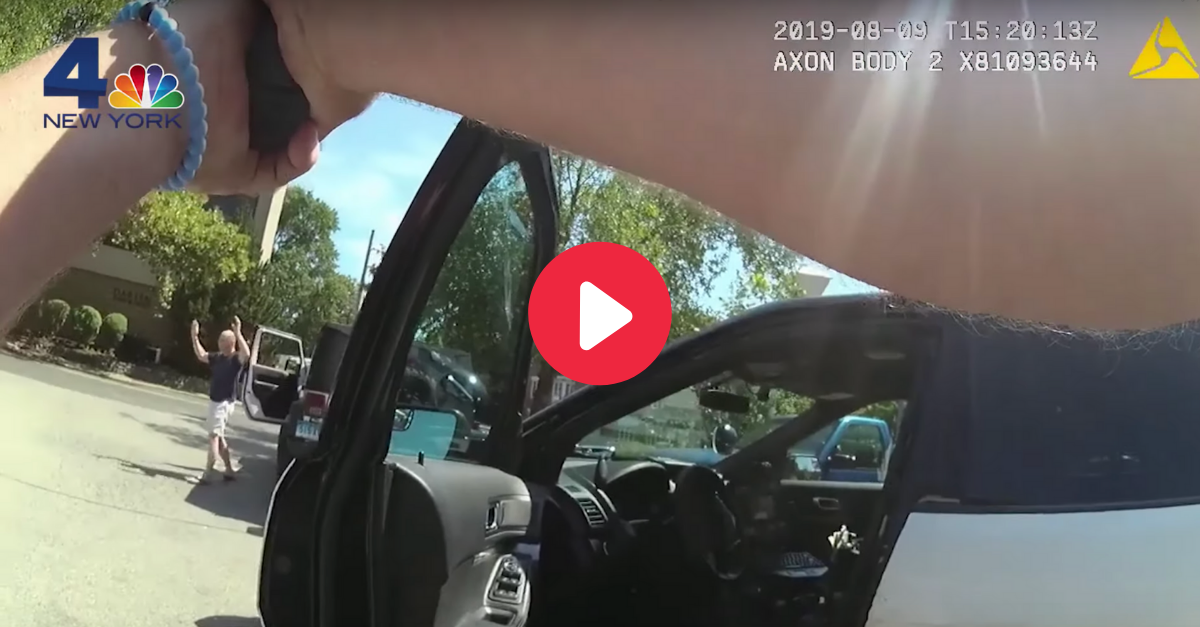 Screenshot from YouTube: NBC New York
When you are an executive for one of the sports world's most powerful franchises, the chances of a traffic stop resulting in cops pointing guns directly at you are likely pretty slim. That's what happened to New York Yankees general manager Brian Cashman in Darien, Connecticut, however, and the entire story is actually pretty crazy.
A few weeks ago, according to TMZ, Cashman had his white Jeep Wrangler stolen. It was ultimately returned to him in the Bronx, and he drove it to Connecticut to have it processed for evidence. As it turns out, though, the cops most have forgot to take the car off the stolen car list because it then forced a wild sequence of events at a local gas station.
"Turn off your car and put your hands up! Put your hands out the window!" The Darien Police officer shouted. "Open your door with your hand from the outside, please!"
By this point, before Cashman got out of the vehicle and was ordered to turn around, put his hands in the air, and walk backwards toward the officers, the cop with the body cam already had his gun pulled and pointed right at Cashman.
RELATED: Alex Rodriguez's Car Robbed, Reportedly Lost $500,000 Worth of Stuff
Oh, and if that's not crazy enough that the freaking GM of the New York Yankees had guns pointed at him, one police officer (not in uniform) said they were already looking for a white Jeep because a man driving one showed a gun in a local doctor's office.
That's when they ran the license plate and realized the car was stolen.
And what's even crazier is it was the second time in the same day that he was pulled over.
The exchange between the Derien Police Department officer and Brian Cashman was kind of bizarre, too:
"You look very familiar to me," the police officer said.

"I'm the GM of the New York Yankees," Cashman replied.

"Yeah, I know. I used to see you at Brook Street Bagels when I was an Eastchester cop," the cop said. "I apologize for the embarrassment."
Ultimately, after all the confusion, Yankees GM Brian Cashman was free to go. He might not be in trouble with Connecticut police — either the Derien or Norwalk Police Department — as a car thief, but, man, what a story he has for the front office at Yankees Stadium now.
"I had a welcoming committee descend up on me as I pulled out of the gas station," Cashman told the New York Post. "They executed a very tactful interception."
"I have high respect for all law enforcement," he said, via TMZ. "They do an amazing job whether you're in Connecticut and New York City — and sometimes unique circumstances happen."
Let's just hope Cashman's Jeep was taken off the stolen car list before he went back to New York City last week.