Photo by Jim McIsaac/Getty Images (left), Photo by Daniel Shirey/MLB Photos via Getty Images (right)
CC Sabathia has some large shoes. No, really — the Baseball Hall of Fame has a pair of the 6-foot-6 former MLB pitcher's size 15 cleats, and they're the biggest in the Hall of Fame's collection.
Metaphorically speaking, too, the six-time All-Star and 2007 AL Cy Young Award winner has some gigantic footsteps that his son, Carsten Sabathia III, will have to follow. After all, CC is one of just three left-handed pitchers in MLB history in the 3,000 strikeout club.
Carsten Sabathia may not stand quite as tall or tip the scales at the same weight, but he is making noise as one of the top players in June's 2022 MLB Draft. He could be heading to the ACC to play college baseball, though.
CC Sabathia's Son Carsten Sabathia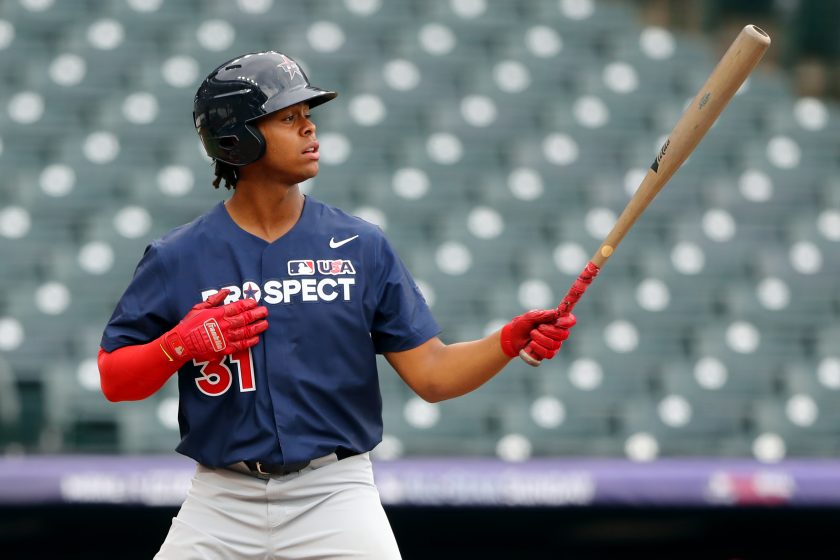 The offspring of CC and Amber Sabathia, Carsten stands a sturdy 6-foot-4, 240 pounds as a senior at Bergen Catholic High School in Oradell, New Jersey.
The first baseman has a big frame and packs a punch into it. Unsurprisingly, he's got power from the right side of the plate (his dad had some power, too) that should play well at whatever the next level is he plays at.
As Perfect Game points out, though, Carsten is much more mobile than his father was. Watch a few highlights and that athleticism practically jumps through the screen.
RELATED: Druw Jones, Son of Former MLB Slugger, Has All the Makings of a No. 1 Draft Pick
Carsten's big-time pop has put him on the radar of MLB teams. ProspectsLive.com rates him one of the top 400 prospects in this year's draft, but all signs point to him furthering his career at Georgia Tech.
Carsten Sabathia's Commitment to Georgia Tech
"Lil C" committed to Georgia Tech in February, citing in his commitment video that he wanted to play close to his grandmother.
"I'm about to go where my granny's gonna be my biggest fan," he said.
According to NJ.com, Carsten was also recruited by Harvard, UCLA and Wake Forest. His father had offers to play college football — including at UCLA — coming out of high school, but he headed straight to pro baseball after the Cleveland Indians selected him 20th overall in 1998.
Nearly two and a half decades later, his son is ready to set the college baseball world ablaze.
Carsten explained why he chose Georgia Tech in an interview with Northjersey.com:
"Since Day 1, the first time I came in contact with them, they were all about family, and the culture, and the culture of winning that it takes to play at Georgia Tech," Sabathia said. "And once I started to get into conversations, not just about baseball, but about family, life, and things outside the white lines, I fell in love."
Carsten Sabathia's journey in baseball is just beginning, but he's got the perfect coach at home — a future Hall of Fame dad who won a World Series with the New York Yankees — if he ever needs advice. Oh, and his mom Amber can be his baseball agent for the rest of his career.
Related Videos