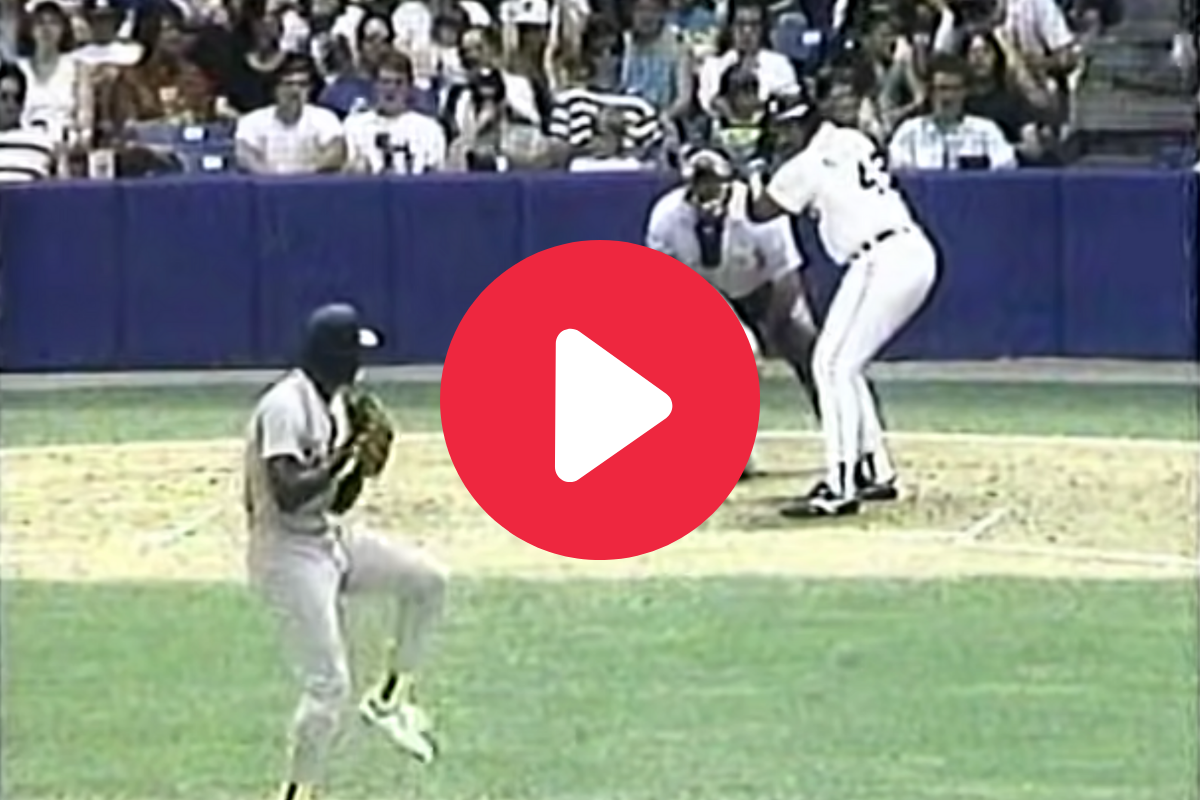 Screenshot from YouTube
Former Detroit Tigers first baseman Cecil Fielder was one of the best power-hitters in baseball during his prime. Unfortunately for the Los Angeles native, his peak was relatively short-lived. However, there's no denying Fielder had an excellent career in the pros.
One of Cecil Fielder's most memorable moments was when he absolutely obliterated a home run at Tiger Stadium against the Oakland Athletics. Have a look to see just how far this moonshot went.
Cecil Fielder's HR Out of Tiger Stadium
RELATED: Mark McGwire?s ?538-Foot? HR Off Randy Johnson is Still Mesmerizing
Yep, folks, that is what we call an absolute missile. The moment Fielder contacted the ball it was immediately clear it wasn't touching down back on the outfield. The only real question regarding this piece of hitting was where the baseball would land.
Fielder's home run traveled all the way from home plate, up over the wall, and escaped the ballpark after clearing left-center-field bleachers as well as the left-field roof. This was more than a typical upper-deck home run from Fielder. This was a moonshot that deserves recognition in MLB history.
?I knew Stewart was going to bring that fastball again and I was sitting dead ready,? Fielder told The Detroit Free Press. ?When I hit it, I knew it was gone, I just didn?t know where it was going. I just saw and heard the crowd going crazy.?
A's hurler Dave Stewart was one of the best pitchers in baseball at this point. Still, even he couldn't keep Fielder from launching one over the Tiger Stadium roof. Stewart admitted that Fielder's rocket was the longest home run he'd ever surrendered. Well, duh.
To hit the type of home run Fielder hit with fellow slugger Mark McGwire on first base is a great way to make a statement. Fielder became the third player in MLB history to hit a home run over the left-field grandstands at Tiger Stadium, joining fellow legends Harmon Killebrew and Frank Howard. McGwire did the same in 1997.
While this blast was no Kirk Gibson in the 1984 World Series against Goose Gossage, it's still an extraordinary moment in Tigers history.
Cecil Fielder Baseball Career
Fielder grew up in Los Angeles and attended high school at Nogales High School in La Puente. He played college baseball at the University of Nevada, Las Vegas, where he impressed enough to be selected by the Kansas City Royals in the fourth round of the 1982 MLB Draft's secondary phase.
Fielder never played for the Royals in the Major Leagues. His MLB debut came in 1985 as a member of the Toronto Blue Jays. Fielder spent four seasons with the Jays before departing the United States for Japan. He played the 1989 season for the Hanshin Tigers of the JPCL before returning to Major League Baseball in 1990.
Fielder swapped one Tiger for the other in his return to American soil, latching on with the Detroit Tigers in 1990, where he'd play under skipper Sparky Anderson. He was selected to three All-Star games during his tenure in Detroit and showcased his power in the Home Run Derby in 1990, 1991 and 1993 but never won the event. How? I don't know.
Fielder spent seven years with the Tigers but never once made the playoffs with the team. In 1996, Fielder was traded to the New York Yankees, making a move to Yankee Stadium as he chased a championship ring toward the end of his career.
That turned out to be an excellent move for Fielder, who helped lead the Yankees through the American League and a World Series victory over the Atlanta Braves in 1996. In that series, Fielder recorded nine hits in 23 at-bats and drove in 2 RBIs. He won the Babe Ruth Award for the most outstanding postseason performance, having played a pivotal role for the Yanks, surpassing the Rangers and Orioles en route to the World Series.
Fielder left the Yankees in 1998 to join the Angels, where he played one half-season before finishing out his career as a member of the Cleveland Indians.
While Fielder was never enshrined into Cooperstown, he was commemorated in the Kinston Professional Baseball Hall of Fame in 1994.
Much like Cecil, his son Prince Fielder was a well-known big-league slugger who played from 2005-16. He spent his career with the Milwaukee Brewers, Detroit Tigers and Texas Rangers.
Remarkably, both Prince and Cecil Fielder finished their respective MLB careers with precisely 319 home runs.
I think we know who hit the longest, however.