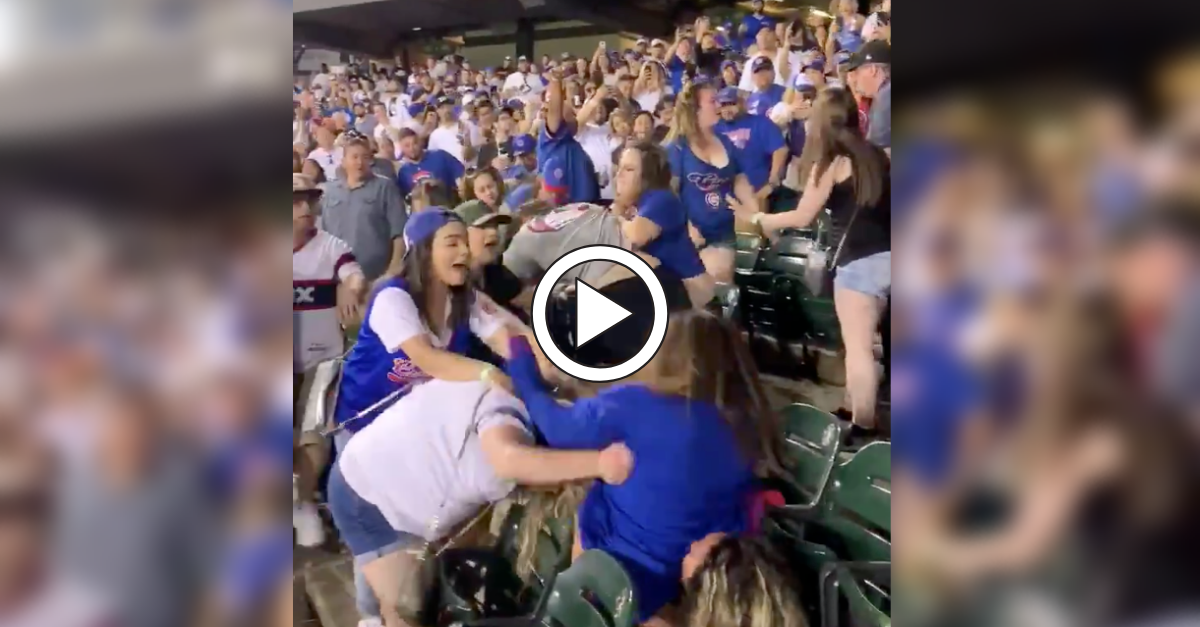 Screenshot fromTwitter: Dave White
I know baseball can be a little bit boring, but there are plenty of activities during MLB games to keep you busy. Delicious ballpark food is abundant (as long as it's not moldy). Crazy promotions make breaks between innings come to life. Booze-fueled fights in the stands completely distract us from the fact that a rivalry series is taking place.
Yes. Sadly, fights in the stands are very much part of America's Pastime, and another classic case of baseball boredom gone wrong is upon us. Two fights broke out during Saturday night's Crosstown Classic between the Chicago Cubs and Chicago White Sox.
The biggest featured several girls who brawled right in the stands. After a few moments of swinging elbows and wild haymakers, security intervened and began restraining several of them at Guaranteed Rate Field. The girls wouldn't be subdued so easily, however, as they continued to struggle, kicking and fighting back with security.
Maybe these Cubs fans were just unhappy their team lost four of six games to start July before the All Star break?
In a separate incident, a White Sox fan and Cubs fan started wrestling on the concourse (probably because there's more room to operate their preferred ground-and-pound style) before being separated. Of course, one guy jumps into the camera drinking his Twisted Tea to scream, another guy flexed his muscle while holding some nachos, and another idiot can be heard in the background yelling "Worldstar!"
None of them thought to stop the brawl happening three feet away.
Police told FOX32 Chicago no arrests were made during or after the game relating to these fights.
For what it's worth, the Cubs won on Saturday night, 6-3, after starter Jon Lester (8-6) allowed only one earned run across 6.1 innings. On Sunday, the White Sox got revenge on the South Side, 3-1, thanks to home runs from Eloy Jimenez (16) and Jose Abreu (21), plus 5.2 shutout innings from starting pitcher Ivan Nova (4-7).
Major League Baseball now enters a break for All-Star Game festivities in Cleveland. Ideally, the idiots who felt it necessary to fight during a baseball game THEY PAID MONEY TO WATCH will stay as far away from Progressive Field as possible.