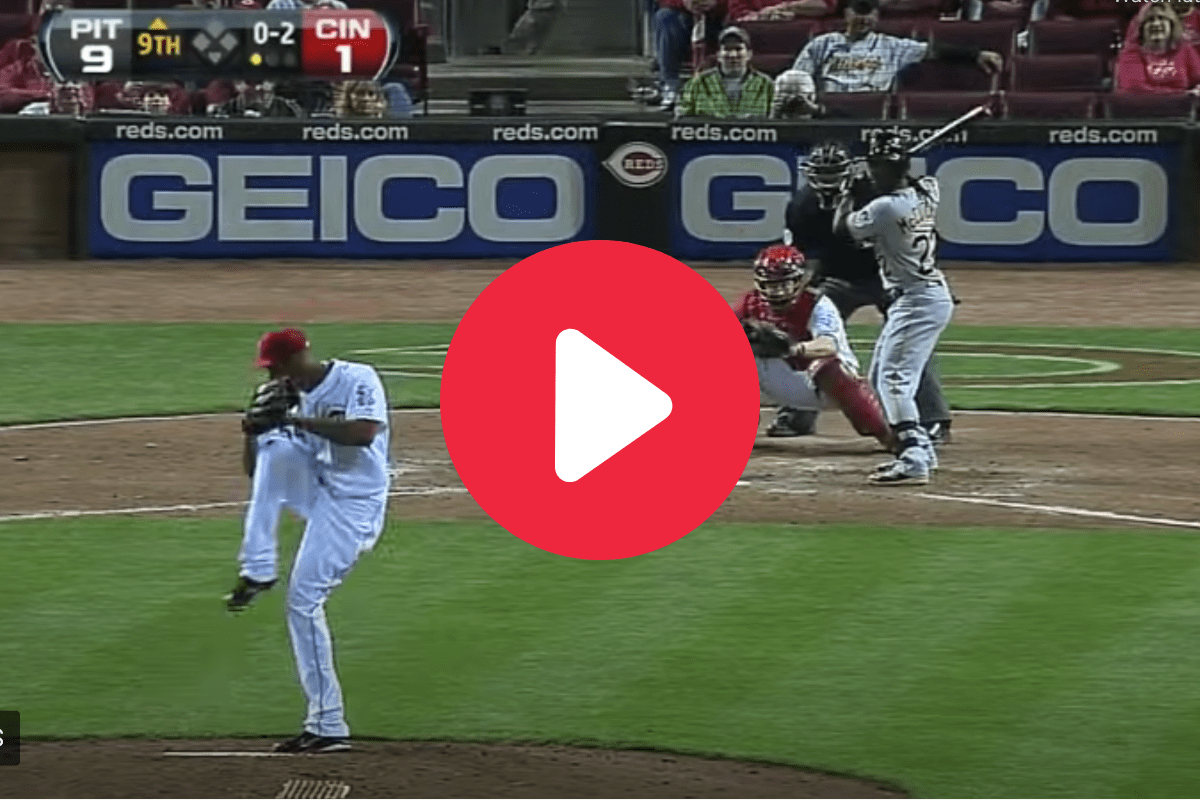 Screenshot from YouTube: MLB
396 milliseconds.
That's how long it takes for a baseball hurdling through space at 100 miles per hour to travel the 60 feet, 6 inches from a Major League Baseball mound to home plate. On average, it takes the human eye between 100 and 400 milliseconds to blink. You know that saying "in the blink of an eye?" Don't even think about it, or you're going to whiff horribly on the fastest pitches in the history of America's Pastime.
As baseball works to repair its image after the steroid craze of the late 1990s and early 2000s, the game is getting faster and more explosive the old fashioned way: hard work. We're seeing more and more powerful pitchers toe the rubber and light up scoreboard radar guns with triple digits, and it's not just happening during MLB play.
In June 2020, Chicago Cubs draftee Luke Little was clocked throwing 105 miles per hour. He was 19 years old at the time, a minor league pitcher not yet close to debuting in the major leagues.
Though unofficial, the 6-foot-8 southpaw neared what the Guinness World Record considers the fastest pitch ever recorded.
The Fastest Pitch Ever: Aroldis Chapman
On September 24, 2010, former Cincinnati Reds pitcher Aroldis Chapman, who hails from Cuba, delivered a 105.1-mph fastball, measured by Statcast, in a game against the San Diego Padres, which is recognized as the Guinness World Record for fastest pitch ever.
Statcast now recognizes that pitch at 105.8 MPH, which is the fastest pitch thrown since it began recording velocities in 2008.
Now with the New York Yankees, the Cuban lefty is arguably the hardest-throwing pitcher in MLB history, clocking in over 100 miles per hour on a nightly basis. Despite how hard Chapman throws, his top-speed record isn?t even close to the fastest in history.
Fastest Baseball Pitch of All Time
The documentary Fastball dove into the intricacies of throwing some high, stinky cheese. Among the film's research was a fact-finding mission for the fastest heater ever recorded. According to the film, the fastest recorded pitch ever actually belongs to long-time MLB ace Nolan Ryan, who once hurled his wicked four-seamer 108.5 miles per hour.
The Game Haus cited that Ryan's fastest fastball on August 20, 1974, was actually logged at 100.9. (Even wilder is that it came in the ninth inning of an 11-inning complete game loss.) However, the infrared radar used that day clocked his fastball at a different point in its flight compared to today's technology, so the adjusted speed on Ryan's fastball was actually 108.5 miles per hour.
Ryan, whose long MLB career saw him set numerous pitching records, was known for blowing hitters back and occasionally punching them in the face. His fastball brought the advent of radar technology into the majors.
Then, there are tales of guys like Bob Feller. "The Heater From Van Meter" played 18 MLB seasons for the Cleveland Indians and was inducted in the National Baseball Hall of Fame in 1962. An Associated Press article found on Baseball Almanac cites the time Feller claimed he threw 107.9 mph in a demonstration back in 1946. While technology back then was a far-cry from what it is today, icons like Feller and Walter Johnson did have their pitch speeds tracked on different occasions in the early 20th century using rudimentary technology.
Walter Johnson was clocked in 1917 throwing 134 feet a second, which translates to about 91.4 miles per hour.
Additionally, former Baltimore Orioles hurler Steve Dalkowski was a renowned fireballer, however his extreme velocity ended up costing him a career in MLB as he could never find decent enough control of his pitches.
The Associated Press (via Baseball Almanac) explained how that technology worked back in the day:
"The new meter, which gives an immediate reading which engineers said compared with standard laboratory meter accuracy, is built in a trailer. You throw into a hole two feet square. Just inside is a set of photo-electric tubes, and five feet back is another set. The device measures the ball's speed between the two points and flashes it on a scale facing the pitcher."
Today, the PITCHf/x system installed in every big league stadium uses two cameras to track velocity and trajectory of every pitch let loose by the game's hardest throwers, from their precise release point until the moment the ball passes home plate.
Let's go ahead and say modern technology gets the final vote on the "fastest pitch ever" debate.
Fastest Pitches in Baseball History
RELATED: Face a 100 MPH Fastball With Vintage "Nolan Ryan Cam"
Flamethrower Joel Zumaya, who helped Justin Verlander and the Detroit Tigers reach the 2006 World Series, once tossed a 104.8-mph pitch.
Former Atlanta Braves closer Mark Wohlers once touched 103 on the radar gun. Arizona Diamondbacks' Randy Johnson's fastest pitch came when he was 40 years old, tipping the scales at 102 mph.
Additionally, former Dodgers reliever Jonathan Broxton topped out at 102 mph. Good luck to any umpire trying to keep track of those pitches.
Not all hard-thrown pitches are good ones, however. Boston Red Sox third baseman Rafael Devers clobbered a home run off a 103-mph Chapman fastball in 2018, the fastest pitch to result in a home run in the Statcast era.
There are tons of 100-mph fastballs baseball fans have seen, especially in recent years. But the race for today's hardest heat is a two-man show from Opening Day to the All-Star Game and into MLB's postseason.
Using data collected by MLB.com, here are the fastest baseball pitches recorded by Major League Baseball since 2015:
Aroldis Chapman – 105.7 (July 18, 2016)

Aroldis Chapman – 105.4 (July 18, 2016)
Aroldis Chapman – 105.2 (July 22, 2016)
Aroldis Chapman – 105.1 (three times)
Jordan Hicks – 105.0 (twice)
Aroldis Chapman – 105.0 (July 23, 2016)
Aroldis Chapman – 104.8 (four times)
Aroldis Chapman – 104.7 (July 18, 2016)
Aroldis Chapman – 104.6 (September 19, 2016)
Aroldis Chapman – 104.5 (September 28, 2016)
Hicks, a young reliever for the St. Louis Cardinals, missed much of the 2019 season after Tommy John Surgery in June. Before going down, he threw 21 pitches faster than 103 miles per hour that season. Hicks' sinker became one of baseball's most feared pitches as a rookie. He returned to St. Louis' bullpen, and the 24-year-old rising star is expected to inch closer to breaking Chapman's MLB record.
Now that we've covered overhand baseball players, what about underhand softball pitching?
Fastest Softball Pitch Ever
The Guinness Book of Records credits Monica Abbott with the fastest softball pitch ever, reaching 77 miles per hour back on June 16, 2012 in a National Pro Fastpitch (NPF) game between Abbott's Chicago Bandits and the Carolina Diamonds.
Keep in mind that fastpitch softball mounds are only 43 feet from home plate and are not raised off the ground, which affects velocity and pitch speed tremendously. Translating Abbott's speed to a baseball equivalent, the record-setting Olympic pitcher and four-time All-American of the NCAA's Tennessee Volunteers probably threw closer to a 100-mph fastball that day.
Now, the tale of Eddie Feigner is impossible to ignore. The famous softball pitcher who toured the world striking out everything in sight reportedly once threw a 104-mph pitch. The Washington Post reported there are even claims he could get up to 114 mph, which is absurd and would be hands-down the fastest pitch ever regardless of sport.
Feigner's rumored fastball isn't considered an official record, though. He played on a four-man softball team as leader of "The King and His Court." According to records Feigner kept, he logged 9,743 victories, 141,517 strikeouts, 930 no-hitters and 238 perfect games during his 55-year career as a starting pitcher against teams at local ballparks all over the world.
Legend or not, one thing is certain: Put me in front of any of this heat on a baseball or softball field, and I'm freezing up faster than hot water on a cold day.