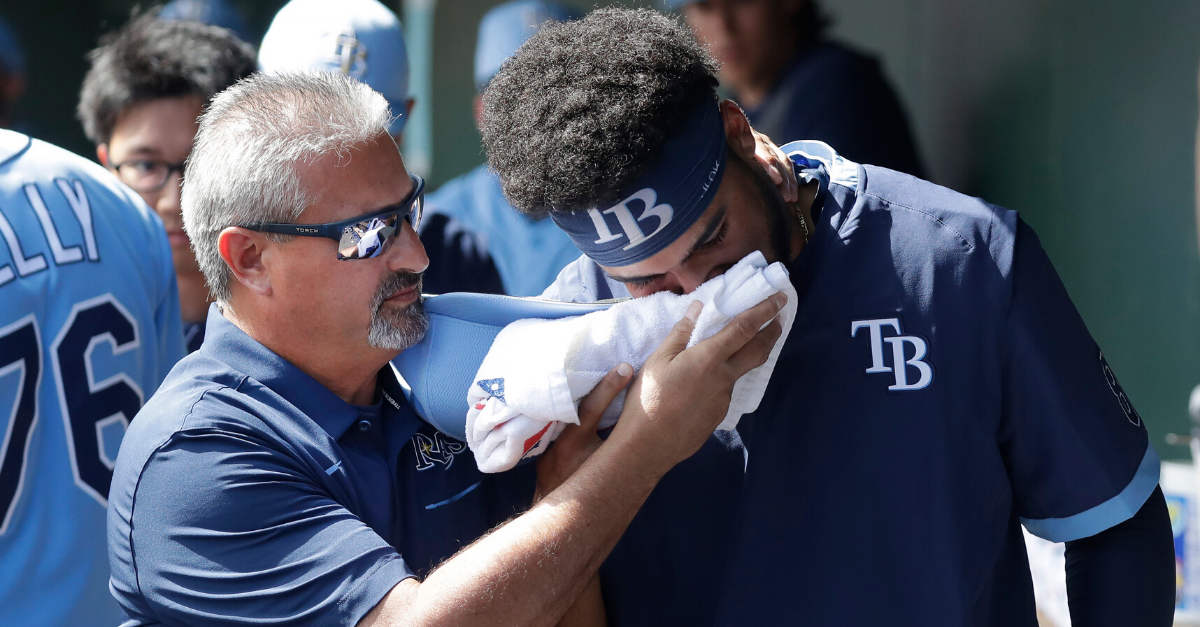 AP Photo/John Bazemore
More often than not, a foul ball is a chance for baseball fans to show off their skills. Good plays happen quite often, too. However, there are times when they can be scary as hell, and one MLB prospect found that out during Monday?s spring training game in Sarasota, Florida.
As Baltimore Orioles infielder Renato Nunez was at the plate, Tampa Bay Rays outfielder and prospect Garrett Whitley could be found hanging out in the dugout. Then, in a split second, everything changed.
With a pitch at his knees, Nunez swung and fouled it off with a low, screaming line drive. Unfortunately, the ball went in the opening of the Rays dugout and drilled the right side of Whitley?s face.
Tampa Bay Rays? Garrett Whitley Injury
RELATED: Toddler?s Brain Injury from Foul Ball is Permanent, Attorney Says
Major League Baseball has taken precautionary measures to extend the netting so spectators don?t get hurt. It didn?t address anything about the dugout and player safety, though.
This might be one of those fluke things, but it happened to minor league outfielder Garrett Whitley, a 22-year-old prospect and former first-round pick in the 2015 MLB Draft. He received immediate medical attention and was taken to a nearby hospital for further evaluation and X-Rays, according to the Tampa Bay Times.
?That was pretty scary. From the initial test and exams, he was coherent, his eyes were moving fine. He?s going to have a pretty good welt. … The only blood that I saw was a little bit out of his nose, and then almost like the seam of the baseball split him just a little bit (under the eye), not like a gash.?

? Tampa Bay Rays Manager Kevin Cash
Unfortunately, further testing showed a facial injury to the Tampa Bay Rays prospect. Whitley has ?multiple facial fractures? and will miss a considerable amount of time, according to Tampa Bay Times? Marc Topkin.
This is tough news for the minor-leaguer and the Rays organization. Instead of hitting home runs and collecting RBIs all year, one of their top prospects will be out for the foreseeable future.
Hopefully he can get healed and back to playing soon.