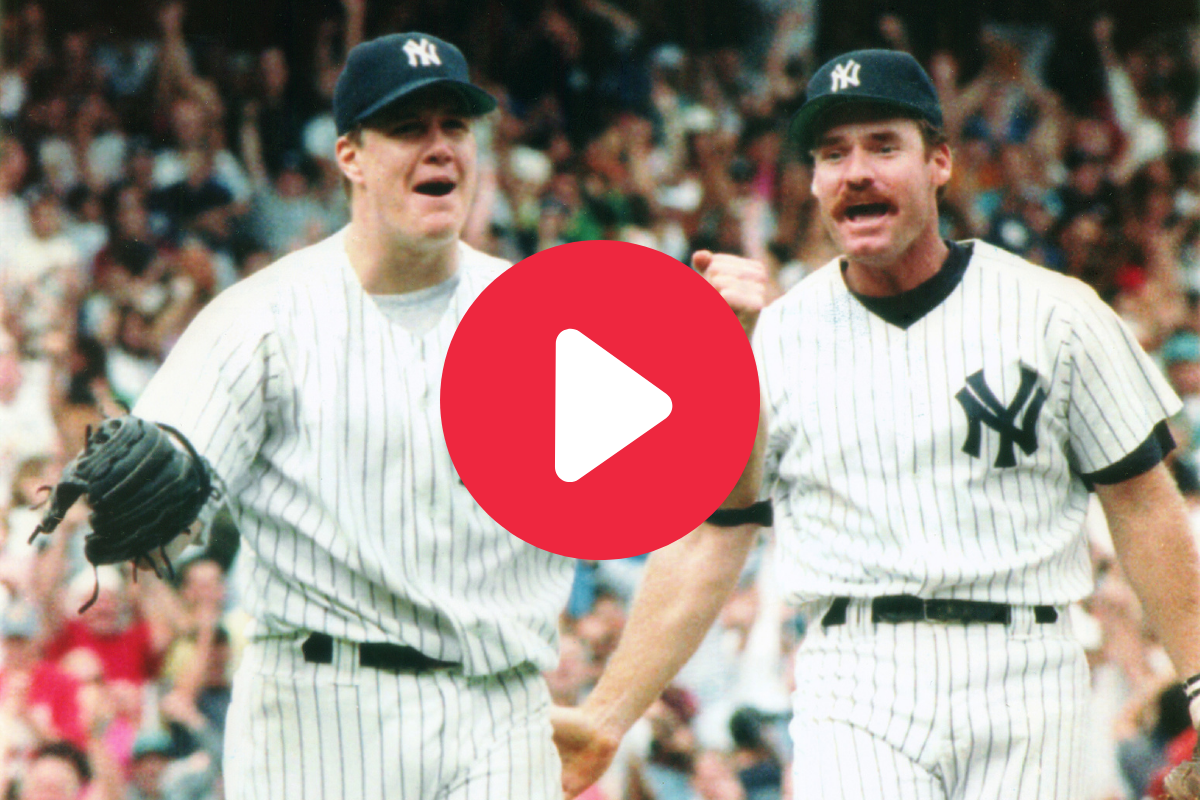 AP Photo/Bebeto Matthews
The 2021 MLB season has been no-hitter happy.
There have already been four this season, but strikeouts are rampant in Major League Baseball these days.
Even so, no-hitters are always special, and they were even more special during that period between the lowering of the mound and the current landscape.
One of the most-special moments, though, was Jim Abbott's no-hitter. And he did it with only one hand.
Jim Abbott's Early Career
Jim Abbott was born September 14, 1967 in Flint, Michigan, but it was not a birth without complications. He was in fact born without a right hand, but that would not deter him from becoming a successful baseball player.
Eschewing signing with the Toronto Blue Jays, Abbott instead opted to stay in state to play for the University of Michigan in college. That decision paid off, as the California Angels made Abbott the eighth pick in the 1988 MLB Draft — the same year he won a gold medal at the Olympics.
As baseball fans, we are used to even the best prospects sticking around the minor leagues for a little while. That was not the case with Abbott, who immediately joined the Angels' rotation as a rookie.
He made 29 starts and posted a 3.92 ERA, good enough to finish fifth in the American League Rookie of the Year voting. In 1991, Abbott would have his pinnacle season, starting 34 games, winning 18, and sporting a 2.89 ERA, which earned him a third-place finish in the AL Cy Young award voting.
However, when it came to a single high point in his career, it almost assuredly came on September 4, 1993.
Jim Abbott's No-Hitter
RELATED: David Wells Overcame ?Skull-Rattling Hangover? to Throw His Perfect Game
Jim Abbott was traded to the New York Yankees prior to the 1993 season, with J.T. Snow being the biggest name going back to the Angels.
On the season, Abbott had more losses than wins and a 4.37 ERA, but none of that mattered at Yankee Stadium in the Bronx that day late in the campaign.
Abbott and the Yankees were squaring off with the Cleveland Indians — a team with a loaded lineup of All-Stars and possible future Hall of Famers. We're talking Carlos Baerga, Albert Belle, Kenny Lofton, Manny Ramirez, and Jim Thome. You know, not the kind of lineup that tends to go without racking up some hits.
That day, though, Cleveland would be held without a hit. Abbott was never a strikeout artist, and that day he only struck out three batters.
His 119 pitches yielded 15 groundouts and seven flyouts, including a scary fly ball from Felix Fermin that fortunately for the Yankees landed in Bernie Williams' glove. Baerga made the final out, hitting a grounder to Randy Velarde that completed the incredible no-hit victory.
It was the first no-hitter by a Yankees pitcher since Dave Righetti in 1983.
The Rest of Jim Abbott's Career
Abbott spent one more full season with the Yankees, though calling it a full season is inaccurate because the 1994 season ended with a strike, robbing Abbott and the team a trip to the playoffs, and perhaps even a trip to the World Series.
He would move on to the Chicago White Sox, and then return to the Angels, where he went 2-18 in 1996 before taking a year off. Abbott tried comebacks with the White Sox and the Milwaukee Brewers, but he never found his footing. Abbott retired after the 1999 season.
In his career, Jim Abbott lost more games than he won and had a 4.25 ERA. He also overcame adversity to make Yankees history with a no-hitter.
That day in September will never be forgotten by baseball fans in the Bronx, and it's a reminder a no-hitter is always fun and special, no matter how common it feels like these days.