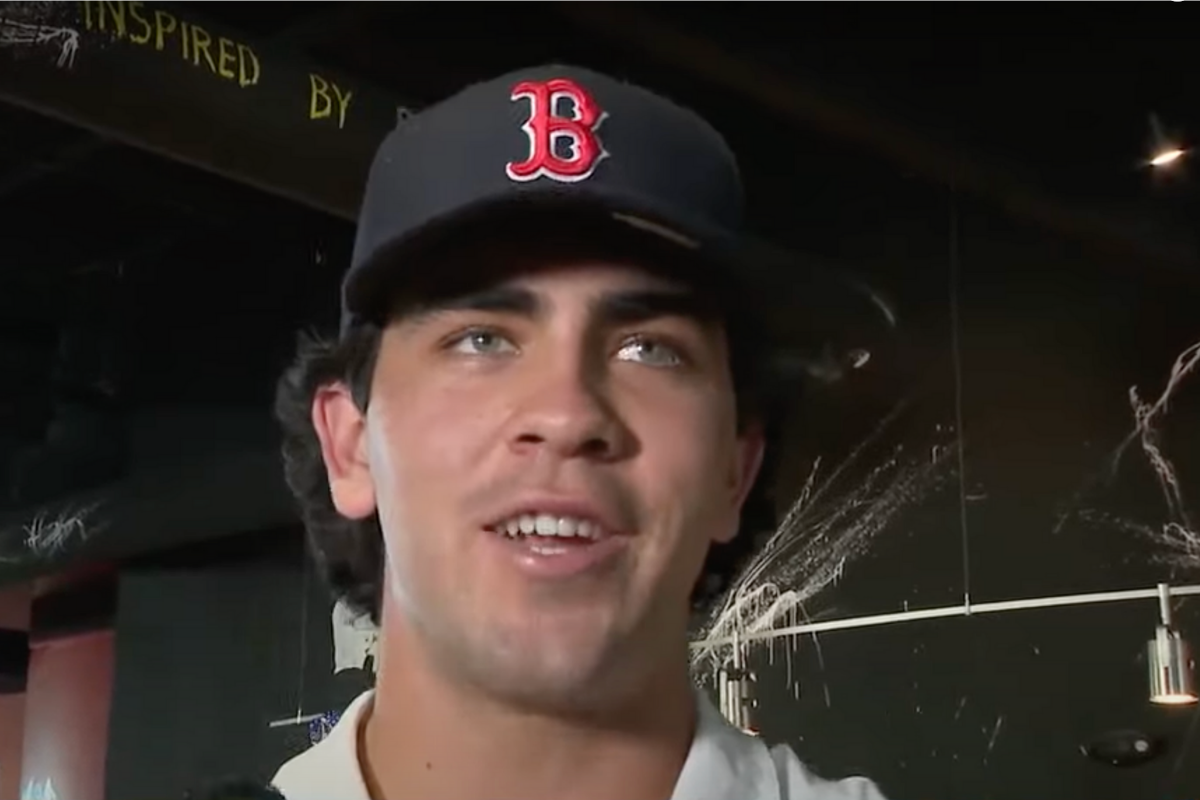 Screenshot from YouTube
In my opinion, the MLB Draft is the most intriguing one to pay attention to out of the four major professional sports. Yes, I may be biased as a diehard baseball fan. And yes, the players taken in 2021 won't reach the big-league level for years. But baseball mock drafts tend to diverge wildly from the actual draft results, making it a fascinating watch.
One thing that scouts have agreed upon, though, is that Marcelo Mayer is a stud. The shortstop plays for an incredible program at Eastlake High School (Chula Vista, California)and is ready to take the minor leagues by storm. Mayer is one of a trio of high school shortstops that made noise at the top of the first round. He, Jordan Lawlar and Kahlil Watson will be compared to each other for their entire careers.
Marcelo Mayer Red Sox
The Boston Red Sox selected Marcelo Mayer with their first-round pick (fourth overall) in the 2021 MLB Draft. He was a New York Yankees fan his whole life, but he'll now have to switch his allegiance.
?It feels great,? Mayer said during the draft, via boston.com. ?I?m the biggest Red Sox fan of all time right now.?
Mayer has lofty expectations, but he doesn't have to be the next Nomar Garciaparra or Xander Bogaerts for the Sox. The left-handed Mayer had scouts drooling for a reason, and his high school stats were on par with any prospect in this year's draft class.
Shortstop Marcelo Mayer Scouting Report
RELATED: Meet Jordan Lawlar: Baseball's Next High School Phenom
Taking a look at his highlights, Mayer has an incredibly calm swing for an 18-year old. Some players, like outfielder Benny Montgomery, have noticeable hitches that may need correction, but the prep shortstop is as smooth as can be.
In 2021, Mayer started off a bit slower than expected but finished with 14 home runs and 45 RBIs while hitting .392. That number may not jump off the page initially, but consider the competition he played against; Southern California high school programs are typically fantastic, and he held his own in a big way.
The 18-year-old is one of the best hitters in this year's draft, and given that praise, he's already locked into a commitment to the University of Southern California. Of course, the assumption is that he'll forgo his scholarship to USC and go straight to the minor leagues. He's received comparisons to the Los Angeles Dodgers' Corey Seager, and while that may seem lofty, Mayer will get every chance to prove himself.
Major League Baseball organizations like the Pittsburgh Pirates, Texas Rangers and Boston Red Sox were all connected to Marcelo Mayer before he fell to the Red Sox. Players like Henry Davis, Jack Leiter and Kumar Rocker rounded out this incredibly talented class. It may take some time for Mayer to reach the show, but he looks like a can't-miss prospect.