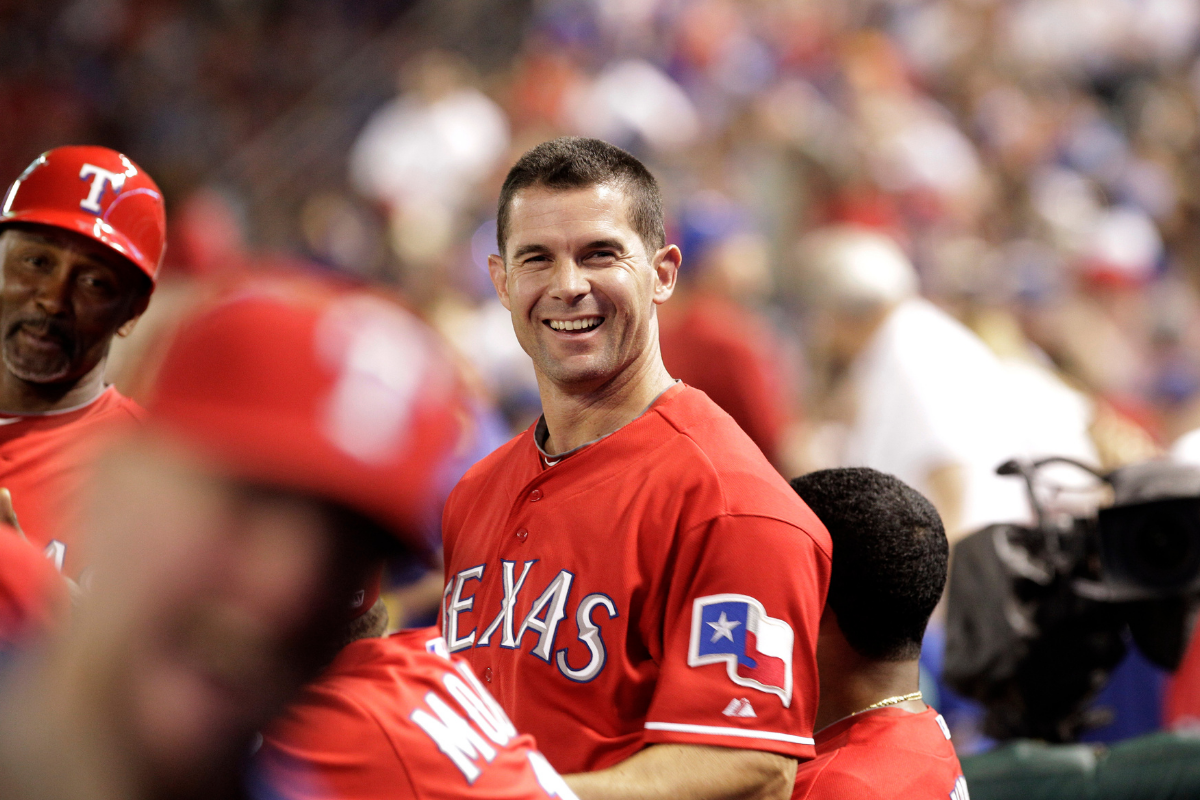 AP Photo/LM Otero
Michael Young is one of the all-time faces of the Texas Rangers.
Young was a hit machine during his 13 years on the Rangers, collecting more than 2,000 career hits and making seven All-Star Games. While he is not a Texas native, he's become a staple in the Dallas/Fort Worth area due to his time in Arlington, even after his time in MLB was over.
Let's look back at Young's time in Major League Baseball and what he's been doing since retiring.
Michael Young Early Life
RELATED: Ivan ?Pudge? Rodriguez is a Catching Legend, But Where is He Now?
Young was born in Covina, California, and went to high school in La Puente, California. He was drafted in the 25th round of the 1994 MLB Draft by the Baltimore Orioles, but he did not sign. Instead, he went and played college ball at UC Santa Barbara. After three years with the Gauchos, Young was taken in the fifth round by the Toronto Blue Jays.
While he spent the entirety of his minor league career with the Blue Jays, he never played a game in the majors with them. He was dealt in 2000 to the Rangers alongside Darwin Cubillan for Esteban Loaiza. Young got his first taste of the majors in that same year, and in 2001 he was up with the Rangers for good.
Michael Young MLB Career
Over his career, Young would move positions, starting as a second baseman before moving to shortstop. It took him a few years to get going, but in 2004 he made his first MLB All-Star Game. The 2005 season was likely his best. He led MLB in hits while also leading the American League with a .331 batting average. In 2006, he was the MVP of the All-Star Game in Pittsburgh.
Young win his only Gold Glovein 2008. That offseason, he was asked to move off the position to make room for Elvis Andrus. Young complied and headed over to third base. That didn't stop him from being an All-Star again, and while he missed the 2010 All-Star Game, he was part of a Rangers team that made the first of two back-to-back World Series, though they didn't end up winning either.
After the 2010 campaign, the Rangers once again asked Young to change position. They signed Adrian Beltre, and given that Beltre is one of the best third basemen of all time, it was a fair ask. Young wasn't happy about being asked to primarily serve as a designated hitter and utility infielder and requested a trade. Ultimately, he stuck around and was an All-Star one last time as he led the majors in hits.
Young took a step back in 2012, and the Rangers asked him if he wanted a trade since they were planning to cut his playing time. He was dealt to the Philadelphia Phillies for the 2013 season.
The veteran didn't even finish an entire season with the Phillies, as he was traded to the Los Angeles Dodgers to give him a shot at the playoffs. The Dodgers' playoff run ended in the NLCS. Young retired after the 2013 campaign.
Michael Young Now
When Young left the Rangers, he led them in many statistical categories, including games played. As franchises often do with retired legends, Texas gave Young a front office job in retirement. In 2014, he was hired as a special assistant to general manager Jon Daniels.
Young is also a Hall of Famer in a sense, as he was inducted into the Texas Rangers Hall of Fame. The team followed up by retiring his number in 2019. While he finished with a career average of .300 and 2,375 hits, he only hit 185 home runs, drove in 1,030 RBIs and fell below the 5 percent threshold on his first Baseball Hall of Fame ballot and is no longer on the ballot.
Young and his wife Cristina, who are both Mexican-American, have three sons: Mateo, Emilio and Antonio. He's also been quite philanthropic in his life. Young donated $50,000 to renovate Reverchon Park in Dallas. It's the home of North Dallas High School's baseball team, but Young also hopes it can serve as a community center.