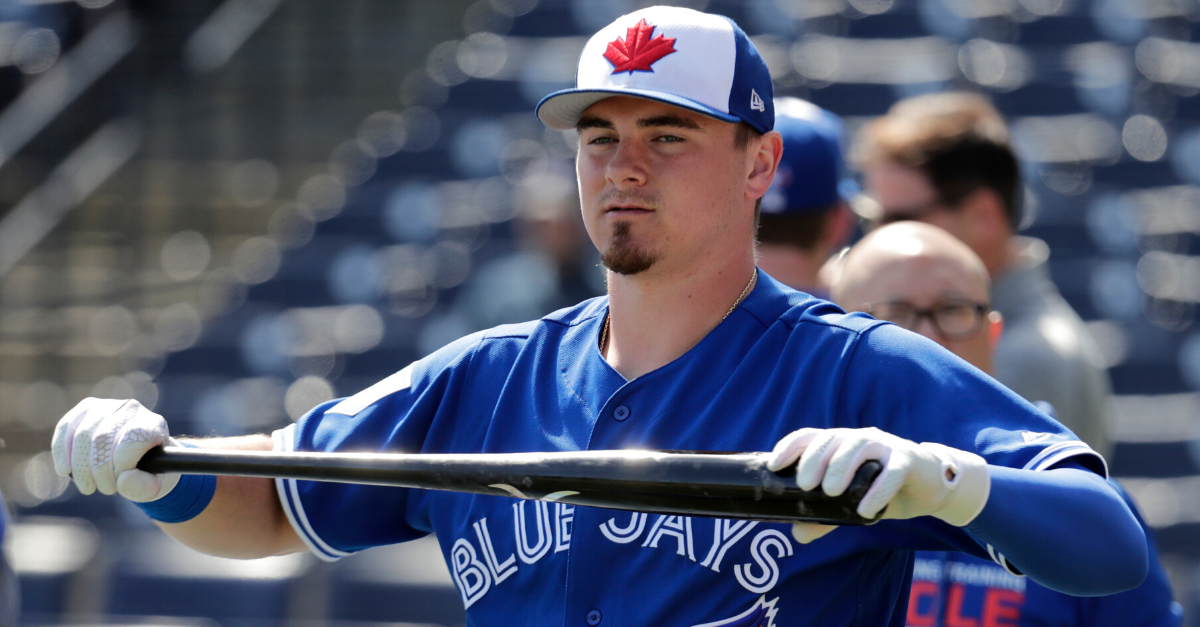 AP Photo/Lynne Sladky
Baseball is not a sport that typically produces raunchy and erotic headlines. Sex and America's Pastime mix like oil and water, but when they do collide, it can produce some pretty hilarious moments. The 2019 World Series flashers that were banned by Major League Baseball and the iconic Kissing Bandit, who used to smooch baseball's superstars on field, are perfect examples of that.
Plenty of players throughout history have been rumored to engage in naughty behavior even at the stadiums they played in. Mickey Mantle's under-the-bleachers tale and Darryl Strawberry's escapades with female fans in the locker room immediately come to mind. Even the well-known Alex Rodriguez has been caught with his pants down, literally.
Well, it turns out A-Rod isn't alone.
Blue Jays' Reese McGuire Arrested
Toronto Blue Jays catcher Reese McGuire was arrested last week after he was seen allegedly masturbating in a SUV in a Dollar Tree public parking lot in Dunedin, Fla. According to a police report obtained by TMZ Sports, the MLB catcher was caught by police with a "very apparent" erection, his shirt "barely covering his genitals" and his sweatpants around his ankles that Friday afternoon.
When Pinellas County Sheriff's Office officers asked McGuire for his phone to find his current address, they saw a pornographic video playing on the screen.
McGuire reportedly apologized and told the cops, "I'm sorry, I'm so sorry, this is really embarrassing. I really shouldn't have been doing that."
Uh, you think?
McGuire, a 24-year-old former first-round MLB Draft pick, is facing charges of misdemeanor exposure of sexual organs for the incident that took place at a strip mall. He's scheduled to appear in court in March. Sportsnet's Shi Davidi first reported the arrest.
The Blue Jays, who play their spring training games in Dunedin, released a statement regarding McGuire's indecent exposure arrest:
"The Blue Jays are aware of the recent police incident involving catcher Reese McGuire. He has been in communication with the club and we are working to gather more information. Out of respect for the legal process, neither he nor the club will comment any further at this time."
McGuire hit .299 and five home runs in 30 games for the Blue Jays last season. He was once a heralded prospect after the Pittsburgh Pirates selected him 14th overall in the 2013 MLB Draft out of Kentwood High School in Covington, Washington.
I've got to say, this is about embarrassing as it gets. I've never heard of such an odd and disgusting story.
Baseball is sport about discipline, right? Hitters lay off pitches and pitchers remember their mechanics. Why would anyone in their right mind think this was OK? Or, I mean, just wait until you get home.
Still, this isn't as bad of a look as anything the Houston Astros seem to do or say these days.