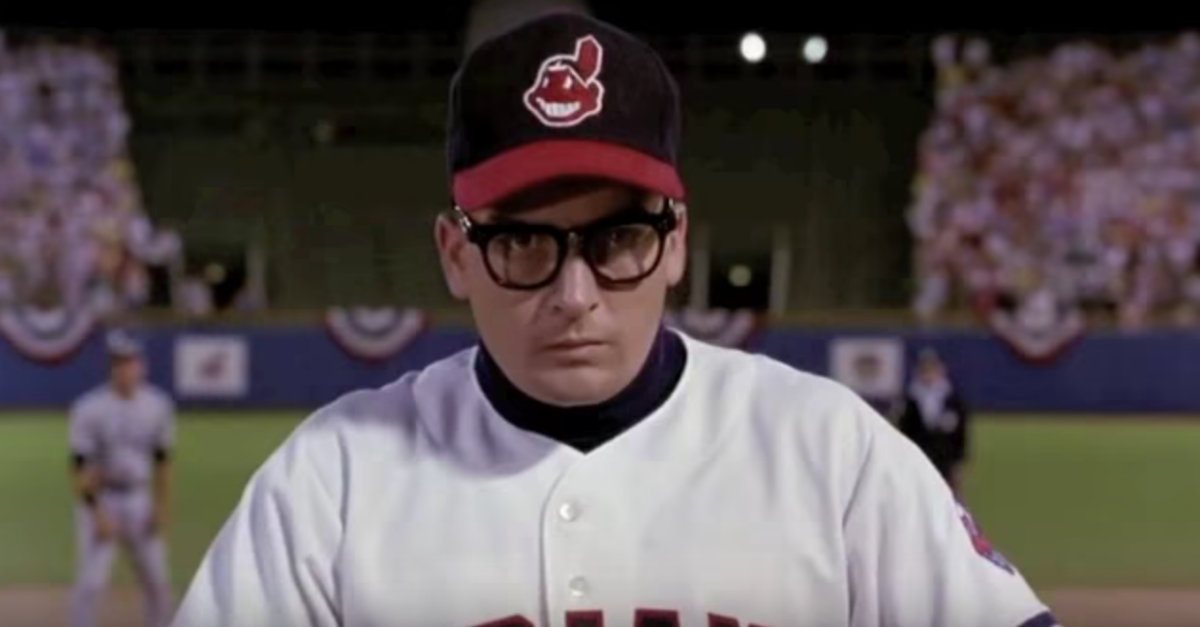 Screenshot from YouTube: Hooking Foul
Baseball is the heart and soul of this country, which is why an endless amount of baseball movies have been made. Real fans of America's Pastime know the classics. Bull Durham, The Sandlot, Field of Dreams, The Natural, Moneyball and Major League either take us back to our childhoods or put a twist on what Major League Baseball life is like.
The Sandlot birthed Wendy Peffercorn and Benny "The Jet" Rodriguez. The Natural gave us Roy Hobbs and his smooth, left-handed swing and light-shattering power. But the best baseball movie character ever created has to be the jagged and beloved Ricky "Wild Thing" Vaughn from Major League (1989).
Played by a 24-year-old Charlie Sheen, pitcher Ricky Vaughn plays a pivotal role on a Cleveland Indians team focused on winning the pennant despite consisting of a bunch of washed-up players and a minor league manager, Lou Brown.
There are so many reasons Vaughn becomes so lovable.
From his insane haircut in the shape of a lightning bolt to the signature black glasses or the way he shows up to spring training in a sleeveless t-shirt and no hat, Rick Vaughn captures more than the hearts of the Cleveland faithful from the moment he's greeted by Indians veteran catcher Jake Taylor.
Who is Ricky Vaughn?
Ricky Vaughn is a fictional character played by Charlie Sheen. He's a convicted felon who stole a car and is on work release from a California prison looking to make something of himself on the mound after playing in the California Penal League.
Vaughn's first spring training impression as a rookie is an unusual one. The youngster cut the sleeves off his jersey and shows off his jet black hair without a hat.
Coach Brown tells Vaughn, "We wear caps and sleeves at this level, son."
Vaughn then whizzes a 96-mph fastball nowhere near the catcher. Brown knows he something on the hard-throwing righty but he's going to need time.
Sheen's character is a gift from the baseball gods, and he balances well with other teammates like star third baseman Roger Dorn, speedy outfielder Willie Mays Hayes, Cuban slugger Pedro Cerrano and the aging ace Eddie Harris and Jobu, the baseball team's freaky voodoo mascot.
Rick "Wild Thing" Vaughn has also appeared outside of Major League and Major League II. Sheen showed up to Game 7 of the 2016 World Series to back the Indians against the Chicago Cubs. Fans even lobbied for Vaughn to throw out the first pitch.
Sheen himself was a pitcher in high school and reportedly ran his fastball as high as 85 mph while filming the movie. How? Because according to him, he used steroids to beef up at the time!
Ricky Vaughn's Nickname
"Wild Thing" is by far the best nickname in sports movie history. Vaughn becomes known for his upper-90s fastball and his inability to control it.
In one scene before the season starts, he throws pitch after pitch in the batting cage and can't stop hitting the fake hitter in the batter's box. Finally, he tears the head off the dummy with one heater.
Vaughn's wildness also led to a timeless movie quote used by MLB broadcasters around the country. When he winds up and delivers a fastball wide right of the left-handed hitter he's facing in one game, team broadcaster Harry Doyle (played by Bob Uecker) famously says:
"Juuuuust a bit outside. He tried the corner and missed."
There's another scene where Vaughn serves up a home run to Seattle Mariners batter, and Doyle instantly utters some profane words. I'll let you watch that for yourself.
Ricky Vaughn's Haircut
Part of what made Ricky Vaughn so legendary was his image. Wild Thing's bifocals and crazy haircut give him a certain edge that batter should be scared of.
It's a look that has been copied every Halloween by young baseball fans across the United States. Even MLB pitcher Derek Holland once paid homage to Vaughn by donning the famous haircut.
Let's be real though, there's only one true Wild Thing.
The "Wild Thing" Song Scene
Goosebumps are all you feel when you watch this iconic scene.
As the Indians and New York Yankees are in the middle of a one-game playoff at the end of the movie, Vaughn takes center stage in the ninth inning. Harris, the veteran ace, had walked the bases loaded after nabbing the first two outs before Brown makes the call to the bullpen.
Vaughn slowly walks out from beyond the outfield wall to "Wild Thing" by The Troggs. The Indians fans absolutely eat it up, and the whole stadium transforms into a party.
Vaughn takes a deep breath and inhales some words of wisdom from Brown. After a few warm-up pitches, Dorn trots over to him from third and tells him to "strike this motherf***** out." Vaughn was worried Dorn was going to say something about him sleeping with his wife. Don't worry, Dorn punches him while the team celebrates.
Vaughn then strikes out the Yankees best hitter, Clu Haywood, on three straight fastballs. The final one clocks at 101 mph.
The whole thing is pure awesomeness.
Topps celebrated Vaughn and other character's by creating baseball cards for the film's 25th anniversary in 2014. It includes Roger Dorn, Jake Taylor, Eddie Harris, Rachel Phelps, Rick Vaughn and, yes, even "Jobu."
Ricky "Wild Thing" Vaughn can't ever be topped. No baseball character comes close to him, and no one ever will. Let's just hope he finally throws out a first pitch in real life so we can relive that memorable scene.