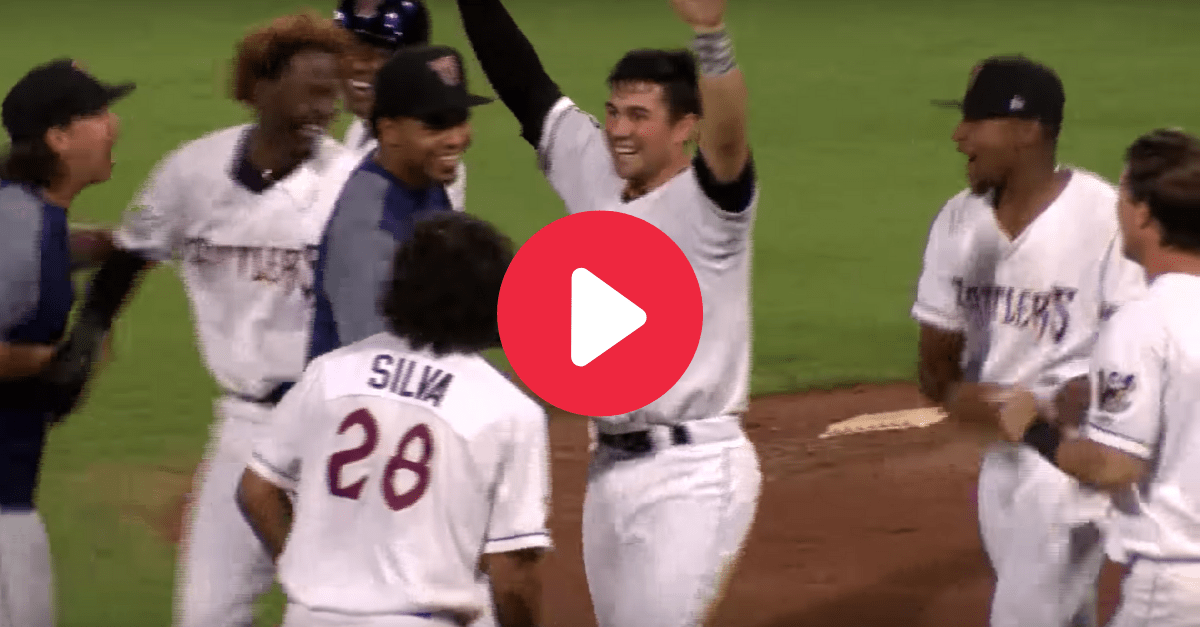 Screenshot from YouTube
If a pair of teammates hitting for the cycle in the same inning isn?t amazing enough or an all-time meltdown isn?t crazy enough or a wild pitch walk-off isn?t absurd enough, Minor League Baseball might not be for you. For those who love the madness, get ready for perhaps the nuttiest thing to possibly happen.
When a team is trailing by two runs with the bases loaded in the bottom of the ninth inning and the player at the plate with two strikes swings and misses, the game should absolutely be over.
Well, not if you are the Wisconsin Timber Rattlers, the Class-A affiliate for the Milwaukee Brewers.
Timber Rattlers left fielder Nic Pierre whiffed on a nasty breaking ball in the dirt from Burlington Bees reliever James Ziemba, which got away from catcher Keinner Pina. Then, Pina made a bad throw over to first base and the rest was history.
Timber Rattlers 7, Bees 6.
Wisconsin Timber Rattlers' 3-Run Strikeout
To add even more insult to the situation, the Bees, the Class-A affiliate for the Los Angeles Angles, entered the ninth inning up 6-2.
It was one of those seasons for Burlington as it sat with a 14-33 record, the worst mark in the Midwest League. The Timber Rattlers had a 26-24 record and sat five games back in the Western Division.
This was pretty unfortunate for the Bees, really. It?s one of the worst ways to lose a game.
With an 0-2 count, Pina had to know Ziemba was going to throw some junk, and they were lucky to get Pierre to swing at the pitch. Not being able to anticipate the ball being in the dirt or converting the throw over to first is devastating.
The Burlington Bees had the game won and then completely blew a two-run lead on a botched third strike.
Never change, Minor League Baseball.
This post was originally published on August 14, 2018.