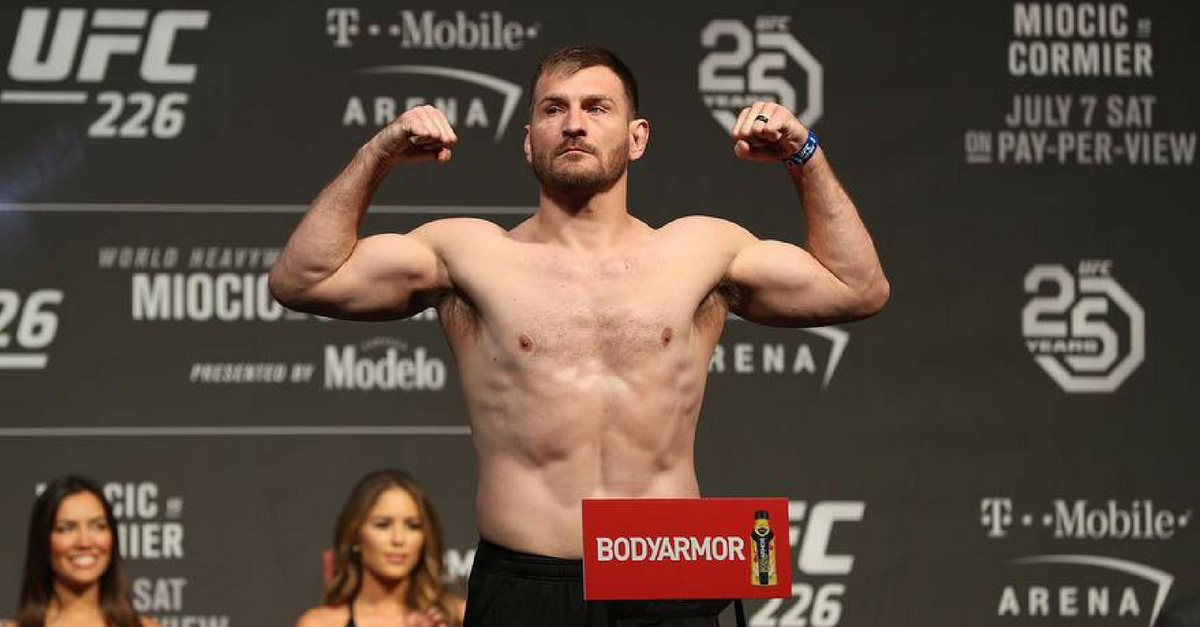 Instagram: @stipemiocic
Instagram: @stipemiocic
Following UFC 226, former UFC Heavyweight Champion Stipe Miocic has been harsh on the UFC for overlooking his opportunity for a rematch with current two-division champion Daniel Cormier.
Cormier dropped Miocic at 4 minutes, 33 seconds of the first round of the Main Event in Las Vegas on July 7 to capture his second UFC title. Afterwards, former UFC champion Brock Lesnar stormed into the ring post-fight and demanded a shot at the heavyweight title.
Lesnar hasn't fought in the UFC since 2010 and is suspended from competition until January 2019 for PED use.
UFC president Dana White announced that Lesnar would be allowed to return once he completes his suspension and required drug screening. It's inevitable that his first match will be versus Cormier with the Heavyweight Championship on the line.
Stipe Miocic has blasted the UFC in the wake of Dana White's announcement, and for good reason. Miocic (18-3) hadn't lost in the UFC since dropping a unanimous decision to Junior Dos Santos in 2014. He three UFC heavyweight title defenses are more than any other heavyweight fighter in UFC history.
If anyone deserves an immediate rematch, and redemption, it's the 35-year-old Miocic.
"Why wouldn't it be?" Miocic said of being owed a rematch with Cormier on Ariel Helwani's MMA Show on ESPN. "I defended the belt more times than anyone. I've had the belt for over two years. I mean, guys haven't fought in over a year and still get rematches if they lose the match, so why wouldn't I get one?"
Miocic, a Euclid, Ohio native, offered harsh criticism as to why he's being supplanted for Lesnar in the next title fight by the UFC.
"I thought they were going to interview me [after the fight] and I was going to ask for a rematch," Miocic said. "When Brock came in, I said, 'I'm out of here, I don't need this circus.' How can you give a guy a title shot who hasn't fought in over two years, is suspended, and his last fight is a no-contest because he was taking PEDs?

"I want a title shot. I deserve it," Miocic added. "[Lesnar] hasn't fought in how long? For him to get a title shot, as I get thrown to the side? It just seems like they are desperate for pay-per-views."
Daniel Cormier (21-1) is currently the UFC's Light Heavyweight Champion, as well as new Heavyweight Champion. He intends on fighting Lesnar early in 2019 when The Beast Incarnate becomes eligible to return to the heavyweight division.
Cormier did not rule out a second fight in 2018, but he has not stated that he'd be open to a rematch with Miocic.
Ball is in your court (er, octagon?) Dana White. Give us the rematch.