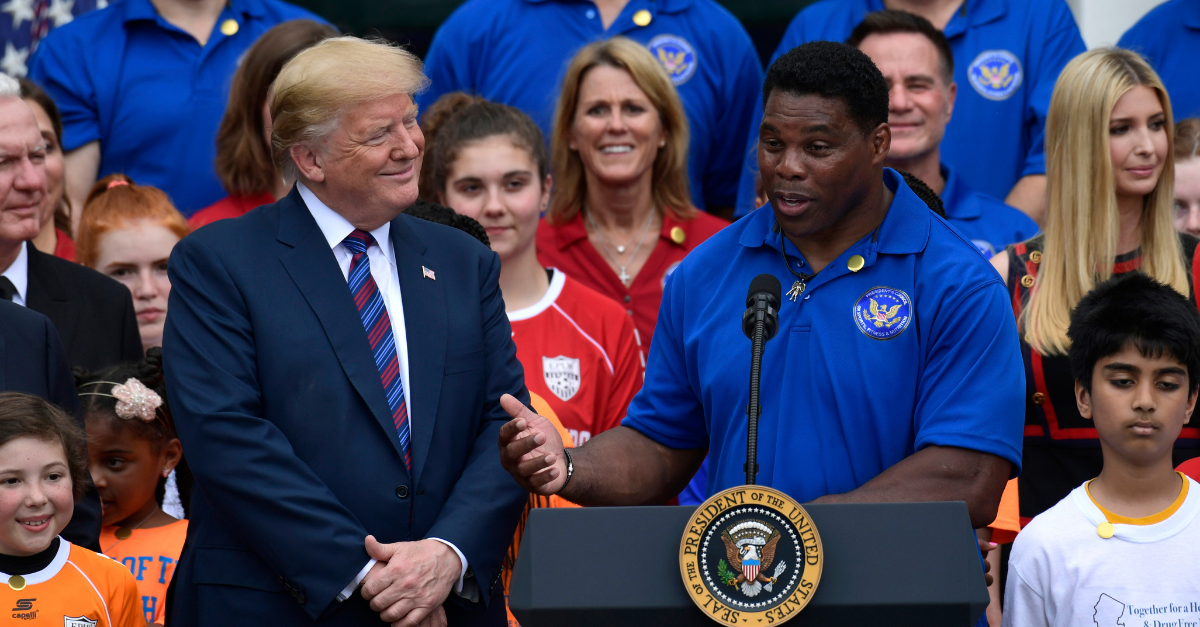 AP Photo/Susan Walsh
California Governor Gavin Newsom and Democratic lawmakers in the state legislature agreed to a proposed bill that would offer free healthcare to low-income illegal immigrants between the ages of 19 and 25 living in the state. If the proposal becomes law, it's estimated that about 90,000 people eligible under those circumstances could receive around $98 million per year in free healthcare.
NFL legend and 1982 Heisman Trophy winning running back Herschel Walker was not going to stay quiet on the issue.
Walker, who grew up in Wrightsville, Georgia and publicly supported Georgia Republican Jack Kingston during the 2014 U.S. Senate election, voiced his disagreement with the bill, even tagging Donald Trump Jr. and several media outlets in the tweet.
"Not to point fingers at California, but why would you give free healthcare to illegal immigrants when your streets are littered with homeless legal residents, trash, and tents. California is a beauitful place, so let?s keep it that way. @CNN @FOX4 @NBCNews @DonaldJTrumpJr"
In the first day since Walker tweeted his opinion on the bill, it's received over 26,000 retweets and 84,000 likes on Twitter.
According to Fox News, California's Medi-Cal program would, obviously, need added funding to pay for this party. For undocumented immigrants to receive free healthcare coverage, the state would likely reboot something similar to the individual mandate created by former President Barack Obama's Affordable Care Act, commonly known as Obamacare.
Basically, U.S. citizens who don't have health insurance would be taxed so that illegal immigrants could have access to California's medicaid program.
Needless to say, the idea is wildly unpopular.
"Sacramento has long had a reputation for coming up with some crazy ideas, but providing free health coverage to illegal immigrants just might take the cake."

? California Rep. Doug LaMalfa, via Twitter
The proposal is part of California's $213 million state budget proposal, which needs approval by the full state legislature in a vote to take place in the coming days.
From his time with the Georgia Bulldogs, to becoming MVP of the USFL, to two Pro Bowl selections with the Dallas Cowboys, through the biggest trade in NFL history, there are few American athletes more well-liked and respected in the sports world than Herschel Walker.
If Gov. Gavin Newsom is getting this kind of response from the Californians he serves, maybe it's time someone like Walker runs for office.
Walker 2024? Just saying…