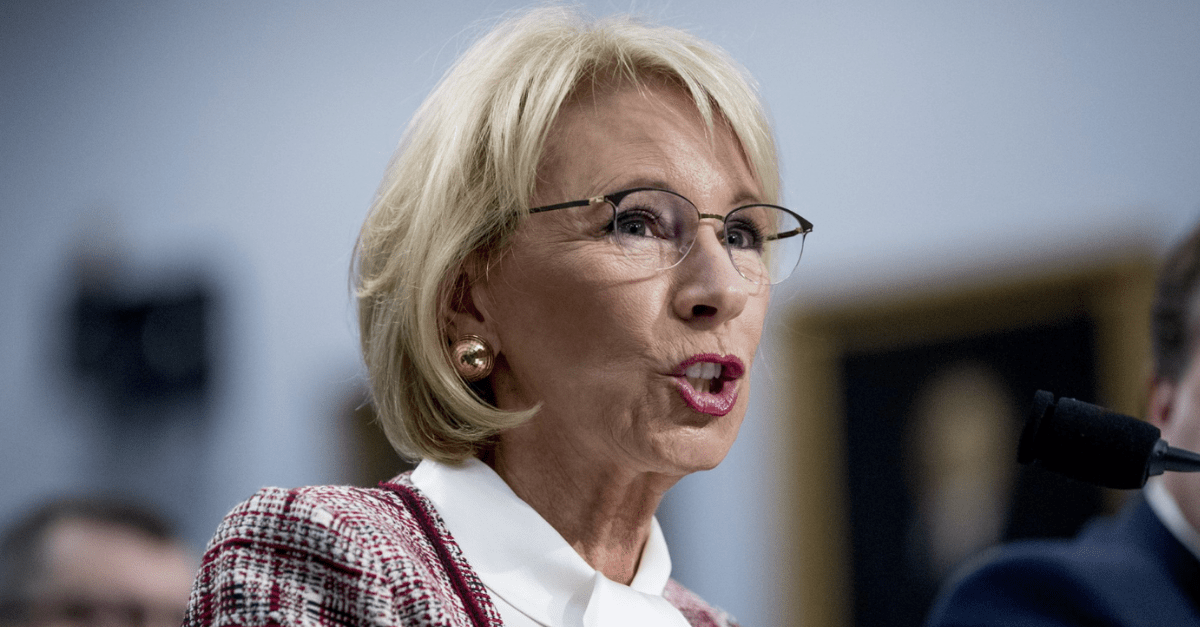 AP Photo/Andrew Harnik
Remember that time someone started a petition to get LeBron James to leave the Los Angeles Lakers and replace United States Secretary of Education Betsy DeVos in the White House? It seemed radical and even stupid to some, at the time, but there is no way King James would have come close the colossal error DeVos just made with the American people once again.
Let?s just get right down to it. In her latest budget proposal for 2020, DeVos moved to cut all federal funding for the Special Olympics. That would mean $17.6 million used to fund athletes with special needs this year would be part of the $7 billion in proposed reductions in educational programs down the road.
This can?t be serious, right? DeVos didn?t really just go before Congress and propose eliminating Special Olympics funding for another year, did she? Oh, she most certainly did, and it didn?t set well with just about everyone imaginable.
WATCH: USA Special Olympics Player Sinks March?s First Buzzer-Beater? From 75 Feet!
The proposed reduction of nearly $18 million to the Special Olympics is roughly 10 percent of its overall revenue, according to The Associated Press. Education Secretary Betsy DeVos, after facing harsh criticism, responded by saying she ?loves? the organization and ?personally supports its mission.?
?There are dozens of worthy nonprofits that support students and adults with disabilities that don?t get a dime of federal grant money,? she said, via the AP. ?Given our current budget realities, the federal government cannot fund every worthy program, particularly ones that enjoy robust support from private donations.?
All of that might be true, but the damage was already done.
From athletes to celebrities to U.S. Representatives such as Rep. Mark Pocan (Wisconsin) ? a member of the House Appropriations subcommittee ? and Rep. Barbara Lee (California) were not having any of it.
DeVos told Congressman Pocan her department had to make ?difficult decisions? in regards to the budget. Nobody should even try to deny the level of complication it takes to come up with a proposal as massive as this because almost all of us will never have to do it, but common sense must prevail in this situation.
This is the Special Olympics, an opportunity to provide those with special needs the chance to do something they love, and the Secretary of Education somehow thinks it needs to be cut to save a few pennies in government funding?
Screw that, Betsy DeVos. Proposing to cut Special Olympics funding is as gutless, spineless, and heartless as it gets.
Your political party affiliation of Republican or Democrat and your opinion of President Donald Trump and the Trump Administration shouldn?t matter here, although the Democrats control the House. Nor should your race, ethnicity, age, or really anything else. There is no way one can look in the mirror and feel like cutting funding from the Special Olympics is a good idea.
It should be completely off limits. Yet, for whatever reason, it?s fair game this year for the education department just as it was last year.
?The Special Olympics raises more than $100 million philanthropically every year, and while the Secretary is very personally supportive of their mission and work, the activities of Special Olympics are better supported with other state, local and private funds.?

? United States Department of Education spokeswoman Liz Hill
Perhaps that?s a fair point, but it?s completely missing the mark.
DO YOU KNOW HOW BAD IT LOOKS FOR ANYONE TO TRY TO TAKE FUNDING AWAY FROM THE SPECIAL OLYMPICS? IT?S HORRIBLE!
Sports and politics should never mix. When they do, it?s like pouring gasoline onto a fire. This is just one shameful example of that.
Like every year before it, there should be no way this proposed budget passes. But Secretary of Education Betsy DeVos is pretty evil for even trying it again.