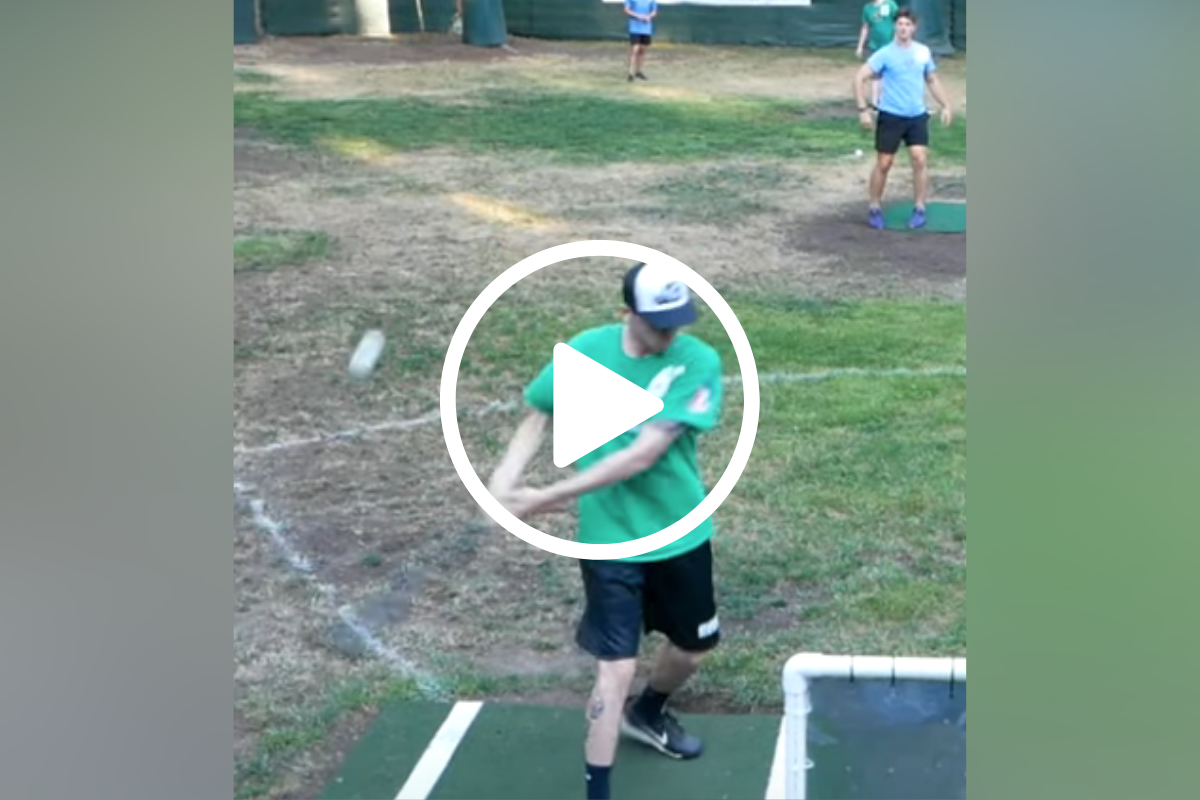 Screenshot from YouTube
They say to never count your chickens before they hatch in wiffle ball. The moment you assume something is the moment you'll be made a fool.
The Western Wolf Pack assumed Eastern Enforcers player D.J. Oliver was going to take the pitch headed behind his back in an American Wiffle Association game. The Wolf Pack didn't realize Oliver had his twirling shoes on and could switch hit in real time.
D.J. Oliver's Backward Wiffle Ball Hit
RELATED: Sneaky Pitcher?s ?Invisible Ball? Pitch Looked Like Witchcraft
The Wolf Pack pitcher was still finding his control. That or the ball slipped. Maybe he should consider using some Spider Tack next time.
The pitch gets away from the hurler and is headed behind Oliver, who's a right-handed hitter. Normally, every batter would let this pitch go.
Not Oliver.
He makes a split-second decision to whip his bat around and go for broke. He not only makes contact, but he sends the ball towards the gap by second base. The pitcher and fielder were so off guard it took them a few seconds to react. The ball lands and Oliver reaches with a single.
Let's break this down a little more.
Oliver has the presence of mind to attempt to swing behind his back. He commits to the decision and miraculously makes contact while staring directly at the dirt behind him. Seriously, this guy was staring at home plate as he's swinging.
The most incredible part to me is that he hits the ball with enough power to make it nearly all the way to the outfield. 98 out of 100 times this ball is a little dribbler towards the pitcher if he makes contact at all.
I tip my cap to Oliver for even attempting this on-the-spot switch hit. He would've looked foolish had he missed. Luckily, he had been practicing his behind-the-back-swing hoping to go viral on the internet one day.
You succeeded, my man. Save some of that sorcery for the playoffs.