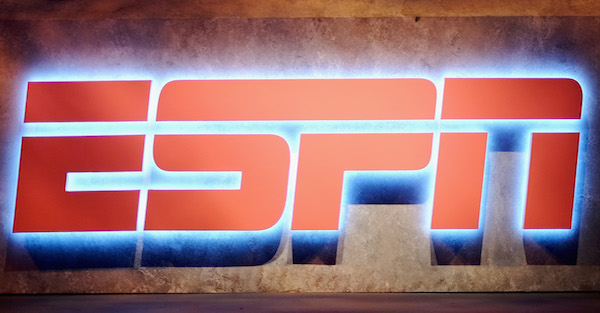 Mike Windle/Getty Images
SAN FRANCISCO, CA - FEBRUARY 05: A view of the logo during ESPN The Party on February 5, 2016 in San Francisco, California. (Photo by Mike Windle/Getty Images for ESPN)
ESPN President John Skipper has agreed to an extension with Disney to stay at his current position, according to The Big Lead. The extension will take him through 2021. He had signed an extension in 2015 that took him through 2018.
While Skipper may not be responsible for some of the controversy surrounding his company, he has certainly overseen more than his fair share of it.
He had to deal with SportsCenter anchor Jemele Hill calling President Trump a "white supremacist", an initial round of layoffs in April, a reported second round of layoffs coming up and numerous ratings spats between his own anchors and those who now work for FS1.
Former ESPN star Colin Cowherd took a shot at ESPN during that ratings feud and Skip Bayless had the audacity to claim he was the most underpaid personality while he was with the company. Scott Van Pelt had to throw down the gauntlet on a former ESPN personality who was disgraced and fired in 2010 after he was charged with assaulting his girlfriend at the time. SVP also just got an extension thanks to his successful run on the midnight edition of SportsCenter.
While Skipper might be known for all of that, he has done all he can to avoid hemorrhaging subscribers in an age where people are cutting the cord and trying to avoid subscriber fees for any channel they don't want.
He has been the president at the network since the beginning of 2012 and has been at the company since 1997 when he took the job as vice president and general manager of ESPN the Magazine.