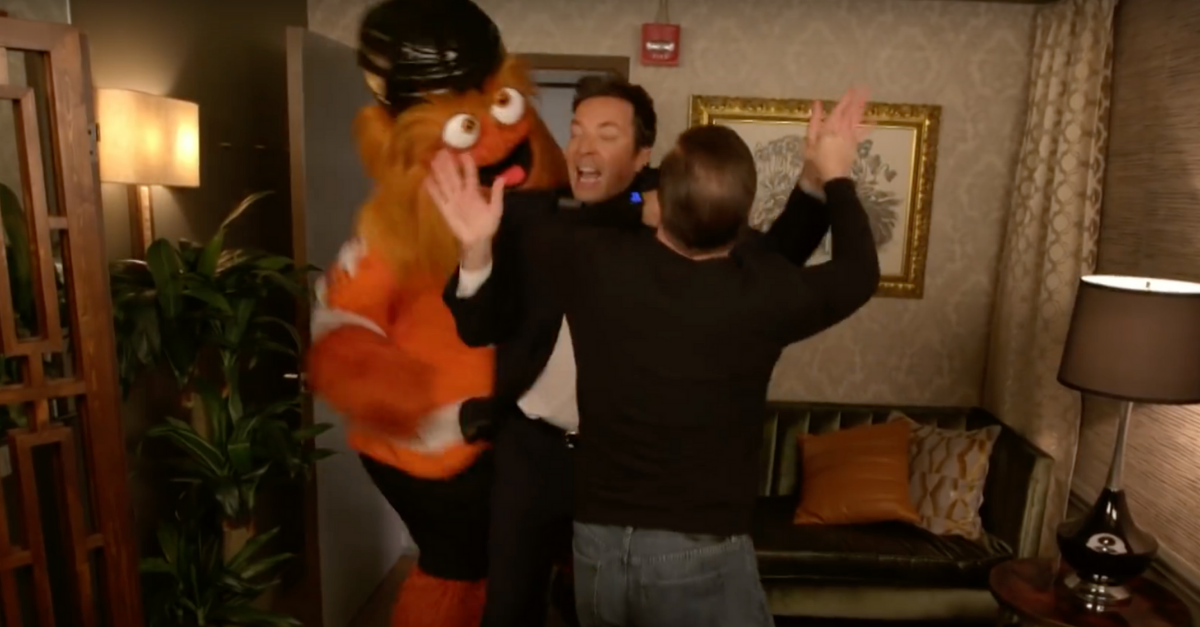 YouTube: The Tonight Show Starring Jimmy Fallon
YouTube: The Tonight Show Starring Jimmy Fallon
When the Philadelphia Flyers unveiled their new mascot, Gritty instantly became an internet sensation. From his googly eyes to the unknown nature of what he actually is, the new mascot is already among the greatest in sports after less than a week.
Gritty is everywhere. From the Twitter accounts of fellow mascots to the streets of the city itself, the hairy wonder is an overnight superstar. On The Tonight Show Starring Jimmy Fallon, Gritty made another public appearance this week, and it's obvious he's bringing the fighting spirit of Philadelphia everywhere he goes.
During a brief opening to Thursday's show, legendary nighttime talk show host Jimmy Fallon and his guest for the evening, actor and comedian Ricky Gervais, were having a backstage dance party to none other than Boyz II Men's "Motownphilly."
Suddenly, Gritty appears and sees the two dancing. As any legendary mascot would do, he stepped in to join the party. Gervais wasn't having the interruption though, and hilarious chaos ensued.
What was once a nightmare in the making as turned into a pop culture phenomenon.
Known as "talented but feisty, a fierce competitor, known for his agility given his size," Gritty embodies everything that the Philadelphia Flyers hockey team wants to be.
The NHL team is a two-time Stanley Cup champion, 16-time division winner. Coming off a 42-26-14 season, which ended in a first round series loss in the Eastern Conference playoffs to the Pittsburgh Penguins.
Adding Gritty to the roster is already paying off, and the 2018 season hasn't even started yet.
If you're in Philadelphia, keep an eye out for Gritty. Try to catch him in Wells Fargo Center eating ice and hot dogs, but you can almost guarantee he'll probably find you before you find him.
He's already making friend along the way, too.