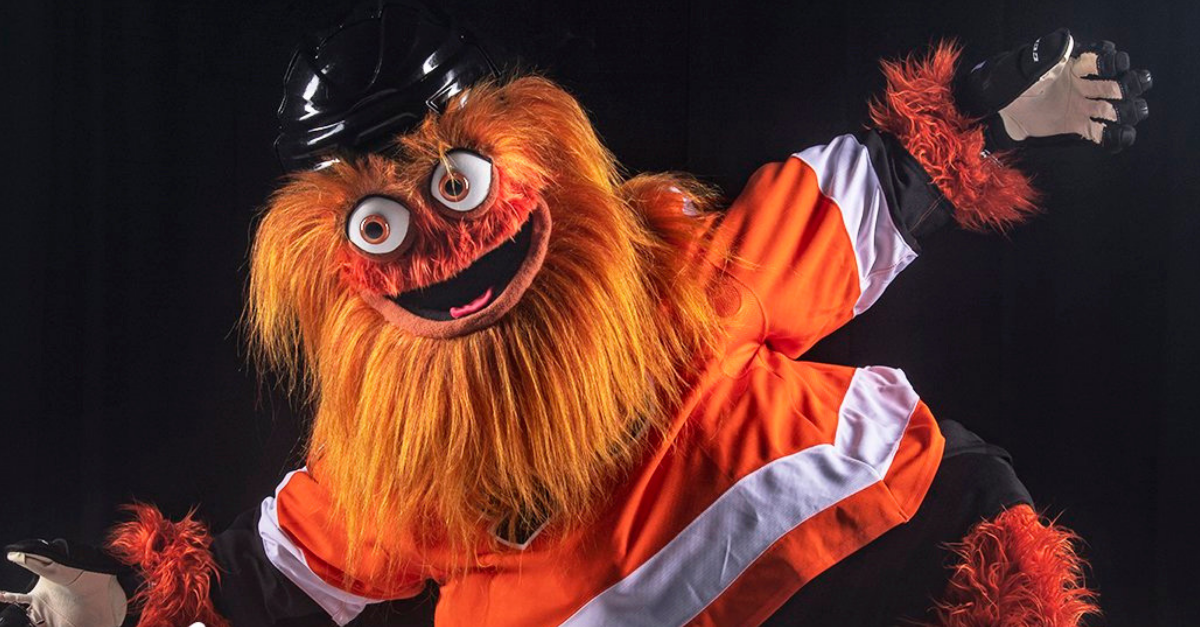 Twitter: @GrittyNHL
Twitter: @GrittyNHL
Mascots are the sports world's greatest oddities. They can be cheesy and corny, while altogether embodying the spirit of the sports team they represent. Some have long standing traditions, while others are creating a spirit all of their own.
We now have our next ridiculous sports mascot, and it is the most absurd looking thing to ever take the ice. When the Philadelphia Flyers take the ice at home in NHL preseason action against the Boston Bruins Monday night, they'll be debuting one of the strangest mascots of all time.
Say hello to Gritty, the newest member of the Flyers family, and the latest induction into the Mascot Horror Hall of Fame.
According to the Flyers official team website, Gritty has an insane backstory that sheds absolutely no light on what he's actually supposed to be:
His father was a "bully," so naturally he has some of those tendencies – talented but feisty, a fierce competitor, known for his agility given his size. He's loyal but mischievous; the ultimate Flyers fan who loves the orange and black, but is unwelcoming to anyone who opposes his team. Legend has it he earned the name "Gritty" for possessing an attitude so similar to the team he follows.

He claims that he's been around for a lot longer than we know it, and recent construction at the Wells Fargo Center disturbed his secret hideout forcing him to show his face publicly for the first time. He has some oddities that are both humorous and strange. A number of times he's been caught eating snow straight from the Zamboni machine, and unbeknown to most, his love of hot dogs has been inflating the Flyers Dollar Dog Night consumption totals for years.

That being said, there's no denying that he's one of our own.
Alright, so Gritty and his googly eyes embody exactly what the Flyers' team is supposed to be: He's a grinder, known to scrap it out in order to get his way, and he lived deep inside Wells Fargo Center until he just emerged one day.
BUT WHAT IS HE!?
Is this new mascot some kind of troll? Is he a long-lost Muppets character? Is he the ghost of legendary Flyers forward Rick MacLeish reincarnated in 2018? Does it eat anything besides hot dogs and Zamboni ice? I have so many questions…
Whatever this fuzzy orange creature is, Gritty's already getting love from fellow NHL mascots on his new Twitter account, and I'm sure he'll be good for more than a few highlights during Philly's season.
At the very least, Gritty's squeaky belly button is good enough for some nightmare fuel the entire year.