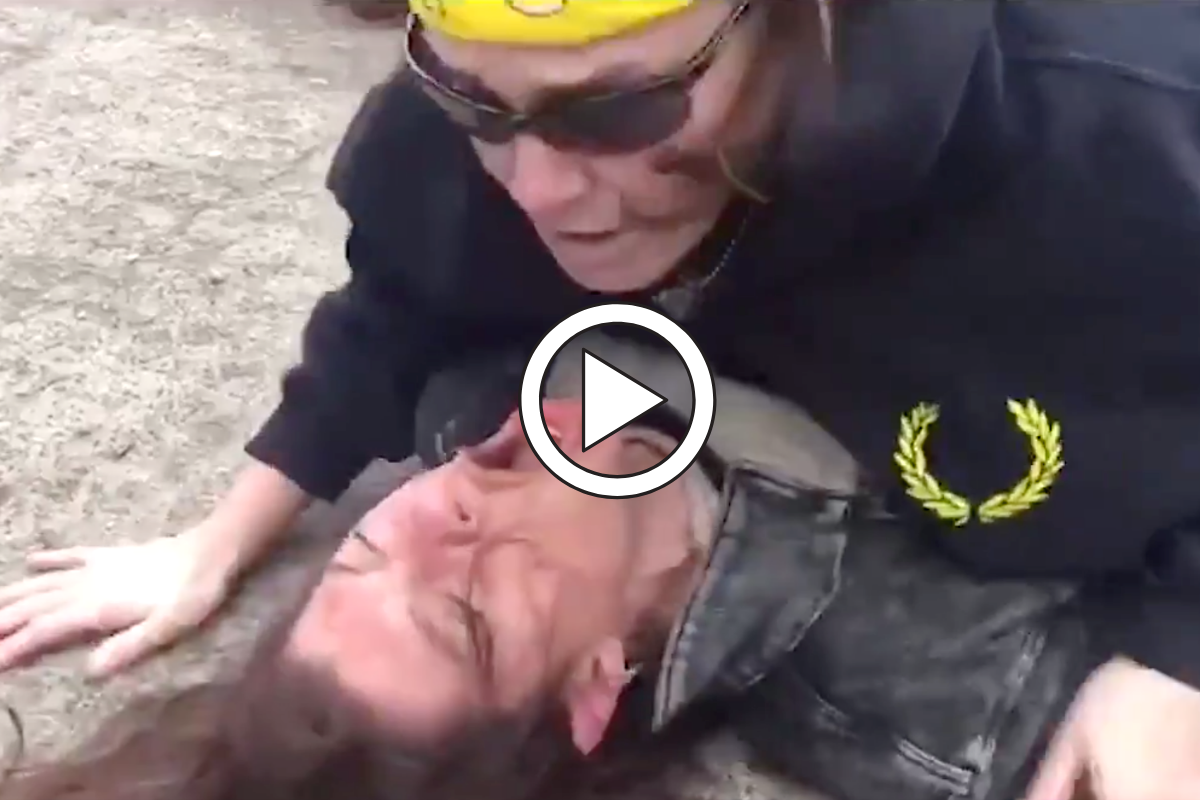 Screenshot from Twitter: Andy Ngo
Veterans Day is celebrated across the country on November 11. From Jon Bon Jovi donating $500,000 to shelter homeless veterans to NFL star J.J. Watt creating custom shoes honoring his Korean War veteran grandfather, inspiring tributes aren't hard to find. A flag-waving rally in Portland, Oregon turned physical, however, after one woman invaded because she wasn't happy with the organization putting on the event.
Former MMA fighter Tara LaRosa, a multi-time women's world champion grappler who competed on The Ultimate Fighter in 2013, began live streaming the event on Twitter. According to the Portland Mercury, an alt-right group called Proud Boys, the group that became a hot-button topic after Donald Trump and Joe Biden's presidential debate and apparently draws white nationalists on a regular basis, hosted the peaceful event. At some point, an unidentified woman approached the group and began allegedly antagonizing them and saying things like "F— Proud Boys," according to LaRosa.
Bits and pieces of this altercation were posted on Twitter, which included a Proud Boys supporter ? later identified as Rachel Cronk ? sticking a flag in the woman's face and a scuffle between the two breaking out on this Oregon overpass.
That's when the former BodogFight Women's Bantamweight Champion intervened, used her Brazilian jiu-jitsu background, and tackled the angry woman to the ground.
MMA Fighter Pins Anti-Trump Protestor
RELATED: Donald Trump Helicoptered Into Stadium, Then Bounced His First Pitch
As LaRosa pins her, the woman struggles and repeatedly says, "I can't breathe." In response, LaRosa continues to try and calm her down while replying, "I don't care."
At one point, the woman (who was fully clothed) weirdly claims, "I'm like half-naked."
During her struggle, the woman claims she is a "professor" who "just got done having brunch with my friends." In her quest to protect post-brunch patriotism, the woman said the group was antagonizing her city and that she's "always had to be the person" to, well, I think you know what came next.
The woman said, "You don't know what Donald Trump is."
Bingo.
According to Portland Police Bureau spokesperson Kevin Allen (via the Portland Mercury), no one was arrested and only a few minor injuries were reported, none of which required the paramedics' attention. The case was sent to the District Attorney's office to determine if charges are required.
There's just so much to digest here. Maybe you don't like the Proud Boys or their message. Maybe you think this anti-Trump woman who invaded had no right to do so. Maybe you think it's ridiculous this all happened because of some American flags being waved.

But heck, would you expect anything less in this walking-on-eggshells society we live in?
This article was originally published November 14, 2019.