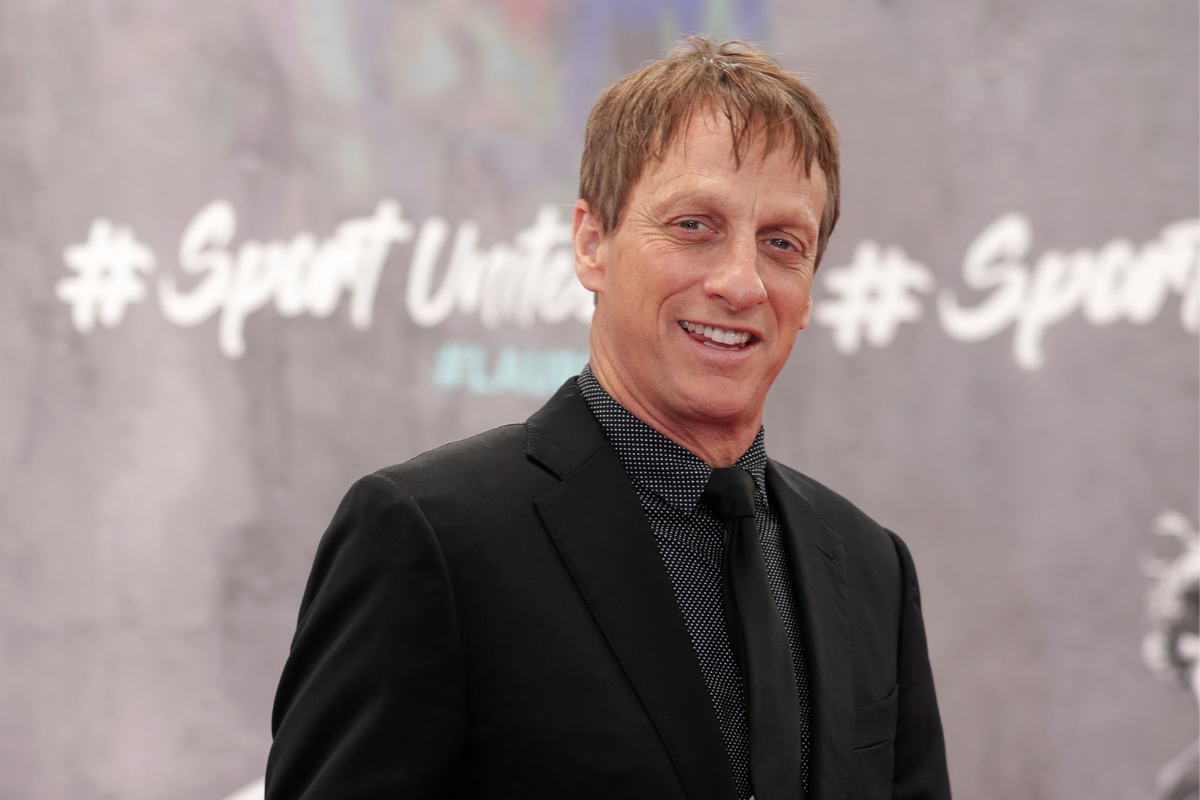 AP Photo/Michael Sohn
Icarus flew too close to the sun. Too bad he didn't have a skateboard… maybe he could've landed it.
"The Birdman" Tony Hawk flew even closer and burned his image into skateboarding history. In a flock of influential skateboarders, Hawk soars above the rest.
The stoked skater is one of the richest riders of all time. Here's how this legend kick-flipped from Dogtown to the Hall of Fame.
Early Life
On May 12, 1968, when the No. 1 movie was "The Graduate" and the No. 2 song was "Mrs. Robinson", Frank Peter Rupert Hawk and wife Nancy welcomed Anthony Frank Hawk to the world. And Carlsbad, Southern California.
Though the eyass enjoyed a stable early life in San Diego, it doesn't mean the fledgling Hawk simply skated by.
Hawk likely suffered from ADHD and struggled to rectify his inattention with his intelligence. His family encouraged him to try skateboarding and found it helped him focus. Hawk had found his hobby horse.
They couldn't have known it then, but Hawk would ride that hobby horse into a career as a professional skateboarder before he even reached high school.
After starring in old Powell-Peralta Bones Brigade VHS tapes, Hawk spread his wings on the halfpipe.
When "The Birdman" Flew the Coop
Thrashing the vert circuit in the 1980s, the levitating extreme sports star was riding his skateboard to financial security. The National Skateboard Association World Champion even bought a house when he was 17.
When The X-Games held their inaugural competition in 1995, Hawk popped way more than an ollie. "The Birdman" dropped-in and won more medals than almost anyone. And that was just his first X-Games.
Four years later, Hawk flew higher than any bird thought possible. He landed two and a half spins later (what they call a 900) on the X-Games halfpipe. He was the first skateboarder to ever do so. Fans and competitors rushed the stage to congratulate the ecstatic Hawk.
Tony Hawk's Pro Skater landed clean later that year. The lives of Millennials everywhere were forever changed.
Tony Hawk's Pro Skater is Far Superior to EA Skate
The release of THPS marked the release of an entire genre. Okay, that's not exactly true; but the Tony Hawk video game set (and grind!) the bar for skateboarding video games.
In the history of series about street skating, there's the time before Tony Hawk and the time after. No other extreme sports video game series even comes close to the Activision funbox, except (perhaps) for The Simpsons Skateboarding.
Just kidding; The Simpson's foray into shredding slid into a total faceplant.
Cameos & Other Ventures
RELATED: Lance Armstrong?s Net Worth: How Uber Saved His Shattered Fortune
Tony Hawk crossed paths with the citizens of Springfield more than once.
Hawk bailed on competition skateboarding in 2003. By then, Hawk had already ridden his handrail into Hollywood. Allow me to list some highlights: Rocket Power, Vin Diesel's xXx, Lords of Dogtown, and Max Keeble's Big Move.
The high-flying skateboarder has enjoyed a better acting career than most actors. Man found success as a businesshawk, too.
In 1992, Tony Hawk started his own skateboarding company. His skateboard company Birdhouse has remained his anchor grind; they still hock burly boards and brain buckets today. Hawk once ran a traveling extreme sports competition called "Boom Boom Huckjam", and it may be coming back.
Hawk also invests in an action sports YouTube channel called "Ride Channel".
They say you should find the thing you're good at and find a way to make a living off it. Pro skater Tony Hawk lives that maxim to its gnarliest degree.
Personal Life & Charity Work
It took American professional skateboarder Tony Hawk 10 grueling attempts to nail the 900 at the 1999 X-Games. His persistence in the pursuit of perfection carries over to his personal life.
Tony Hawk has been married four times and has four baby Hawks in his skate mob. Hawk was with Cindy Dunbar from '90-'93, Erin Lee from '96-'04, Lhotse Merriam from '06-'11, and is currently married to Cathy Goodman since 2015. Hawk has hatched four nestlings: Spencer (Gupi), Kadence Clover Hawk, Keegan, and Riley Hawk.
Tony Hawk also grinds at the Tony Hawk Foundation. The charity builds skateparks for communities short on resources. It's a rad foundation that now goes by The Skatepark Project. You can donate here.
Tony Hawk Net Worth
American professional skateboarder Tony Hawk has an estimated net worth of $140 million.
From skateboarding competitions to The White House, there's no air "The Birdman" can't fly through.