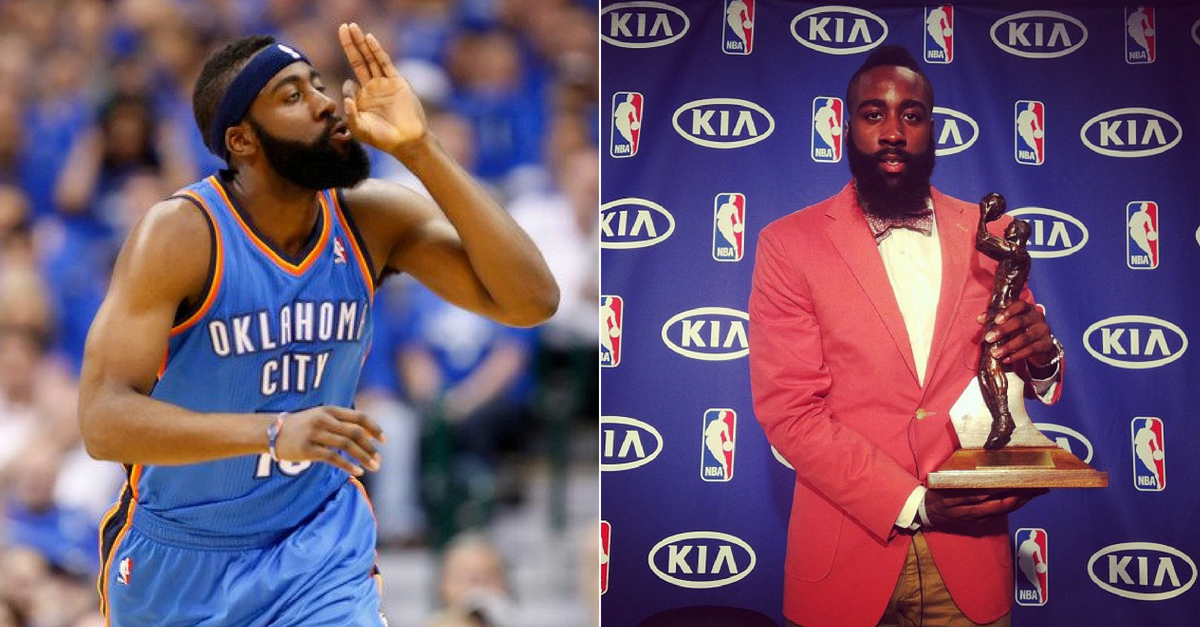 Facebook/Instagram: James Harden
In his ninth NBA season, James Harden secured his sixth-straight All-Star season, but his first MVP award. The 28-year-old enters the prime of his career with momentum, and an opportunity to lead Houston to continued success for years.
Before he was a Rocket, Harden was a bench player with the Oklahoma City Thunder. Over three seasons, the southpaw grew to become the best sixth man in the NBA and turned heads prior to his trade 445 miles south to Houston. Six years later, Harden is solidifying himself as one of the NBA's all-time great scorers.
Here are Harden's six most memorable moments from his years in OKC:
1. Harden drops 24 against the Magic
James Harden's first double digit scoring game in the NBA came on November 18, 2009. Visiting Dwight Howard and the Orlando Magic, Harden erupted for a career-high 24 points off the bench. It took Harden 12 games to accomplish this feat, something he would do 34 more times in a rookie season in which he was named to the NBA's All-Rookie Second Team.
2. Durant goes down, Harden starts
Harden's first career start came in his second season on the road against the Boston Celtics. The Thunder won the game by five, but it was far from a breakout game for the 21-year-old. Harden scored 12 points in 37 minutes of action, shooting just 2-for-8 from the field. The next night was Harden's second career start in Milwaukee. He poured in 23 points, including six threes, leading OKC to a win.
3. The Beard hangs 40 on the Suns
The Beard's first career 40-point game came on April 18, 2012 against Steve Nash and the Phoenix Suns. Harden scored 40 points on the nose, swiped four steals, and was a perfect 11-for-11 from the free throw line. OKC notched their 45th win of the year, and Harden made a statement that he is an elite NBA scorer.
4. The 2012 NBA Finals
The low moment of Harden's time in OKC came on the NBA's biggest stage. The Thunder went to Miami tied 1-1 in the 2012 NBA Finals, and Harden forgot his game at the airport in Oklahoma. In back-to-back six point losses, Harden shot a combined 4-for-20 in those two games, averaged 35 valuable minutes in each contest. Harden's 19 points in the deciding game five wasn't enough, as Lebron James won his first NBA title.
5. Harden is named NBA's Sixth Man
https://www.instagram.com/p/Kdcj6ytlSD/?hl=en&taken-by=jharden13
James Harden was named the NBA's Sixth Man of the Year in 2012, his final season as a member of the Oklahoma City Thunder. It was the last season in which Harden averaged less than 20 points per game (16.8). On the flip side, it is still Harden's most efficient shooting season of his career; he posted a career high shooting percentages at 49.1 percent from the field, as well as 39.0 percent from three-point range.
6. The Trade
After the Thunder's offer for a $55.5 million extension was turned down, Harden was traded to the Houston Rockets. The deal was $4.5 million shy of a max deal, something Harden wanted to stake his claim as an elite NBA player. In return, Oklahoma City received Kenyon Martin, Jeremy Lamb, two first round picks and a 2013 second round pick; the 2013 first round pick became current starting center Steven Adams. OKC sent three players to Houston alongside Harden, but no player involved in the trade has made the lasting impact that Harden has.
Kevin Durant summed up the reaction to the trade with a single word that still echoes through NBA history: