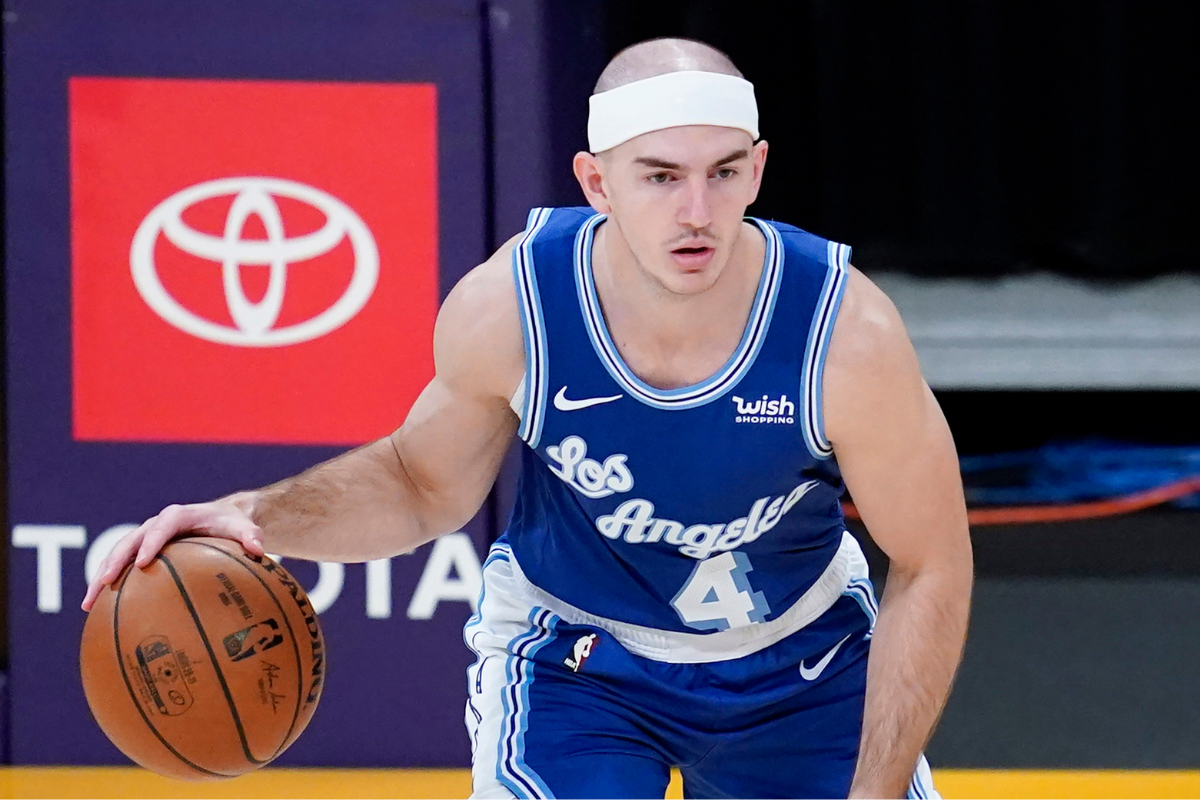 AP Photo/Ashley Landis
Los Angeles Lakers guard Alex Caruso has become cherished by NBA fans everywhere.
The former Texas A&M star has a great success story, accrued a loyal following, and made the most of his chances in the pros.
While his fans on Twitter are ride-or-die for Caruso, what does his dating life look like?
Who is Alex Caruso's Girlfriend?
RELATED: Alex Caruso's Rise to Fame Started in College Station
It's unknown exactly when Alex Caruso and girlfriend Abby Brewer became an item, but he first made an appearance in pictures on her Instagram in June 2019.
Brewer hails from Scottsdale, Arizona — just outside her birth place of Phoenix — and is the daughter of a former Miss Georgia winner, Deborah Mosely Brewer.
Abby was a volleyball MVP in high school and played at the University of Tennessee as well.
Brewer works for the public relations firm BLND and has amassed a solid social following for herself. She boasts more than 13,000 followers on Instagram.
Neither has shared a picture together on Instagram since 2019, but are reportedly still together.
Alex Caruso NBA Career
After a successful run at A&M Consolidated High School, Alex Caruso played for the Texas A&M Aggies for four years, and averaged 8.0 points, 4.7 assists and 3.7 rebounds.
Caruso went undrafted in the 2016 NBA Draft, but his dream of becoming a professional basketball player lived on when he landed in the NBA G-League with the Oklahoma City Blue — the affiliate team of the Oklahoma City Thunder.
Caruso then joined the Los Angeles Lakers for the 2017 NBA Summer League and wowed fans with his impact. He became the talk of the town before making a regular season appearance as an NBA player and ended up signing a two-way contract with the Lakers.
He made his debut in the National Basketball Association in October 2017 against the Clippers.
Before long, Caruso proved to be an important part of the Lakers' bench unit and the point guard/shooting guard earned a guaranteed deal with the team, playing alongside LeBron James and winning the NBA Finals during the 2019-20 season.
Throughout his career in the NBA, the Lakers guard is averaging 5.8 points per game. The 27-year-old has also featured in 21 playoff games, scoring 6.5 points per game across an average of 24.3 minutes per game.